The fintech industry is rapidly evolving and disrupting traditional financial systems. In this article, we bring you the latest research insights to help you stay ahead of the curve and understand the future of financial technology. Enjoy researching!
Europe's neobanks are outpacing legacy banks in app adoption (Fintech Magazine)
Neobanks are outpacing legacy banks in European customer adoption of super apps and banking apps, a new report has found.
A new study examining the adoption of banking apps among European customers has revealed that users prefer neobank offerings and their adoption of the technology is outpacing offerings available from traditional incumbents. The study of Google Play Store downloads, carried out by App Radar, has shown that out of the analysed apps, neobanks have made the biggest gains in 2022. Atom Bank has seen app downloads increase by 101%, Viva Wallet by 54%, Tandem Bank by 53%, Monzo by 49%, Revolut by 31% and Metro Bank by 28%. UK neobanks have fared slightly better than their European counterparts with UK neobanks' Android downloads having increased by 15% in 2022 while European neobanks' downloads increased by 10%. When combined, both European and UK neobanks have increased their Android users by 11%. Read more
UK Fintech Investment Plummeted by Almost 60% in 2022, KPMG Says (Bloomberg)
The UK's fintech sector saw investment drop $22 billion to $17 billion in 2022, as higher interest rates, inflation, and declines in valuations hit investor appetite. A total of 593 UK fintech deals were completed in the UK in 2022, down from 724 in 2021, according to KPMG's Pulse of Fintech report published Wednesday. The dataset includes mergers and acquisitions, private equity, and venture capital. Funding for the sector in 2022 was a tale of two halves according to Karim Haji, a partner at accountancy firm KPMG. The first half of the year saw significantly more investment and deals than the second half. Read more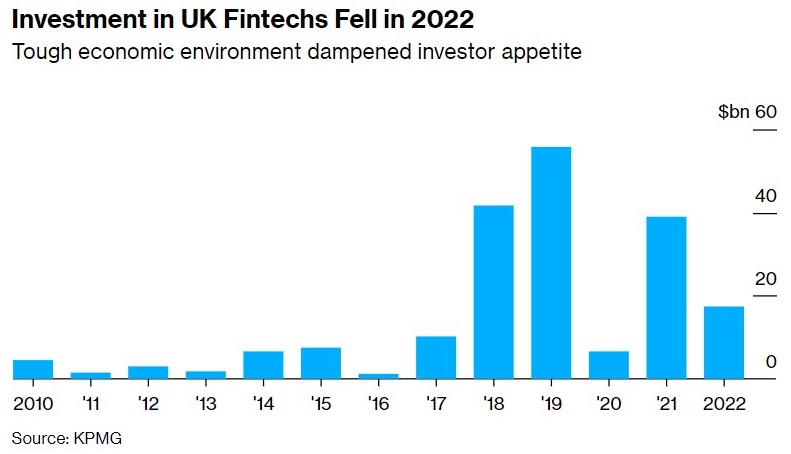 State of play: neobanks (Fintech Futures)
Incumbent banks' technology infrastructure is largely tied up in traditional business functions such as branches, ATMs and contact centres, which accounted for more than 20% of technology spending in 2022 according to Omdia's Retail Banking Technology Forecasts. Many incumbent banks also have large workforces with hierarchical organisational structures, which makes it challenging to respond quickly to evolving market conditions. Neobanks have been able to adopt a different approach to their incumbent counterparts. Digital banks are not laced with the technology debt of lengthy contracts or managing a large real estate, and this has enabled them to embrace modern technology stacks at a fraction of the cost. Ultimately, it means that the cost to acquire customers and maintain accounts are much lower by adopting these different approaches to building their technology infrastructure. Many of the "challenger neobanks" that obtained chartered banking licences also opted to build their technology from the ground up. They were able to benefit from the latest technology to build and scale much more quickly, which is not only more efficient but cheaper to run. Running the architecture in a microservices cloud-native environment and utilising Kubernetes (K8s) ensures deployment can be automated, allowing product development to occur on a more frequent basis versus the annual updates that the monolithic architecture of incumbents allows. Read more
State of Dutch Tech 2023 (Techleap)
The 7 key focus areas that are vital to unlocking the true power of Dutch tech: Realigning strategic tech policy: Startup policy needs an integrated tech policy with the needs of entrepreneurs at its heart. Supporting Deeptech: Improving the efficiency of tech transfer, business support and funding for deeptech ventures. Increasing capital: Providing access to more 'smart' capital while increasing co-investment knowledge sharing among investors. Developing & attracting more talent: Growing and diversifying the talent pool from within and from outside the Netherlands to help startups succeed and scale faster.
Growing the base: Increasing the number of startups in the Netherlands by stimulating diversity in leadership and inclusion in the ecosystem. Boosting regional development: Connecting ecosystems, stimulating regional development and supporting thematic specialisation by addressing legal and other structural barriers in high-potential domains.
Connecting the community: Growing and empowering a thriving community of entrepreneurs at the heart of a successful ecosystem. Read the report
FinTech driving net-zero continues to attract record VC fundings (Commerz Ventures) 
In this report one can find the newest finding on the impact investment, sustainable banking, carbon accounting & footprinting.  Some of the key findings: In 2022, Climate FinTech investments hit a record high at $2.9bn. This is 2.4x more than in 2021; European Climate FinTechs raised 1.4x more VC funding in 2.5x more financing rounds compared to the US; Despite the challenging economic environment, many Climate FinTechs managed to attract first time funding, over 50% of all financing rounds are at Pre-Seed and Seed stage; Carbon Accounting and Carbon Offsetting are the Climate FinTech sub-sectors that attracted the most funding in 2022, with $970m and $505m respectively; Carbon Offsetting grew the strongest with 3.1x, followed by Carbon Accounting with 2.4x and Carbon Credits Trading with 2.0x. Read more
–
Do you have any news to share: please put feed@hollandfintech.com on your press list.
Curious to read and find out more from fintech? Then subscribe & read our full newsletters here. In order to see our other weekly highlights, check out the following links: analysis & opinion