The fintech industry is rapidly evolving and disrupting traditional financial systems. In this article, we bring you the latest research insights to help you stay ahead of the curve and understand the future of financial technology. Enjoy researching!
US Corporate Profits, Gross Domestic Income Fell at End of 2022 (Bloomberg)
US corporate profits declined in the fourth quarter and a key gauge of economic activity stumbled as companies battled rising costs and softer demand against a backdrop of higher borrowing costs. Adjusted pretax corporate profits fell 2% in the final three months of 2022, the most in two years, according to Commerce Department figures published Thursday. Profits retreated at both domestic non-financial and financial corporations. From a year earlier, profits were up 2.6%. The government's two main measures of economic activity diverged in the fourth quarter. A gauge of the income generated and costs incurred from producing goods and services — gross domestic income — decreased 1.1% after rising at a 2.8% pace in the third quarter. The decline in GDI was the largest since the start of the pandemic. Read more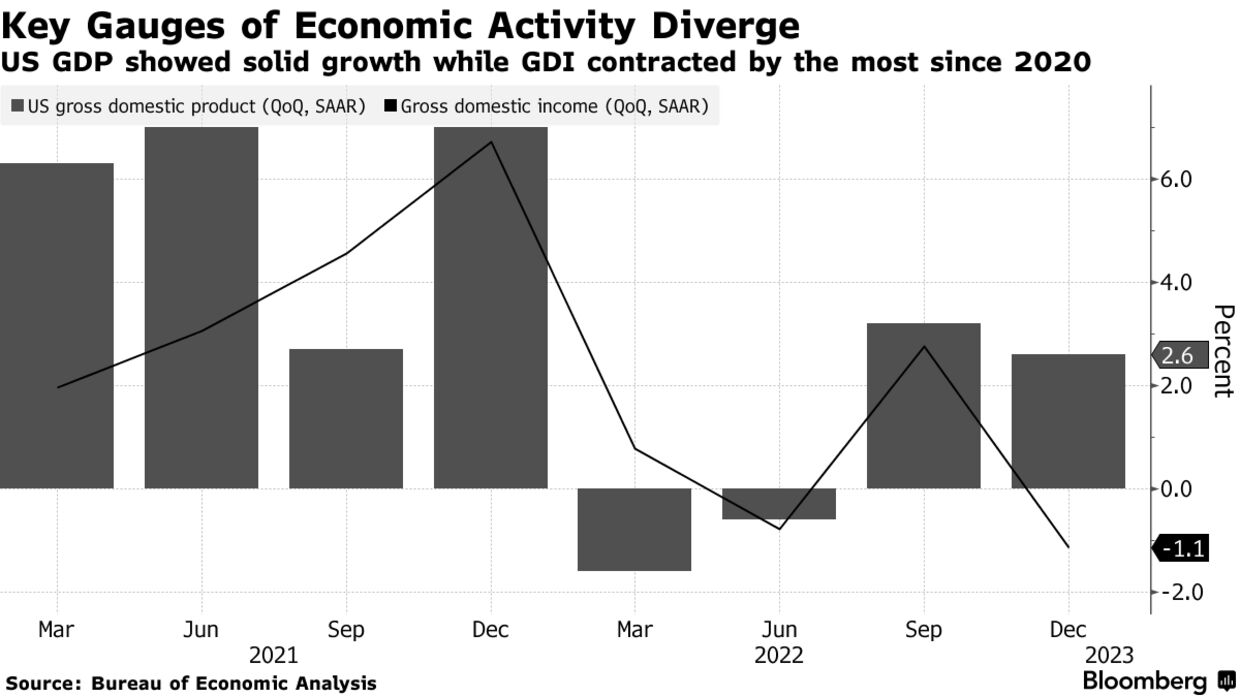 The Future of Fintech in the UK 2023 (Finextra)
Fintech investment across Europe, the Middle East and Africa fell from $79 billion across 2,379 deals in 2021 to $44.9 billion across 1,977 deals in 2022, according to KPMG's biannual analysis of global fintech investment, the 'Pulse of Fintech' report. Further, total UK fintech investment hit $17.4 billion in 2022, down from $39.1 in 2021. The first half of last year was much stronger than the second, accounting for $32.8 billion in investment, including six deals worth over $1 billion, which includes the $1.8 billion acquisition of interactive investor by abrdn. The latter half of 2022 also saw $12 billion in investment, with the largest deals all valued under $1 billion, including the $839 million buyout of Nucleus Financial by HPS Investment Partners. But what does the future hold for fintech investment in the UK in 2023? Read more
Economic conditions outlook during turbulent times, March 2023 (McKinsey & Company)
Executives' enthusiasm for the economy rose—and then came back to earth. Meanwhile, concerns about financial-market volatility as a risk to growth have increased. In early March, respondents reported views on the global economy that were more positive than they had been in several quarters. Forty percent said that global economic conditions had improved in the previous six months, the first time in a year that respondents were more likely to report improvements than declines. And 45 percent expected global conditions to improve in the months ahead, while only 28 percent predicted that conditions would worsen. But by the end of the month, that optimism had tempered . Respondents are much less positive now than they were in early March about current global conditions and the global economy's prospects—though still more upbeat than they had been in the previous quarter. Read more
Sanctions will play an increasingly prominent role (Finextra)
During 2022, several events significantly contributed to an increased level of global instability, led in no small part by Russia's invasion of Ukraine, a readjustment to life post-Covid-19, and inflationary spirals affecting major global economies, spurring renewed attention toward effective risk management by regulators around the world. This context set the scene for what has already been a highly eventful 2023 across financial regulation. Areas from anti-money laundering and counter terrorist financing to credit and operational risk, cybersecurity and data privacy, to digital payments and crypto, are all due to experience intense regulatory evolution over the next 12 months, making new demands of financial institutions and their risk management strategy. We spoke with a handful of experts from the legal landscape, tech world, and financial services, to gain a better understanding of the regulatory trends they predict will be the most impactful on the industry, and drive the need for wellintegrated risk management platforms. Read more
Enhancing the insurance sector's contribution to climate adaptation (OECD) 
Insurance coverage plays an important role in protecting households, businesses and governments from the financial impacts of climate-related disasters. However, climate change is expected to increase the frequency and/or intensity of a range of climate-related (weather) perils, including floods, storms and cyclones, wildfires and droughts and could potentially limit the availability of affordable insurance in the future. Risk reduction through adaptation to climate change will be the only sustainable means to limit the increase in future climate damages and losses, and the potential disruptions to insurance markets that could result. This paper examines the contribution of the insurance sector to climate adaptation through: (i) developing risk analytical tools; (ii) providing risk information and expertise on adaptation and risk reduction measures; (iii) providing incentives for risk reduction and adaptation; and (iv) supporting more resilient post-event reconstruction. It outlines some of the challenges to assessing future climate risks, encouraging policyholder risk reduction and supporting resilient reinstatement. It also identifies potential approaches that policy makers, regulators and supervisors could consider to support a greater contribution of insurance to climate adaptation. Read more
–
Do you have any news to share: please put feed@hollandfintech.com on your press list.
Curious to read and find out more from fintech? Then subscribe & read our full newsletters here. In order to see our other weekly highlights, check out the following links: analysis & opinion