The fintech industry is rapidly evolving and disrupting traditional financial systems. In this article, we bring you the latest research insights to help you stay ahead of the curve and understand the future of financial technology. Enjoy researching!
Insurtech Global Outlook 2023 (NTT DATA)
The insurance industry is being pushed to an unprecedented change: energy transition, digitisation and climate crisis are creating opportunities to transform a traditional and legacy-driven industry. Amongst the challenges observed in 2022, Climate Change, Cybersecurity, Embedded Insurance, Corporate Care and Connected Underwriting are on top. The insurance marketplace goes beyond carriers and customers, creating the opportunity for many participants to seamlessly connect with each other, and also digitise and distribute insurance data to enhance customer experience, risk assessment and claims. Focusing on automation to improve profitability is a very efficient way to attract new partnerships with Insurtechs. Read more
How will higher carbon prices affect growth and inflation? (ECB) 
Urgent action is needed to reduce greenhouse gas emissions and prevent the most disastrous effects of climate change. This is why the EU aims to reduce such emissions by 55% by 2030 (compared to 1990 levels), and to achieve net zero emissions by 2050. The EU's Fit-for-55 package will use measures like carbon prices, regulation and green investment, all of which will affect the economy. But how, and with what economic consequences? The models suggest that it would moderately lower consumption and investment, with GDP falling 0.5-1.2% below baseline by 2030. Across all models, the median estimate for GDP translates into average annual growth dropping by roughly 0.1 percentage points. Likewise, the models suggest that the maximum impact on annual inflation would be modest at less than 0.2 percentage points per year in the period up to 2025, and falling gradually thereafter. Read more
Carbon pricing impact on real GDP (LHS) and inflation (RHS)
percentage and percentage-point deviation from baseline paths
How will wealth managers deliver personal service in a virtual world? (EY) 
Revitalized hybrid models that deliver human-centered, digitally enabled experiences are increasingly important in empowering clients — and differentiating wealth managers. The research shows that the radical uncertainty of the last two years has had a striking effect on investors' contact preferences. In particular, client appetite for virtual advisor interactions has ballooned since the pandemic. The proportion of clients identifying virtual consultations as their preferred advice channel for investment management jumped from 12% in 2021 to 46% today. Read more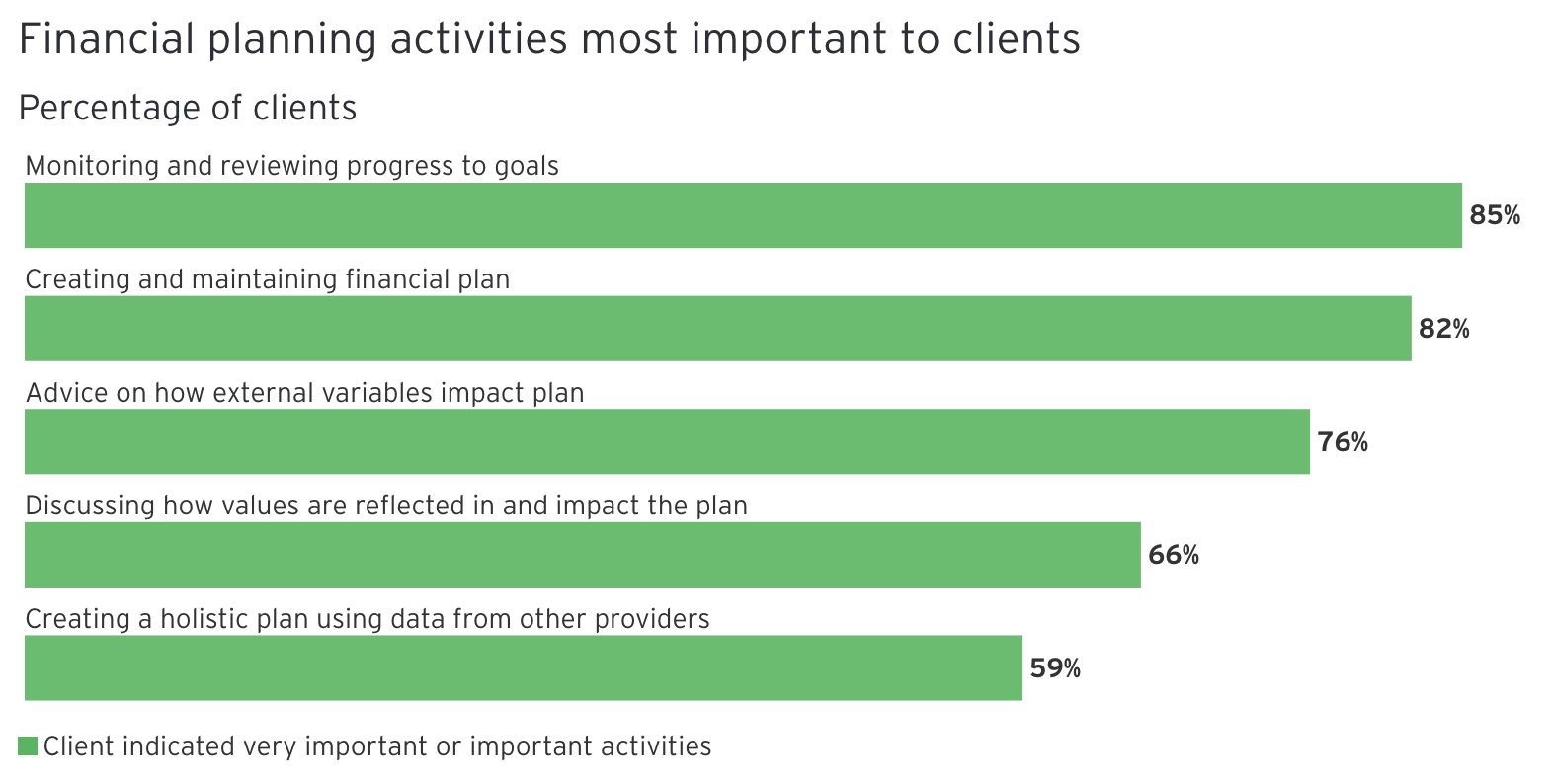 Fintech in MENAP: A solid foundation for growth (McKensey & Company) 
Growth in the fintech sector of the Middle East, North Africa, and Pakistan (MENAP) has been robust in recent years, with investor backing increasing by approximately 36 percent annually from 2017 to 2022.1 While 2022 brought a sharp drop in valuations and changed market dynamics across the global tech sector, many local fintechs continue to broaden their footprint across MENAP and beyond, albeit with a emphasis on profitability, the new imperative for start-ups. Overall, the region's positive macroeconomic outlook and the consistently strong performance of its financial services industry provide favorable conditions for the fintech sector's continued growth. We estimate that MENAP fintech revenue could increase almost threefold, from $1.5 billion in 2022 to an amount between $3.5 billion and $4.5 billion in 2025,2 which would boost fintech's share of financial services revenue from less than 1.0 percent to approximately 2.0 to 2.5 percent. Read more
The Global Startup Ecosystem Index Report 2023 (Startup Blink)
The Global Startup Ecosystem Index (GSEI) is built using hundreds of thousands of data points processed by an algorithm which takes into account several dozen sets of parameters, as explained in the Methodology section. In addition to the supplementation of data from various sources and global data partners, our Ecosystem Index is integrated with the interactive and crowdsourced StartupBlink Global Startup Ecosystem Map. This map, updated since 2013, provides a strong sample of the stakeholders in each startup ecosystem. The Index is used annually by hundreds of thousands of startup founders, startup ecosystem developers, corporations, and other stakeholders to support critical decisions on policy-making, strategy, relocation, and investment. Read more
Is Your KYC Process Driving Consumers to the Competition? (Ekata)
Know-your-customer (KYC) processes are a cornerstone of every financial institution's onboarding process — and for good reason. When these processes were first implemented, most accounts were opened at brick-and-mortar locations. It was easy to consider the KYC process as a way to verify a customer's identity because they were in front of you and able to present a valid ID. It was also easier to take an applicant through the entire process without risking abandonment. But the world has changed drastically in the years since these regulations were established, trending ever further toward a digital-first economy. Read more
–
Do you have any news to share: please put feed@hollandfintech.com on your press list.
Curious to read and find out more from fintech? Then subscribe & read our full newsletters here. In order to see our other weekly highlights, check out the following links: analysis & opinion