In the last two years the fintech community in Australia has consolidated from several local groups to a national organisation. How has it overcome the tyranny of distance, and what does the future hold?
More than anywhere else in the world, the fintech community in Australia must grapple with the tyranny of distance. With nearly 1,000 kilometres between Sydney and Melbourne, collaboration between cities has been difficult.
Australia is also isolated from the rest of the world, so companies down under must work harder — and travel farther — to participate in global markets.
The foundation of fintech hubs Tyro and Stone & Chalk in 2015, followed by FinTech Australia in March 2016, ushered in a new stage of national cooperation for fintech.
Spurred by analysis such as KPMG's 2014 report "Unlocking the Potential: The Fintech Opportunity for Sydney," this cooperation has given the young fintech community a central platform to speak to each other, to regulators, and to fintech communities around the globe.
Today there is a dedicated fintech body advising the Australian Treasury and several international initiatives such as the UK-Australia FinTech Bridge.
How does this ecosystem hang together? To find out, we spoke with representatives from several branches of the fintech scene in Sydney and Melbourne.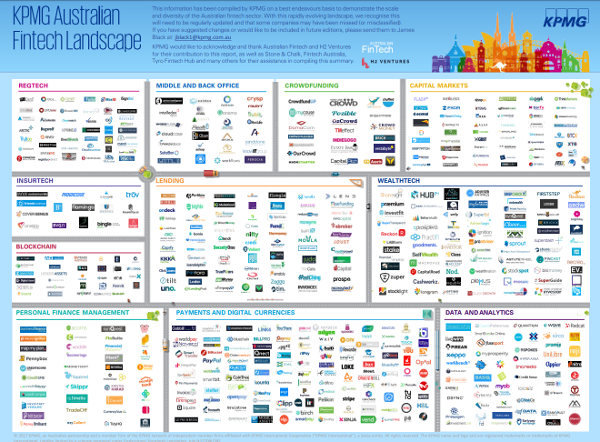 KPMG's Australian fintech landscape infographic, August 2017. Source: KPMG website.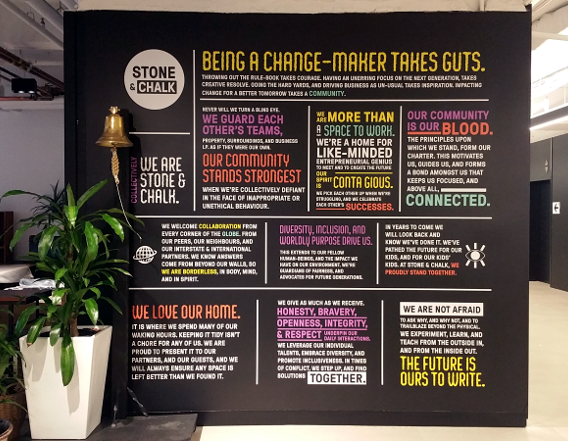 Stone & Chalk's Sydney hub. Photo by Erin B. Taylor.
Stone & Chalk: a dynamic fintech hub
Stone & Chalk are a not-for-profit fintech hub with Alex Scandurra as CEO. Their name comes from the idea that things like security and integrity need to be set in stone, but other elements need to be dynamic and malleable, like chalk.
To get started, Stone & Chalk raised AUD$2 million from government and corporate sources. They initially rented a smaller space, but were so inundated with applications that they decided to shift to larger premises.
The Sydney Startup Hub, which occupies nine floors in two buildings above Wynyard Station, provided the perfect location. Stone & Chalk opened their doors here in August 2015 and occupy the 4th and 5th floors
Stone & Chalk's location in the Sydney Startup Hub gives them access to a much wider community, including a corporate innovation lab on the top floor of the building. It is a densely populated and lively start-up landscape.
Today, Stone & Chalk Sydney is home to 424 residents and 115 fintech start-ups and scale-ups. They offer a combination of co-working spaces and dedicated offices for larger companies. As well as renting out desks and offices, they run innovation programs and hackathons.

Main industries and funding stages of Stone & Chalk's resident companies. Source: Stone & Chalk website.
Based on their Sydney success, Stone & Chalk created a mega-hub in Melbourne's Docklands in July 2018. Within less than two months they were 50% full. Their space, located in an old woolshed, is much more open plan than the Sydney office, which means that residents are more likely to cross paths and talk with one another.
Harrison Cleaver, Head of Community and Events, told us that Stone & Chalk aims to be "the cone, not the flavours" for fintech in Melbourne.
With the initiatives they have already put in place, Stone & Chalk Melbourne may soon be the whole ice-cream shop. In the middle of their building is the set for That Startup Show, Australia's only television show about start-up culture.
According to Andrew Davis, Ambassador for Stone & Chalk and an adviser to the International Finance Corporation, the Sydney and Melbourne hubs of Stone & Chalk represent the largest cluster of fintech startups in Australia.

"That Startup Show" is filmed in Stone & Chalk's Melbourne location.
FinTech Australia: bringing an industry together
Fintech Australia was founded in March 2016 with Danielle Szetho as CEO. They are a not-for-profit organisation with over 250 members ranging from start-ups to corporates.
Membership of FinTech Australia grants companies opportunities to network, stay informed, and influence policy development. It also gives them discounts to conferences such as Intersekt, FinTech Australia's annual fintech industry conference, and The Finnies, yearly fintech awards supported by the New South Wales Government.
According to Rowan Macdonald from EY, a major motivation for creating FinTech Australia was that the states realised they needed to cooperate if they wanted to affect policy and regulation at the federal level. Most grants came from state governments, and there were few economic incentives for national cooperation. The creation of FinTech Australia changed this. The consolidation of the industry also helped to inject much-need capital into fintech.
Szetho was a prime mover in building cooperation between Australia's distant fintech centres. She was CEO for nearly two years before stepping down to concentrate on building bridges between fintech in Australia and Asia.
Due in no small part to Szetho's work, says Macdonald, fintech in Australia now boasts a far more united front. In fact, many of the main players work across different fintech organizations. For example, Alan Tsen, who is on the board of Fintech Australia, is also the leader of Stone & Chalk Melbourne and is the founding CEO of Fintech Victoria.
Brad Kitschke stepped up to the helm in May 2018. Building on Szetho's work, Kitschke is focusing more on building cooperation with regulators and other government bodies to shape fintech's future.
Certainly there is a lot to be done. Australia is set to introduce open banking by June 2019. Many Australian companies are working to adjust to European regulations, such as the General Data Protection Regulation (GDPR) and the Second Payment Services Directive (PSD2).
Cohesiveness in Australian fintech is vital if companies are to survive and thrive in this fast-changing landscape.
By Erin B. Taylor, Research Consultant