Digital Wallets are playing an important part of the future of banking. The recent uptrend in both the technology and commercial products signals that the future is arriving today. Incumbent banks take note of these trends. Fortunately, there is still time to respond: Trendmark and partners can help.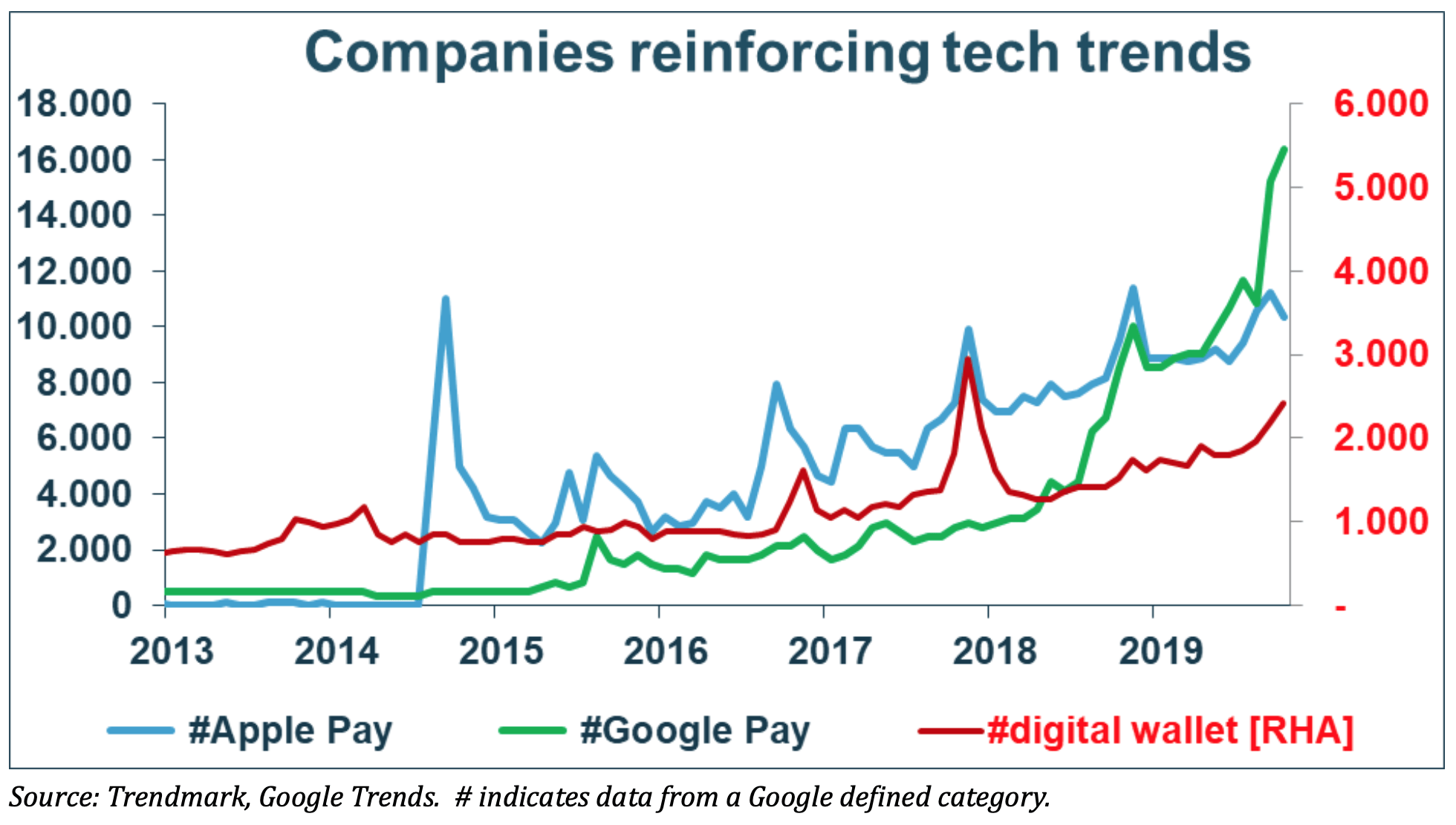 Internet search for #digital wallets signals two main points:
It is happening today: the technology and newly launched products are in a strong uptrend.
There is still time: The technology concept and the commercial products are in a strong uptrend but still close or under previous peaks.
Wisdom for incumbent banks is to act now and come up with their own strategy.
It has taken a few years for #digital wallets to become more main stream, but it is happening today. The technology concept ranks 49th on the +200 Technology Monitor and 15th in terms of growth, it is both relevant and in an uptrend. Indeed, internet search confirms that trends in technology and product launches are reinforcing each other (note #digital wallet incorporates search for the concept, not the commercial products).
#digital wallets vs #Apple Pay and new champion #Google Pay
Interestingly, search for #digital wallets got a boost in right before the launch of #Apple Pay. The latter follows a launch-hype pattern in 2014, but it takes a few years before the uptrend starts. Only now #Apple Pay is making new highs. However, most the recent uptrend in #digital wallets was likely caused by the phenomenal growth of #Google Pay, which now ranks the highest search level of all digital wallet products. Although at 16.000 it is still below all search for Paypall (over 100.000) it is quite ahead of competitors such as Apple and #PhonePe at 3.800. BigTech does know how to show its "muscle".
#digital wallets: on the slope of enlightenment
Today, all the attention for commercial products is pushing search for #digital wallet out of a trough of disillusionment and onto the slope of enlightenment. However, although in a strong uptrend #digital wallets are still below their 2017 peak. With #Apple Pay also still close to its 2014 launch-hype peak, there is still time for incumbents to respond. Trendmark can help with analysis and monitoring. Trendmark partners Fincog can help with formulating a strategy and Infinium with executing a fintech project.