For listed companies, same day annual reporting is fast becoming the norm. What's more, regulatory agencies are pushing for greater transparency, through standard electronic formats. Finally, a new generation of stakeholders expects annual reports to be published as responsive websites, easily viewable on any device. Developments like these have had a major impact on how listed companies produce annual reports, requiring automation, improved collaboration, and smart ways to tell stories.
Traditional Annual Reporting Falls Short of Today's Needs
If you're familiar with traditional annual reporting, you know the pain points. The process involves a laborious manual effort (gathering multi-departmental information, creating a draft, getting it typeset), followed by uncoordinated revisions (corrections, updates, additions) and the resulting iterations, and capped off by tedious triple-checking to staunch the inevitable mistakes. At the end of this lengthy process, the report is finally printed and published. Time for a stiff drink— and a well-deserved vacation.
This year, your company might be creating a web version of your annual report (AR). For modernisation, this is a great move. But for your process, it's actually a complicating move. You'll likely require a second system—and a second AR vendor. Some of you will have to wait until the PDF is finalised before you can tackle your AR micro-site, which tacks on a few weeks. Others will need to run parallel processes for two documents, not one—requiring a lot of double- and triple-checking.
In Australia, you might additionally find yourself preparing a 4E, or a preliminary final report (PFR). Tight turnaround times often compel 4E creators to disregard corporate branding guidelines—and release a "draft" version that isn't as polished as you'd want.
In short, the traditional process simply doesn't meet today's demands.
New Standards in Annual Reporting
Overall, all public companies are under pressure to publish their reports rapidly—both online and in PDF/printed form. In Australia, most ASX 300 companies now perform same day reporting, publishing their annual reports the very same day as their financial results. In this brave new world, a company must turn around its AR with lightning speed.
But fast shouldn't result in compromises. Today, virtually everything needs to be worthy of Instagram. We're only half- kidding, but your annual report should definitely look great— and not like a rushed, partially formatted draft.
What's more, the new generation of investors fully expects access to your AR on their tablets or smartphones. So, you'll need a responsive online AR—preferably without adding parallel sources, or costly delays.
Starting in FY2020, the European Securities and Markets Authority (ESMA) will mandate ESEF (European Single Electronic Format) for annual reports. You'll need to pivot your process accordingly—and web content management systems can't create these electronic formats— they're simply not in scope.
Traditional annual reporting falls short. With built-in bottlenecks and a slow, inefficient workflow, this outmoded process is best for crafting printed reports—not for the nimble ARs of today.
Enter Technology: Annual Reporting That Meets Today's Rigorous Demands
The solution must meet all of these challenges, while allowing you still to make clever choices (in design and otherwise), tell compelling stories, and stay within ever-tightening budgets (despite the expansion of your efforts to a greater array of channels).
Creating your AR in-house, through collaborative tools (and likely in the cloud), helps you facilitate the process. You need automation (e.g. automated typesetting)—and the intelligence to apply built-in rules (e.g. typesetting rules) to get exactly what you want.
You need a single-source system that feeds all formats of your AR, including your printable PDF, and your online (website) and electronic versions. This way, you can work on all formats in tandem—not consecutively. Because the system updates your information in real time, you can avoid content duplication and eliminate triple-checking: forever.
These capabilities furnish speed—and enable online and electronic formats.
We know that it isn't always easy to leave the old ways behind for new horizons. We're here to make that path smooth and easy — and help you produce the annual reports of tomorrow.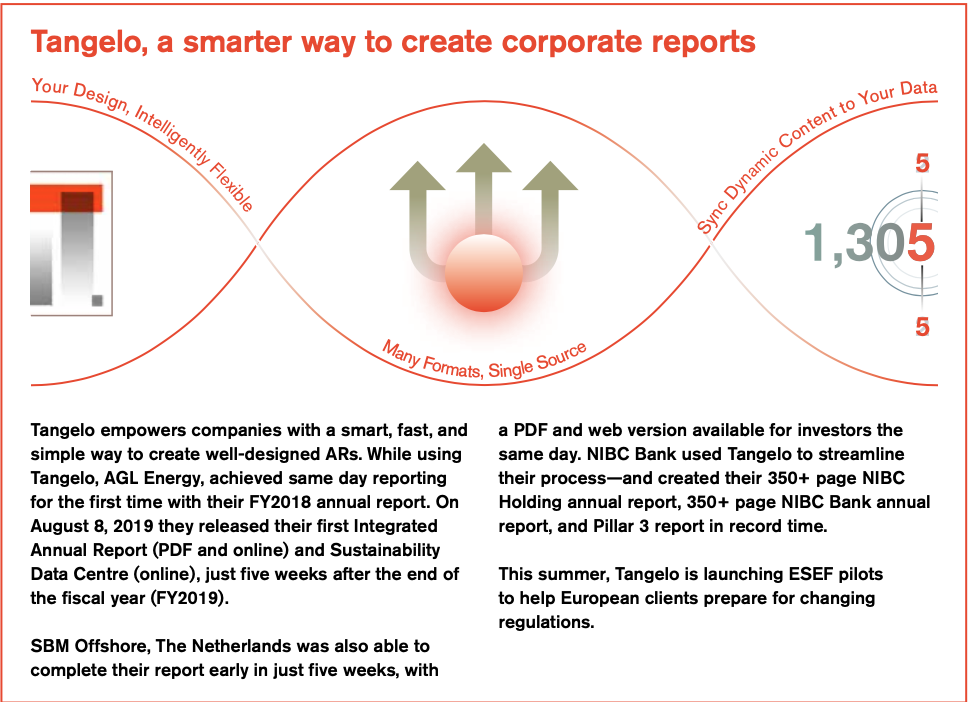 Want to prepare for the future of financial reporting? Schedule a demo on our website to learn how Tangelo supports the production of ESEF-compliant reports, PDFs, and microsites—all from a single source.