Did you know that you can help with finding a corona vaccine by solving a puzzle?
The online puzzle AnalysisMode encourages people to find patterns and configurations that will be used later to teach artificial intelligence to predict vaccine formulas. When players solve a puzzle they actually bring scientists closer to the goal of finding a vaccine to stop the pandemic. Since patters can be discovered it's possible that with enough players a list of possible formulas can be generated and then submitted by the AI to predict a vaccine formula for SARS-CoV-2. Who could have thought that puzzling could save lives!
The Fourth Wave of Insurtech is swelling
In an earlier article, we mentioned the upcoming Fourth Wave of Insurtech: New technologies offer insurance carriers the opportunity to increase their social and economic impact, to reposition themselves as a Force for Good. New technologies not only lowered the entry barriers for new players, they also take away the hurdles that existed for insurance firms to play that bigger part – assisted by insurtechs.
More and more insurance carriers, insurtechs and other tech companies are lending their talent and technology to tackle important global challenges, like helping the world fight the pandemic.
Our analysis shows that each of these innovations solves very specific problems. We defined eight categories in which they provide new added value. Each tapping into real needs, proving the relevancy and social impact of the insurtech and insurance community.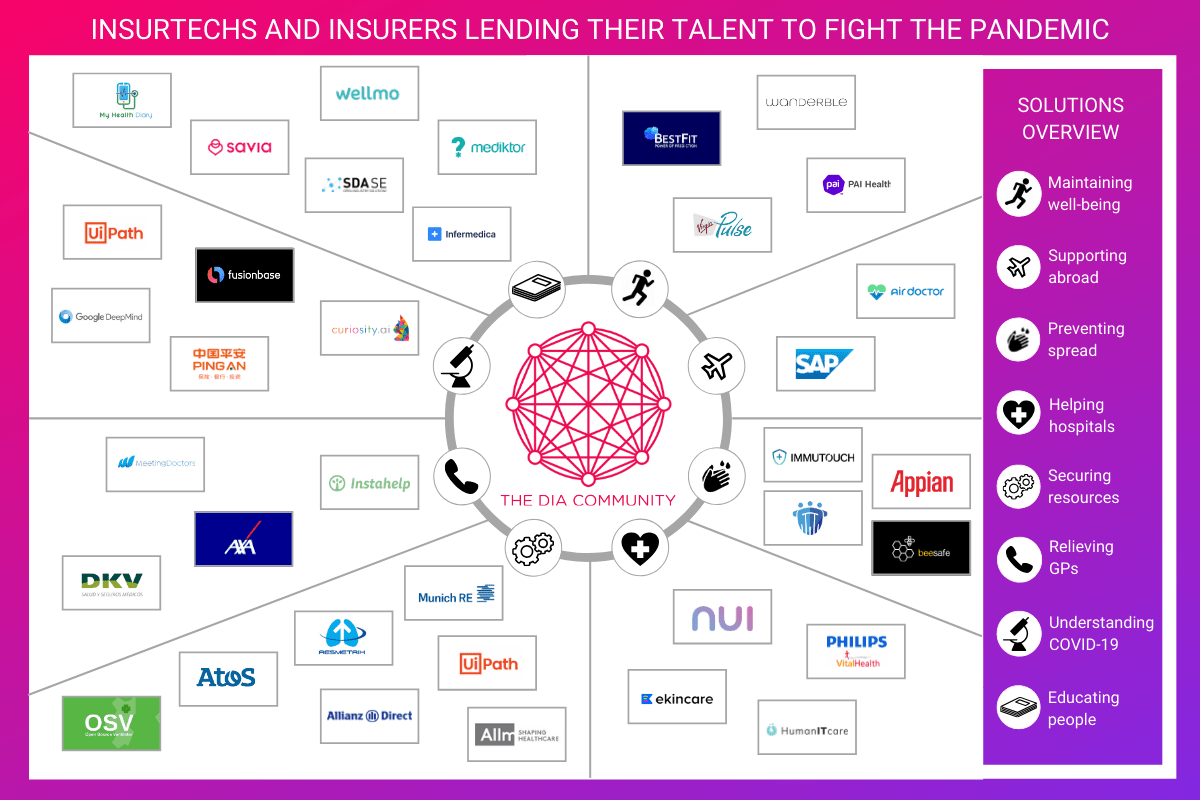 1. Educating what corona is exactly and how to know if you have it
Because of the scarcity in available COVID-19 tests, many people are insecure whether they are at risk of having the virus themselves. How do you know if you are at risk of being infected if you can't get tested?
DIA Alumnus SDA SE (Germany) anchored a Corona-symptom-checker by DocYet in Alte Leipziger – Hallesche Group's customer app "hallesche4u". In this app, a chatbot either gives you current information about the virus, or takes a test by asking some multiple choice questions. The chatbot is based on the latest scientific publications as well as the guidelines of the Robert Koch Institute. It also contains answers to the most frequently asked questions. This way end customers are ultimately reduced of their uncertainty as much as possible.
Even if you don't feel unsecure, wouldn't you like to have an early warning if you're showing suspicious symptoms?
Wellmo (Finland) has launched an app platform for any public health authority, insurance company or care provider to create their own 'Corona-app'. The platform of the DIA Alumnus offers a highly personalized environment based on generated data and questionnaires. Users are personally guided and can live chat with a professional if needed. The statistics and early warnings from the platform can be given to professionals as a tool to track the situation.
Parallel to the pandemic there's an 'infodemic' happening as well. There is a hunger for information: What is corona exactly? How did it emerge? And could I possibly have it? Due to the internet the amount of available information is overwhelming and unfortunately, not always reliable. This varies from complot theories on Facebook to tips spread through WhatsApp which are well-meant but based on facts. According to the World Health Organization (WHO), the infodemic is just as dangerous as the pandemic. When people do not know what to believe and who to trust, it becomes more difficult to have proven solutions and advice from scientific experts widely followed.
MyHealthDiary (Indonesia) is missioned to tackle the problem of misinformation by offering trustworthy medical information only. People who download the app have access to free webinars about topics like why social distancing is important, how to identify symptoms, is a rapid test kit effective and weeding out hoaxes about COVID-19 in the media. By providing this information, MyHealthDiary educates Indonesia about COVID-19.
The rising number of corona infections causes people to start thinking they might be infected as well. Call centers and healthcare facilities receive enormous amounts of phone calls of anxious people who think they have symptoms, even though 80% of them do not.
To lower anxiety and deliver fast and remote triage, Mediktor (Spain) designed a symptom checker able to identify what might be COVID-19 and provide a recommendation on what to do next. It differs from other symptom checkers because it provides a differential diagnosis, sharing a list of possible diseases ordered from highest to lowest probability. Mediktor's symptom checker is also imbedded in Savia (Spain), a digital platform for health services that provides free online medical consults during the Covid-19 crisis. Both Mediktor and Savia are member of Barcelona Health Hub, just like DIA.
There are a low number of quick assessments for people with COVID-19 symptoms that provide reliable recommendations and next steps. Consequently, medical professionals and health systems are overburdened by too many cases.
Infermedica (Poland) provided a solution that cuts both ways. They developed a screening protocol based on the official guidelines by WHO. It's free of charge, translated in 20 languages and can be used within minutes. This way, Infermedica hopes to help as many people as they can.
2. Knowing what to do if you're abroad
To stop the spread of COVID-19, almost all global travel is brought to a halt. As a result, many travellers have stranded on airports trying to get back home.
The German government reached out to SAP (Germany) to ask them for a web application to help coordinate the repatriation process from a logistical standpoint. They created a simple, safe, stable and scalable application for German citizens to submit their personal data in order to complete their repatriation as efficiently and quickly as possible. On the 26th of March already more than 80,000 German citizens registered using the new application.
Expats and travellers who are in countries abroad have difficulties finding general and country specific COVID-19 information. It can also be quite a challenge to get tested or to find medical help, if necessary. Every country has specific requirements and are not always able to offer assistance in English.
Air Doctor (Israel) created a comprehensive country-by-country guide that includes general information as well as details on where to find help. By using this guide, expats and travellers can comply with specific country requirements, limit exposure to others and help to flatten the curve.
3. Preventing infection and spread of the virus
Royal Swinkels, the brewery of Bavaria beer, recalls their preserved beer, removes the alcohol and recycles that into ten thousands of litres of disinfecting hand soap, to be distributed to hundreds of hospitals, GP offices and nursing homes for free. In this time especially, it's beautiful to see numerous new emerging, creative and especially heart-warming initiatives, also amongst the DIA Community members.
Since not everyone is able to work from their homes, companies need tools to help respect social distancing rules in their offices.
BeeSafe (Netherlands) is an app that tackles the biggest problems that arise when people have to work in (open) offices. When checking in the app, users can immediately see how many employees are in the office, where they are working and which workplaces are still available to work at safely. Even the amount of people in common spaces is shown. Users are anonymous to secure the privacy of employees.
Returning workforces to the workplace can be a tricky situation. Human Resources and Crisis Management teams are looking for ways to safely manage this.
DIA Alumnus Appian (USA) designed a COVID-19 Response Management application, a command center for large organisations to secure the health and safety of their employees, facilities, and to facilitate peer-to-peer employee assistance. The application includes features such as individual employee health and risk screening, information on corporate policies and a place to report incidents. The command center also helps managers to consider whether an employee's role can be efficiently done remotely.
How can we protect ourselves, our loved ones and our entire community from getting infected with COVID-19?
The government of Singapore came up with a community-driven contact tracing app called Trace Together (Singapore) to stop the spread of the virus. Trace Together is able to identify people who have been within 2 meters of coronavirus patients for at least 30 minutes, using wireless Bluetooth technology. Trace Together identifies phones with the app installed and can use the information, if need arises, to identify close contacts based on the proximity and the duration of an encounter between two users. Infected individuals can choose to allow the Ministry of Health to access the data in the app to identify those close contacts.
Such tech driven innovations can of course contribute to prevent the spread and limit the ongoing suffering the pandemic is causing. However, we do need to keep in mind that once we provide others with insights in our personal data, it's often quite difficult to get the authorisation back in the long term.
We all know we should avoid touching our face to prevent the Corona virus from getting us sick. But this is easier said than done.
Slightly Robot (USA) redesigned their wearable that stops another type of harmful touching – trichotillomania, a disorder that compels people to pull out their hair to one that prevents you from touching your face. The Immutouch wristband senses your hand movement 10 times per second and will vibrate once you touch your face. This way Slightly Robot will support you in the fight against getting yourself infected with COVID-19.
4. Offering relief to the overloaded GP offices
Hospitals' main priority is of course treating the increasing amount of patients infected with COVID-19 which leaves less time to answer the increasing high demand of consultations.
MeetingDoctors (Spain) is a B2B digital medical consultation service that anticipates on this increasing high demand by bringing the doctor to the smartphone of your clients and employees. During the COVID-19 crisis MeetingDoctors is partnering with many corporates to provide free of charge medical orientation for the population at risk. Their medical chat services solve health queries, patients can receive electronic private medical prescriptions and all consultations are answered in less than 2 minutes. MeetingDoctors can absorb a high demand of consultations, making sure hospitals have more time to focus on critical patients. Just like DIA, MeetingDoctors is a member of Barcelona Health Hub.
Unusual circumstances like having to stay at home, not being able to see your loved ones or the fear of losing your job does not only affect your physical health but also your mental well-being. It's perfectly normal to feel stressed, lonely, sad or worried in challenging times like these.
Instahelp (Germany), participant in the Innovation Programme of DIA-partner InsurTech Hub Munich, offers easy access to professional psychological online counselling. While staying at home, you can chat, audio- or videocall with experienced clinical and health psychologists. To give fast help, there are no waiting times and the psychologists are available immediately or at the latest within 24 hours.
As hospitals still have enormous amounts of tasks at hand, one of the many heard solutions to lower this is to reduce contamination risks.
DKV Seguros, one of the largest health insurers in Spain and also a member of Barcelona Health Hub, offers its telemedicine platform for free to connect patients and doctors through online medical consult. By downloading the app, a patient can go to a medical chat to do any type medical consult. In this way, patients can be helped while staying at home. This will help to minimise physical contact, relief the medical health care and to flatten the curve.
A lot of people with symptoms are in doubt if they have corona. Doctors appointments cause unnecessary movement and physical contact that increases the risk of further spread. Next to that, physical appointments are extremely time consuming and causes the first line of medical aid to be overloaded.
In order to help the people as well as the medical system, AXA Belgium developed a digital medical consult. Patients dial in, answer a few questions and receive an appointment with the doctor. A doctor calms, advices or refers a patient. With teleconsultation the risk of spreading the virus is reduced, while the first aid line is still available for those who need it.
For the full article, visit DIA website