Learn how to improve customer acquisition, originating, and onboarding with a digital account opening system
For most banks, digital account opening remains a sore spot that won't go away. Even though digital onboarding remains a strategic objective for banks year after year — with 46% of financial institutions planning to enhance their existing digital account opening services in 2020 — few are seeing tangible results.
The Battle to On-Board III survey by Signicat revealed that 56% of UK retail banking consumers abandoned an online account application in 2019 — up from 35% in 2018. That's problematic, as lost digital sign-ups translate to lost opportunities.
49% of leading digital consumers

use a digital-only provider, such as USAA, for their banking needs. These same consumers rank the "digital experience" as a critical factor influencing their choice of banking provider.

The average cost of acquiring a non-digital customer is

$138 per account

versus $77 per account for a digital customer.
So why are most banks still behind in terms of digital account creation despite all the investment in digital transformation?
"Most legacy banks invested heavily in the technology that underpins new onboarding processes, but unlike the upstarts, have failed to rethink the processes themselves. That is why they are falling behind, and that is why customers are still failing to complete applications." Sarah Kocianski, Head of Research at 11:FS
In other words, to compete with digital banks, legacy institutions need to think beyond mere investments in technology. They need to focus on customer research and reconcile their internal processes with new customer journeys.
That's exactly what a solid digital account opening system is designed to accomplish.
What is digital account opening?
Digital account opening (DAO) is a three-pronged process for opening a bank account remotely. This process fulfills three core functions:
Customer acquisition.

With DAO, a bank remains open for business 24/7. DAO provides customers with a straightforward interactive experience, enabling them to select the right product and complete an application.

Origination.

DAO allows you to capture essential KYC (Know Your Customer) data and use digital identities and biometrics to automatically approve account creation.

Onboarding.

Banks can make a memorable first impression by wowing customers with a smooth user experience.
With a DAO system in place, the returns will come fast. Banks that mainly rely on digital account opening have experienced 16% revenue growth year over year, while those still focusing on physical account opening have seen a 9% decrease in revenue growth.
And it's not just retail banks who can benefit from DAO. According to Javelin Strategy, six of the top 30 US business banks offer some type of digital account opening process — and these six banks already hold 30% of US small business deposits.
Why is it so hard to get the digital account opening process right?
From our experience working with an established global bank, we can say that several factors make it hard to get the DAO process right:
Legacy core banking infrastructure cannot accommodate digital account creation.

This can be solved by building a separate FinTech layer and connecting it to the core product via APIs.

Overly rigid compliance processes.

Do you need to run extensive background checks that take days when opening current/checking or savings accounts? Not really. Are you still doing that? Yes. And that's why digital-only banks are way ahead of legacy institutions.

Lack of integrations for KYC/origination.

Similarly, these features can be plugged in via a

microservices architecture

and

open APIs

.

Lack of UX expertise.

Most banking products are clunky and contain unnecessary steps. An

experienced UX team

can help you figure out a better customer journey based on your goals and compliance requirements.
How to design an effective digital account opening process
Here are the exact steps you can take to deliver a superior digital account opening experience for your customers.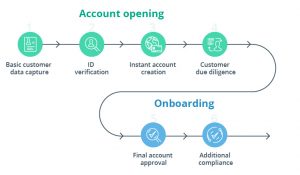 Step 1: Capture basic customer data
Modern customers expect highly personalized Amazon-style digital experiences. Offer a warm greeting with a survey-based onboarding sequence. Collect some basic personal information and line up several product offers.
What types of customer data should you capture?
Primary goal: save, borrow, or grow income

Main priorities: high interest, low banking fees, high rewards/cashback, etc.

Monthly income: suggest several ranges

Past relationship with your bank: yes/no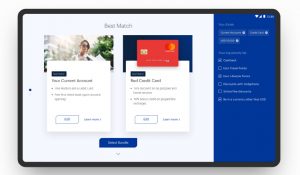 A quiz-style onboarding experience eliminates the paradox of choice and reduces the feeling of being overwhelmed after swiping through five very similar credit card offers.
Step 2: Verify ID
Once the customer makes a choice, offer them an easy way to apply and submit all the required documents. Leverage native smartphone functionality (camera, location-based services, biometrics, etc.) to capture the minimal KYC information:
ID credentials — selfie + photo (or video) of a passport, driver's license, or other photo ID document

Proof of address — uploaded directly or synced automatically from a utility services provider or telecom company
A smartphone's location features can be used as extra proof of location.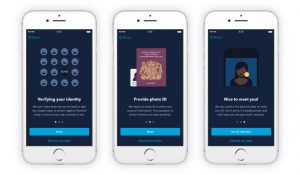 Source: Monzo
Alternatively, there are several other ways to streamline KYC procedures, especially when the customer applies for more sensitive financial products (e.g. credit cards or loans).
Allow sign-ups using digital IDs granted by other financial institutions or third-party providers. Mobile ID credentials are another option.

Use alternative credit data obtained from telecom or utility providers or self-reported by users.

Provide a self-report form for the user to include any additional documents they deem necessary.
Step 3: Instantly create an account
Once the customer provides the minimal required information, you can instantly issue mobile banking login credentials. But is it safe to do so?
Chris Nichols, the Chief Strategy Officer at CenterState Bank, says it best:
"The risk for opening up any deposit account isn't for bad actors to move money in but to move money OUT. As such, if you restructure your process to allow for the simplest account opening and funding possible, you can now go to work to reduce risk and satisfy the regulation. In other words, break the [onboarding] process into two or three steps, and get the account open as fast as possible."
That's how most digital banks have managed to grow their user bases in record time. Instead of instantly intimidating prospects with a mountain of paperwork, they settle for Simplified Due Diligence, or "SDD" — a KYC policy that assumes low risks of money laundering and other regulatory breaches and is mainly applied to low-value accounts.
Only after the user has gotten a good taste of their new account and has tried some basic features are they asked for additional regulatory-driven information.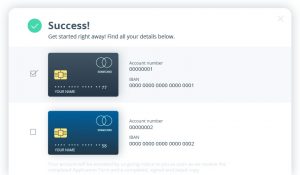 Step 4: Customer due diligence
While your new customer enjoys a quick account tour, you can conduct further background checks… in the background.
Leverage AI and machine learning to run a comprehensive anti-money laundering (AML) check before unlocking access to more sensitive banking features. That's the not-so-secret sauce to blazing fast and secure digital account opening. You can learn more about up-to-date machine learning use cases in our New Age in Digital Banking whitepaper.
Step 5: Final account approval
Once you've verified all of the customer's information and assigned a low risk score, grant full account access.
Extend a welcome kit providing further onboarding prompts regarding account top-up options and the card ordering process. Prompt users to set up all key account security features such as:
two-factor authentication or biometric log-in

card PIN and transaction limits

privacy settings
Step 6: Additional compliance
Create an ongoing KYC process that will be triggered by certain events:
Large deposits

Unusual cross-border transfers

Frequent cryptocurrency trading, etc.
Rely on big data analytics to determine when additional checks are required and develop custom KYC policies for every customer based on:
their location, considering local compliance requirements

occupation/type(s) of income

common transaction types and spending patterns

past records with your bank or partner services
Doing so can help you collect the information required for compliance without alienating the customer at the early stages of product use. Also, adopting such a risk-based, data-driven approach can help you avoid the costly KYC remediation cycle.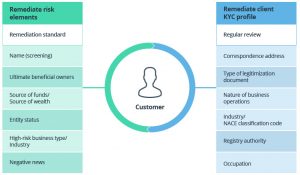 Go digital with onboarding or go obsolete
Yes, it sounds harsh. But 80% of heritage financial institutions may disappear by 2030 unless they innovate with technology. Digital account opening can become the first step on the journey toward larger core business transformations.
As Millennials and Gen Z consumers are becoming the dominant customer segment with the most wealth, there's not much wiggle room left. This cohort will not wait 7+ days when they need to open an account. Or settle for lackluster, extensive KYC procedures. In a few taps, they'll switch to a competitor offering a faster, more streamlined account opening experience. And you don't want that to happen, do you?
The Intellias design team can help you figure out the optimal user flows while their software engineers advise on the optimal KYC infrastructure.
Author: FinTech Industry Leader Anna Oleksiuk
Read the original article here