Ross Republic becomes European go-to-market partner of Hubuc, a provider of next generation fintech infrastructure. Together, we enable brands to improve user experiences and tap into new revenue lines by seamlessly embedding financial services into their customer journeys.
Imagine a world where any brand can easily launch their own financial products. Customers could get access to tailored financial services that are contextually relevant, natively embedded and highly personalised – and provided by brands they like to use. This is the idea behind the concept of embedded banking and aligned with our vision at Ross Republic to make financial services more accessible and user-centric.
To make this vision a reality, we now offer our business strategy and innovation capabilities in cooperation with Hubuc, an innovative technology platform that allows non-financial brands to integrate banking services into their customer journeys.
Next-generation banking infrastructure that empowers brands to easily embed banking
Hubuc is a technology company that offers a plug-and-play modular platform for banking capabilities, aimed at non-banking players. In the past it has been complex and costly for brands to integrate own-labelled banking services into their customer journeys. Hubuc significantly streamlines this process and lowers the barrier of entry into embedded banking via client-friendly pricing and modular, API-enabled services that are easy to integrate. The opportunity to add banking services is therefore now a possibility for a wide range of companies of all sectors and sizes.
Any brand can now tap into new business and innovation opportunities by offering banking services to their own end-clients, such as
instantly creating own virtual and physical payment cards
enabling IBAN accounts to receive and send money
aggregating a user's bank accounts and initiating payments on behalf of the user (made possible via the Second European Payment Directive, or in short PSD2)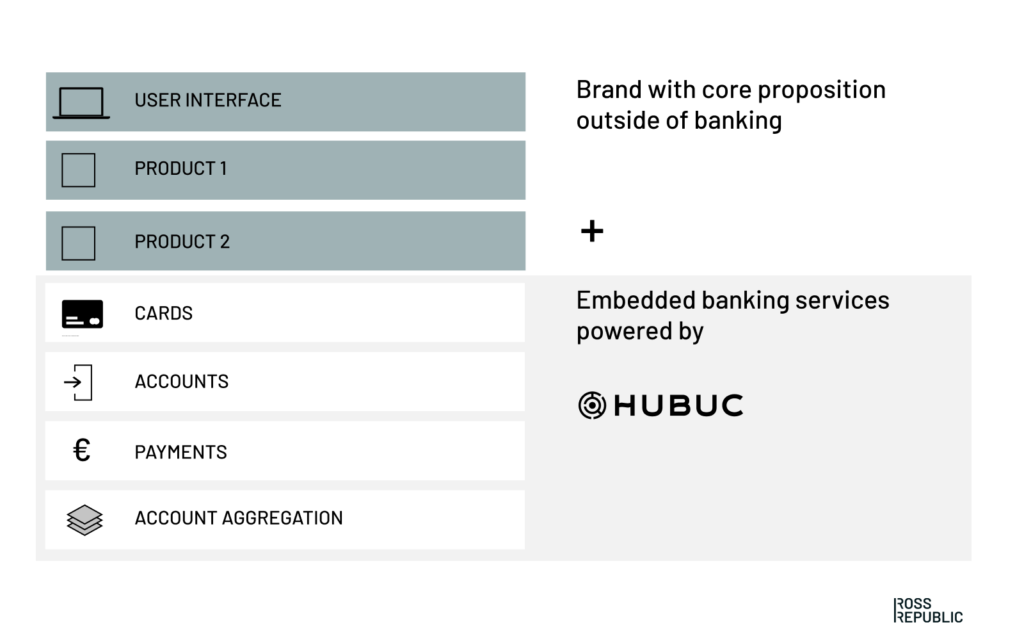 HUBUC ALLOWS ANY BRAND TO COMPLEMENT ITS PRODUCT WITH BANKING SERVICES
Debit cards
The service: Issue virtual or physical debit cards that your end-clients can use to make payments
Hubuc's embedded banking solution: Design your own cards and Hubuc takes care of the rest
Monetisation options: Allows to capture a percentage of your client's card transactions (interchange fee %)
Benchmarks: Apple, Shopify, Grab
Offering own-labelled payment cards is well known as a simple loyalty scheme from big established consumer brands, such as credit cards from IKEA or Mercedes-Benz. Recently, global technology brands, such as Apple, Uber or Amazon have launched their own card offerings, often to complement their existing core services. The next step in this evolution is to truly embed card offerings into non-banking core services with integrated features (e.g. push notifications, expense management, automations) and to make the generated data useful for the end-client (e.g. payment analytics).
The benefit of offering own cards goes way beyond loyalty features. As customers use the card, you get a real-time payments data flow that you can connect and combine with your own data, which creates a new unique sets of proprietary data. This can be utilised for better risk scoring or simply to improve your own core offering, e.g. by offering real-time push notifications, attaching receipts digitally, building custom spend dashboards, streamlining internal finance and accounting operations, etc. By embedding cards as a component of the overall value proposition, clients don't need to deal with a separate provider for their payments related needs. Thus, the use cases for creating customer value by combining non-banking services with card payments, both in B2B and B2C, are vast and just being explored.
Offering own cards to end-clients also boosts customer lifetime value, as it opens up a unique new revenue stream. By issuing cards, companies can capture a percentage on each single transaction its clients make. This is called the interchange fee.
In the past, launching own card offerings was only available for big name brands who had the financial and technological capabilities. Hubuc now allows any brand, especially start-ups and SMEs, to easily integrate payment cards into their offering.
Accounts
The service: an IBAN account for your own end clients to receive, send and store money
Hubuc's embedded banking solution: An integration that allows users to open and access a bank account directly from within your own application and make payments worldwide via SEPA or SWIFT
Monetisation options: Extra fees
Benchmarks: Shopify, Intuit, Uber, Google, Grab
Integrating own-labelled bank accounts into your own services might sound like a big step. However, in many use cases, it offers the opportunity to make your core service more sticky, gather valuable additional data and create a better user experience. In business software, lifestyle apps, accounting tools, marketplaces, e-commerce, or franchise businesses, users often need a separate bank account to keep track of their money. Dealing with a separate banking provider and logging into the bank account each time creates friction. Thus, user journeys can be streamlined by seamlessly integrating bank accounts as a part of your own offering.
When talking about embedded finance, Shopify sticks out as a recent benchmark. Instead of applying for a separate business bank account and card, Shopify offers sellers now the option to get access to these products directly via Shopify Balance. Another example is the accounting SaaS provider Intuit, who launched a new embedded banking service called QuickBooks Cash, which is a free business bank account that offers one percent interest when paired with the QuickBooks accounting software.
Beyond that, similarly to embedding payments, combining the transaction data of your embedded bank account with the data of your non-banking core service creates additional innovation opportunities, such as custom analytics, automated payment triggers or improved risk scoring.
Aggregation and payments
The service: Connecting to third party bank accounts and initiating payments
Hubuc's embedded banking solution: Connect to existing bank accounts of your customers within your own application and initiate payments via Hubuc's API
Monetisation options: Extra fees
Benchmarks: Xero, Finanzguru, Mint
The European Second Payment Services Directive (PSD2) makes it possible for licensed third parties to access a user's bank accounts and initiate payments on their behalf. By using Hubuc, non-banks don't even need to apply for their own license, as Hubuc's API allows to access transaction data and initiate payments in real-time through your own interface.
This in an interesting "above banking" opportunity that allows companies to build their own applications on top a user's banking data. In addition, bank transfers based on PSD2 are cheaper than card payments, which might be an innovative alternative for businesses that involve frequent user payments.
The benefits for non-financial brands to integrate banking services
Apple card. Uber driver accounts. Amazon business loans. Shopify SME debit cards. Grab micro-investments and loans. There's an increasing number of brands outside of the traditional finance sector that have started to branch out into banking-like services. They are leveraging existing client relationships, distribution power and established brand equity to open up new revenue lines and improve user experiences. With Hubuc, smaller companies and SMEs now get the opportunity to tap into the advantages of embedded banking.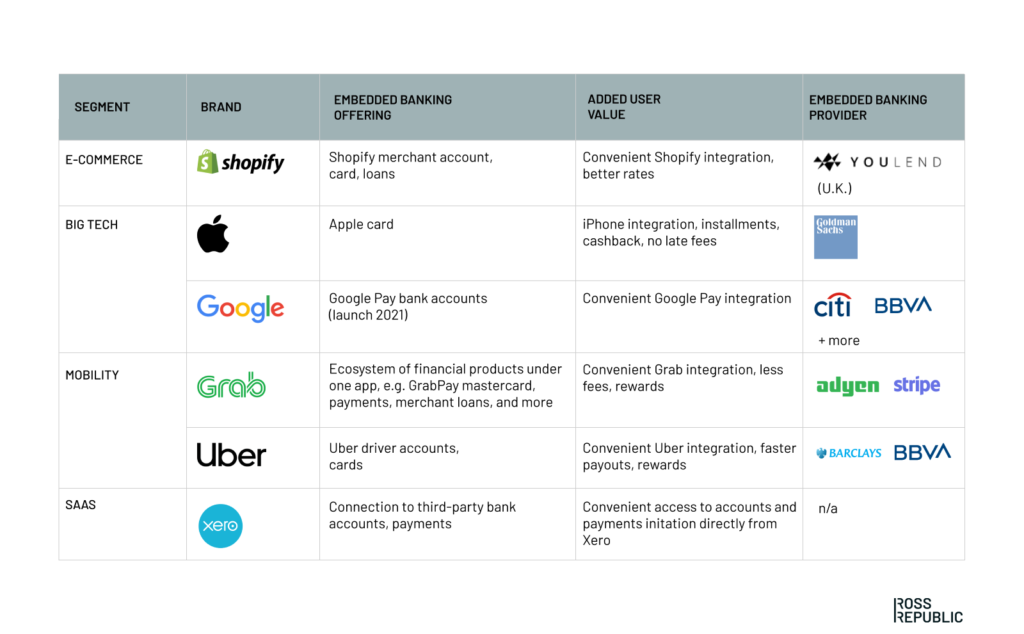 A SNAPSHOT OF GLOBAL EMBEDDED BANKING INNOVATORS
Evolving customer expectations and behaviours are at the core of the embedded finance trend. Seamless payment functionalities are already natively embedded in many B2B and B2C applications. Accounting and ERP providers have started to aggregate bank accounts and allow to make payments directly from within their interface long ago. Thus, further integrating additional financial services directly into the customer journey offers a significant innovation and business opportunity for brands.
For instance, Software-as-a-Service (SaaS) providers that are specialising in specific industry verticals might significantly benefit from natively embedding financial services into their offering: Venture capital firm a16z estimates that embedded banking can increase revenue per user up to five-fold compared to a standalone software subscription.
Due to the seamless integration with non-financial service offerings, financial services become more contextually relevant
Most of the embedded finance products are still standard financial products, such as cards, accounts, or credit products. However, due to the combination with non-financial service offerings they are augmented with additional data and designed to become contextually relevant for specific use cases and users, and thus provide more client value. Embedded banking additionally creates new revenue streams, e.g. by capturing interchange revenue. Finally, banking services usually have low churn rates and are therefore quite sticky. If done right, integrating financial services often increases brand loyalty and creates substantial lock-in effects.
In a nutshell, embedded banking allows brands to:
redefine their value proposition as a user-centric innovator
launch own financial services that are tailored for specific target groups
create additional revenue streams, e.g. by capturing interchange fees
improve customer experiences via seamless, frictionless customer journeys
increase client retention and brand loyalty
combine own data with transaction data to create better user experiences, cross-sell options and risk models
While embedded finance is still a nascent field, it's an enormous opportunity for startups, SMEs and large companies of various sectors to create more client value. We expect many more use cases to emerge in the near future, as companies capture new revenue streams and clients are getting used to financial services that are conveniently embedded into non-financial environments.
Design, create and launch your own embedded finance innovations
Together with Hubuc, we now support companies of all business sectors to explore innovation and business opportunities in embedded finance. A thorough review of client needs and business value as well as technological possibilities is the first step of creating an embedded finance innovation strategy. After we verified the market potential, Hubuc's platform allows to launch new propositions quickly.
Discover growth opportunities in embedded finance
Ca. 2 week engagement: What are the embedded finance opportunities for your business? We explore the strategic landscape and how emerging business models and technologies drive new customer behaviour.
C-level innovation workshops around embedded finance and Banking-as-a-Platform opportunities
Providing expert insights into embedded finance business models, technologies and new customer journeys via reports and webinars that are customised for your industry and business
We assess your current product portfolio and evaluate opportunities for natively integrating financial services. We blend user needs, technological possibilities and business value to provide you with a holistic understanding of your embedded finance innovation opportunities
Develop and test new propositions
Ca. 6 week engagement: How to go from idea to validated concept? We bring your internal stakeholders together and lead the product discovery process to get early user feedback, prioritise functionalities and define the final use cases and business models.
User and market research
Defining your embedded finance value proposition, product features and brand
Validating your concept with your target users
Enabling internal decision-making by aligning tech and business teams
Launch and operate on modern technology stacks
Timing depends on your case: How to bring the validated concept to the market? Hubuc's platform is designed for fast deployment and takes removes the usual bottlenecks of offering financial services to your own clients.
Developing a tailored implementation plan
Supporting the roll-out of your embedded finance offering on Hubuc's platform
Contact us to have a conversation about how you can leverage embedded banking to grow your business. GET IN TOUCH
About Hubuc
Hubuc is a Banking-as-a-Platform solution for all types of companies that want to incorporate fintech or banking services into their current product offering. Such as the opening of IBAN accounts, the automatic management of collections and payments, together with the issuing of debit or credit cards. Our ultimate goal is to democratize access to banking services. Our vision is to become the Amazon Web Services of the financial sector. The main benefits of our Banking-as-a-Platform are to launch financial products in a few weeks, with a low initial cost and without worries about regulatory risk since that is assumed 100% by Hubuc.
The platform is available for customer in all European countries.
About Ross Republic
Ross Republic is a strategy and innovation consultancy, creating sustainable business foundations for financial services companies. We're currently complementing our strategy and innovation services with an industry-leading ecosystem of technology and innovation partners for
banks that want to accelerate their digital transformation
fintechs that want to build and scale their propositions
non-banks that want to seize opportunities from embedded finance
Author: Adrian Klee, an expert in building digital business in the financial services sector. He has a background in Fintech and Consulting, and specialises in market research, digital service development and lean venture building.
Read the original article here