Learn how AI-driven apps can help you manage personal finances
Artificial intelligence has already set a new standard on how to build personal financial management apps. Modern finance software development and banking companies are extending their services and developing AI-driven personal finance assistants. Let's discover what stands behind the success of AI apps for finance management.
In this article, you'll read about:
The current state of the personal finance segment

Why financial companies develop AI apps for finance management and AI-driven personal finance assistants

The main features of an AI-powered personal financial app

The key benefits of artificial intelligence finance applications for financial management

Examples of AI-powered financial assistants
The state of the personal financial assistant market
In 2019, the total value of transactions in the personal finance segment will amount to $1,092,496 million according to Statista. Remarkably, the market's largest segment is robo-advisors, with total assets under management of $980,541 million. In 2023, the number of people using robo-advisors is predicted to be 147 million.
Number of robo-advisor users worldwide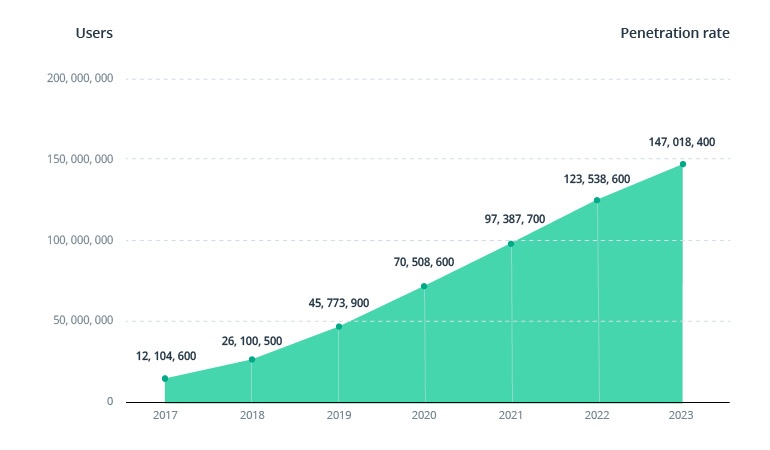 Source: Statista – Robo-advisors worldwide
According to Allied Market Research, the global personal finance software market will reach $1,213 million by 2023 and will show an annual growth rate (CAGR) of 6.40% from 2017 through 2023. Although web-based software will hold the lead, mobile app adoption is projected to increase too.
Global personal finance software market (by product type)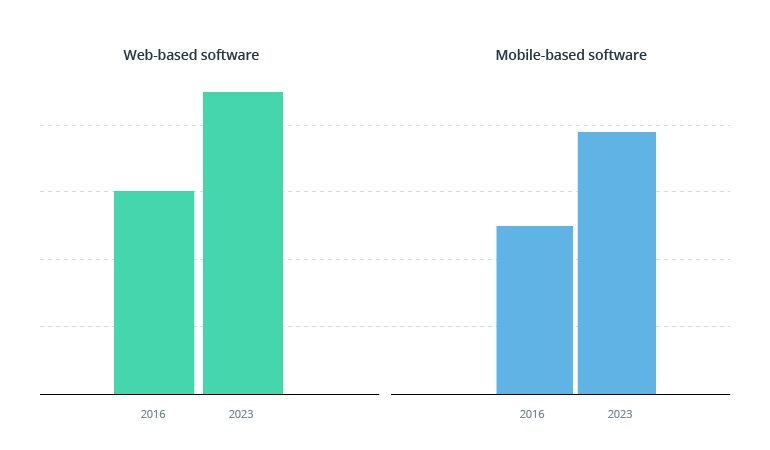 Source: Allied Market Research – Personal Finance Software Market Overview
The mobile market segment includes a financial data management platform and personal financial management (PFM) apps. These applications help users track their expenses and make smart financial decisions. According to GlobalData, 61% of bank customers find personalized recommendations on financial management useful. Chances are, the demand for PFM applications, similarly to the demand for robo-advisors, will only grow.
Here's why you have to build a personal finance assistant with AI
The idea of creating an AI assistant is not new for FinTech. We've seen AI technology successfully implemented in modern robo-advisors and chatbots for banking. Now, AI is transforming personal financial management. AI apps for finance management are gaining popularity because it does what most simple budgeting apps can't. An AI assistant not only tracks expenses but also learns from a user's spending behavior, which means it can predict the user's actions and make useful recommendations.
"The industry is moving from addressing customers' needs retrospectively to anticipating them using AI." — Heike van den Hoevel, Senior Banking Analyst at GlobalData
Developing an AI-powered personal finance app is a way for FinTech companies to help their clients make smarter financial decisions. According to NerdWallet, 49% of Americans say that emotions have caused them to spend more than they can afford. Thanks to AI recommendations, users can get rid of bad spending habits and manage their money better.
Another reason why companies create AI assistants for finance is to establish personal relationships with their clients. An AI assistant chats faster than humans and is available at all times, so it's easier for clients to connect with virtual assistants than with real ones. In other words, AI delivers a more satisfying user experience than traditional communication methods. 
Main features of an AI-powered personal financial app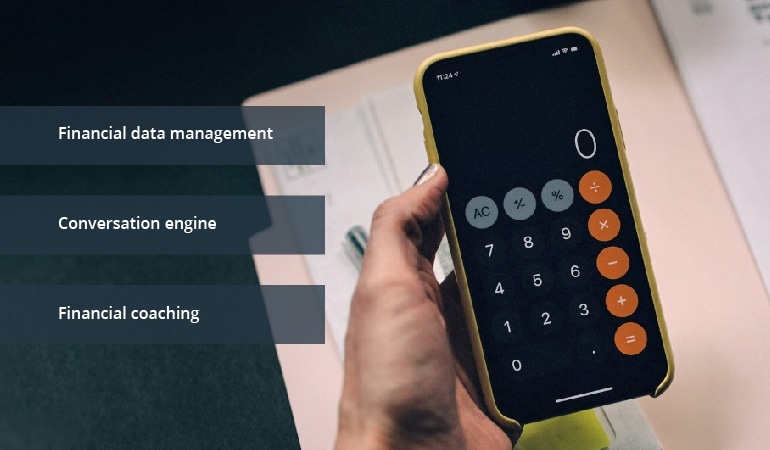 The ability to learn from a user's data is what distinguishes AI assistants from all other personal financial management tools. Naturally, to create an AI assistant for finance, you'll have to apply machine learning algorithms. Take a look at how machine learning and artificial intelligence development enables the main features of an AI-powered personal financial app.
Financial data management.

Nothing is more important for personal finance assistant development than

big data

. An AI assistant must be able to quickly dig through large volumes of both structured and unstructured data. For instance, an AI financial app has to run through transaction history and display it in dashboards or graphs.

Conversation engine.

A common feature of an AI assistant is the ability to understand human language. This allows an AI to chat with a user in a human-like manner. Natural language processing (NLP) is what makes such communication possible

Financial coaching.

Thanks to

predictive analytics

, an AI financial assistant can provide users with valuable financial advice. Artificial intelligence analyzes transaction history and uncovers a user's behavior patterns. Based on its findings, it learns and makes predictions about the user's future actions. This allows an AI-powered financial app to anticipate expenses and help users change financial habits.

Predictive analytics value chain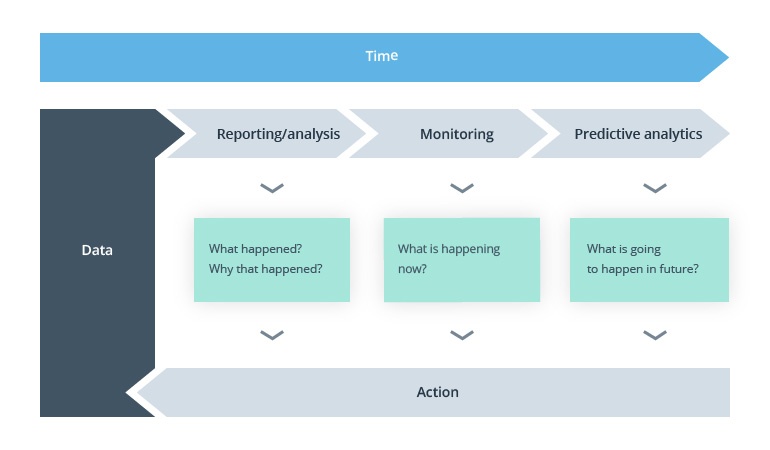 PAT Research – What is predictive analytics?
You can't create a personal financial management app without advanced security features. Just like any other financial app, an AI assistant must have data encryption and at least two-factor authentication.
Key benefits of AI for personal financial management
The main idea of personal finance apps is AI helping you manage your money. And make no mistake: an AI personal financial assistant manages finances better than humans as it makes decisions based on data, not emotions. Unlike humans, it doesn't care about impulsive shopping; an AI assistant is purely rational. It prefers sticking to savings goals and will prompt users to do the same.
Also, an AI personal financial app can detect fraud. Since AI apps for finance management have access to a user's bank accounts, it can send an alert whenever any suspicious activity occurs. In other words, AI can track when something happens outside of the user's typical pattern of behavior, such as using a card in another country.
What's more, you can use an artificial intelligence financial assistant for business purposes. For instance, it's easy to take care of expense management automation with AI.
Examples of AI-driven personal financial assistants
Take a look at these AI-powered personal financial apps and services.
Olivia AI is a conversational financial assistant with machine learning algorithms at her core. She links to a user's bank accounts and provides real-time information on expenses. Olivia learns from spending habits and gives recommendations based on them. Her powerful conversation engine makes Olivia easy to get along with. Moreover, thanks to Touch ID, 256-bit encrypted connections, and cloud-based data storage, the Olivia app is extremely secure.
Digit is an AI-powered personal financial app. Similarly to Olivia AI, it links to bank accounts and analyzes spending patterns. Moreover, Digit makes the most out of predictive analytics in personal finance management. It can save money by calculating optimal amounts and transferring them to a savings account.
NOMI is an AI-powered financial assistant that comes with the mobile banking app developed by the Royal Bank of Canada. NOMI provides personalized trends, alerts, and overviews based on a client's spending habits. Also, by using predictive technology, NOMI helps clients save money. But contrary to many AI-powered personal financial apps, this service isn't conversational.
The bottom line
Personal finance assistant development is a way for businesses to get closer to their clients. That's why many banks create AI assistants for finance. An AI-powered personal financial app helps users manage their money better and learn smart financial behavior. Thanks to predictive analytics in personal finance management, an AI assistant anticipates users' expenses and recommends ways of saving money. Moreover, an AI app helps with detecting fraud and even automating expense management.
Read the original article here. Find out more about Intellias here.