Welcome to the Fintech Wrap up, our monthly look at everything new in the world of fintech news, transactions, research reports and expert voices from the industry. For November 2020, we examine the uprising crypto trend among payments leaders, the top funding rounds so far, crunch the numbers and statistical data to find the new trends, and analyze the developments and opinions across the fintech sector. Enjoy the November recap!
On News…
IPOs: Ant Group's IPOs on the Shanghai and Hong Kong stock exchanges are on hold, due to regulatory concerns raised by the Chinese government
Cyber security: Mastercard has launched a new service designed for banks to evaluate cyber risks throughout their ecosystems
"Green Fintech": Switzerland has proposed a new initiative: The Green Fintech Network
BigTech: WhatsApp payments service has received the final approval to start operating on the Indian market. Alibaba announced a quarterly cloud revenue of $2.194 billion, surpassing IBM's cloud revenue. Google announced a redesigned version for the Google Pay App, which helps them move forward into the fintech market…next phase: Google's bank account service Plex.
Consumer credit: Experian, an American consumer credit reporting company, is now allowing its customers to improve their credit score with open banking, by using their council tax, Netflix and Spotify subscription payments.
Investments & Partnerships: Nutmeg, an online discretionary investment management company, has formed a partnership with JP Morgan Asset Management in order to launch Smart Alpha portfolios. BlackRock, an American investment management corporation, is set to purchase Aperio, an investment adviser company, for $1.05 billion in cash
Accelerator Programmes: IBM launched a new collar apprenticeship accelerator for its IBM Z clients looking to hire talent, as system administrators & programmers, and application developers
Asset Management: Coinbase is launching its debit card in the US and starting a competitive crypto payments race with PayPal.
On Fundings…
BaaS: Conductor (Barueri, Brazil), a card issuer and banking-as-a-service platform, has raised $150 million (€128.04m).
Digital Banks: Kuda (Oworonshoki, Nigeria), a digital bank, raised $10 million (€8.51m) – the biggest seed round ever to be raised in Africa.
Mobile Payments: LinkAja (Jakarta, Indonesia), a developer of a mobile payment platform intended to facilitate smoother financial transactions, closed $100 million (€85.10m) funding
Tech: Gojek (Jakarta, Indonesia), an on-demand, multi-service tech platform providing access to a wide range of services, has raised $150 million (€126.38m).
Cyber security: SentinelOne (Mountain View, CA, US), a cybersecurity platform company, raised $267m (€224.96m) in Series F funding.
Cloud services: Menlo Security (Mountain View, CA, US), a cloud security company, raised $100m (€84.25m) in Series E funding.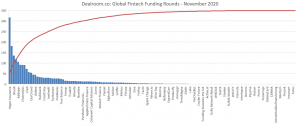 Data source Global Fintech Funding Rounds – November 2020: Dealroom.co
The top 10 global fundings: The summary below shows the 10 largest global fintech deals in November 2020, using data from Dealroom.co:
| | | | | | |
| --- | --- | --- | --- | --- | --- |
| Company | Investors | Market | Location | Valuation (EUR) | Last Round (EUR) |
| Hippo Insurance | Mitsui Sumitomo Insurance Company | fintech;real estate;insurance | Palo Alto | 1.36bn | 318m |
| Better Mortgage | American Express Ventures;Ping An Group;Ally Financial;Activant Capital;L Catterton;9Yards Capital | fintech;real estate;mortgages & lending | New York | 3.64bn | 181m |
| Shuidi | Tencent | health;fintech;health platform;insurance | Beijing | 1.82bn | 136m |
| CURRENT | Tiger Global Management;Sapphire Ventures;Wellington Management;Foundation Capital;QED Investors;Avenir Growth Capital | fintech;payments;banking | New York | 681m | 119m |
| Addepar | 8VC;Sway Ventures;WestCap Group | fintech;investing | Mountain View | 425-638m | 106m |
| Satispay | Square;Tencent;TIM Ventures;LGT Lightstone | fintech;payments | Milano | 248m | 93m |
| Chainalysis | Accel;Benchmark;Ribbit Capital;Addition | fintech;enterprise software;cryptocurrency | New York | 909m | 90m |
| LinkAja | Grab;Mandiri Capital Indonesia (MCI);BRI Ventures | fintech;payments | Jakarta | 363-545m | 90m |
| Cred | Tiger Global Management;Sequoia Capital;DST Global;Ribbit Capital | fintech | Bengaluru | 727m | 72m |
| Pango | Harel Group | fintech;transportation;navigation | Petah Tikva | 127m | 58m |
The top 10 European fundings: The summary below shows the 10 largest European fintech deals in November 2020, using data from Dealroom.co:
Company
Investors
Market
Location
Valuation (EUR)
Last Round (EUR)
Satispay
Square;Tencent;TIM Ventures;

LGT Lightstone

fintech;paymnets
Milano
248m
93m
Chainalysis
Accel;Benchmark;Ribbit Capital;Addition
fintech;enterprise software;cryptocurrency
New York
909m
90m
Aidexa
Generali Group;Banca IFIS;

Banca Sella

fintech;banking
Milano
180-270m
45m
Railsbank
Firestartr;Global Brain Corporation;Anthos Capital;

Clocktower Technology Ventures;Ventura Capital;

Mitsui Fudosan;Middlegame Ventures

fintech;banking
London
363-545m
33m
Marshmallow
Outrun Ventures
fintech;transportation;insurance
London
281m
27m
Primer
Accel;Balderton Capital;Seedcamp;S

peedinvest;

RTP Global

fintech;payments
London
67-100m
16m
Bitwala
Earlybird Venture Capital;

Global Brain Corporation;

Coparion

fintech;cryptocurrency;banking
Berlin
60-90m
15m
Vivid
Ribbit Capital
fintech;banking
Berlin
100m
15m
Zumo
fintech
Edinburgh
48-72m
12m
Modulr Finance
PayPal
fintech;payments
London
113m
10m
On Research…
Q3'20 Fintech: "The State Of Fintech Q3'20 Report: Investment & Sector Trends To Watch" by CB Insights investigates global fintech investment trends in finance, new partnerships and collaborations, transactions, and top deals.
Insurance: "The future of life insurance: Reimagining the industry for the decade ahead" report by McKinsey offers advice and solutions that insurers can implement in practice in order to enhance their offerings and attract customers' attention, and explores the overall Covid-19 impact on life-insurance returns (see below graph for a complete overview).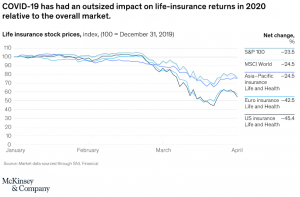 PSD2 & API: The Open Banking and PSD2 API Tracker aims to bring transparency to open banking by tracking banks through their APIs and developer docs.
Impact & Innovations: In a recent report conducted by ImpactCity, Danske Bank and Tech Nation, supported by Progress Tech Transfer Fund, +impact, Impact First Investments, GITA, Exponential View, Ananda Impact Ventures and Planet+, the new launch of the Impact and Innovation database is explored. Global VC investment in impact startups is on track to reach €19B in 2020, up from just €5.8 B five years ago. Megarounds of over €250M are becoming commonplace in the impact space (see the graph below for a complete overview).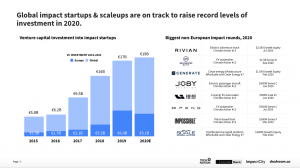 Pensions: The "Pension Markets in Focus 2020" report by OECD presents a rising trend for the pension insurance field, pension funds and retirement statements, with a new record since 2019.
RegTech: According to Fintech Global, the RegTech sector is experiencing its first decline in terms of investments since 2015. In Q3'20, RegTech companies raised $5.1bn across 221 deals. This period further saw a 3.4% decline in total funding compared to the same period last year, along with a 4.3% decrease in deal activity.
Fintech ecosystem: Global Fintech Ecosystem Report 2020 by Startup Genome provides a late overview in terms of fintech startups and identifies the key highlights and trends from the industry.
Financial & Risk Literacy: "Financial & Risk Literacy: Resilience in times of Corona" report by Euler Hermes & Allianz highlights that financial knowledge is a critical factor that explains why one segment of the population is better able to cope with the shock compared to others.
Dutch market & payments: According to a survey conducted by DNB, a quarter of the Dutch consumers authorised the use of their payment data during the past 12 months in exchange for the provision of new services based on these data.
On Analysis & Opinion…
Insurance: When it comes to insurance, Andrew Jenkins, Principal in the CIO & Technology Officers Practice at Odgers Berndtson, explains future obstacles that CIOs will face over the next 12 months
E-trading: In a recent interview, Gill Bacon, business development director at Eurobase, explains how integrating trading, treasury and sales operations are necessary to understand e-trading and the related regulatory framework
Fraud: Jordan McKee, Research Director at 451 Research, explains the numerous implications of fraudulent activities, far more reaching than the usual financial losses. On top of the list, the main areas affected by fraud are having major consequences on the customer experience, fraud management, compliance requirements and damage to the brand reputation (see below graph for a complete overview).
SaaS: According to Adena Friedman, CEO at Nasdaq Stock Market, Covid-19 presents further opportunities for SaaS adoptions within businesses, with new implementations in terms of Cloud computing platforms and advanced data management solutions
Cash cards services: With traditional banks limiting opportunities in terms of offerings and target audience, neobanks and fintechs are taking center stage with new products, such as cash cards for children – Starling Bank, JPMorgan Chase & Co JPM.N
Global economy: Christine Lagarde, President of the European Central Bank, outlined the challenges facing the global economy at the World Economic Forum's Pioneers of Change Summit. The public and private sectors will need to collaborate in order to have an economic recovery. In terms of the industries which suffered the highest hits, service provision is in the top.
Stay tuned for the upcoming Monthly Fintech Wrap Up: December 2020!