For this week's research piece, we take a dive into the latest fintech news on InsurTechs, RegTech, mega-rounds, investments, upskilling techniques, M&A, lending and financial inclusion. Enjoy the selection!
New record high for InsurTech sector…
Insurtech investment hit $7.1bn in 2020: WTW (Reinsurance News)
A new report by Willis Towers Watson found that global insurtech investments reached a record $7.1 billion in 2020 despite substantial challenges in the field. A total of 377 deals were completed throughout the year, the most in any year to date, while overall funding was up 12% from 2019 and the deal volume increased 20%. Read more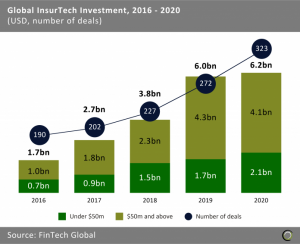 RegTech..
Fintech regulation: How to achieve a level playing field (BIS)
In this paper, the importance of helping to achieve a level playing field in the provision of financial services is highlighted as an essential step within setting up a regulatory framework. This entails facilitating an orderly entry of new participants – such as fintechs and big techs – that could expand consumers' opportunity set, promote innovation and foster competition. However, it also requires unwarranted discrepancies in regulatory obligations to be avoided that might jeopardise the competitive position of incumbents regarding new entrants. Read more
The Future of Regulation 2021 (Finextra)
While financial services are still confronted with brand new cyber threats, AML and fraud regulations are clamping down on crime. Implementation of technology has helped identify and prevent threat-actors, and particularly in the case of LIBOR's cessation and ESG objectives. Building on key industry-shaping regulatory updates for 2021, this paper highlights the insights of leading industry players including Accenture, Clifford Chance, JP Morgan, Mollie, NatWest, Oaknorth Bank, Shearman & Sterling and TrueLayer. Read more
On 2020 tech mega-rounds…
2020 Tech Highlights: The Year's Biggest Deals, Most Valuable Acquisitions, And More (CB Insights)
In this update, an overview on the tech industry in 2020 is presented, looking at mega-rounds, tech leaders' outsized public market performance, and 2020's biggest M&A trends. The analysis finds that the tech industry proved its resilience in 2020, despite ongoing economic uncertainty brought on by the global Covid-19 pandemic, the sector continued to reach new highs. Read more

On M&A…
Will COVID-19 turbo-charge M&A and transformation?Will COVID-19 turbo-charge M&A and transformation? (EY)
The findings of this report present strategies undertaken by C-suites to reframe corporate initiatives and invest their way out of the crisis. As a main result, the analysis shows that while revenue and profit have been hit, companies feel satisfied with their performance during the pandemic, but recognize the need to invest for the upturn. Furthermore, M&A will be a preferred strategic option as companies look to accelerate growth in the post-pandemic world. Read more
Is upskilling essential for businesses?
Upskilling for shared prosperity (PwC & WEF)
In this report, the emphasis is on the case for upskilling. The findings highlight some of the challenges, including the disconnect between current education programmes and the skills employers need now and in the future. The analysis also presents recommendations on the steps businesses and policymakers can take to create more inclusive and sustainable economies. Read more
On lending…
A Dynamic Theory of Multiple Borrowing (Harvard Business School)
This report explores the topic of multiple borrowing, when a borrower obtains overlapping loans from multiple lenders, which has become a common phenomenon in many credit markets. The findings explain how expanding financial access by introducing more lenders may severely backfire, due to overlapping creditors which may impose default externalities on each other. In addition, this issue is emphasized when investments become more pledgeable or when borrowers have access to more lenders, explaining why increased access to finance does not always improve outcomes. Read more
On financial inclusion…
Analyst Note: Access Points for the Masses (PitchBook)
With value hard to find in the public markets, demand is only growing to make alternative strategies more available to those historically excluded due to wealth and income restrictions. But access to the private markets has some exciting new developments, according to this analysis. The research shows that new regulations have already begun to democratize access to "alt" strategies, with some "alts" products mitigating concerns of illiquidity and it also presents a brief history on how the definition of "the masses" has evolved. Read more
—
Do you have any news to share: please put feed@https://hollandfintech.com/ on your press list.
Curious to read and find out more from fintech? Then subscribe & read our full newsletters here: https://hollandfintech.com/featured/newsletters/. In order to see our other weekly highlights, check out the following links: analysis & opinion, funding, news.