For this week's research article, we dive into new insights on financial inclusivity, crypto, embedded finance and more. Enjoy researching!
Fintech Innovations, like Digit, may Boost Consumer Savings and Improve Financial Health, …(Bakersfield.com)
A new study from the Financial Health Network, "Building Consumer Savings with Fintech Innovations ", shows the positive impact new technology can have on consumers' financial health and money saving behaviours. Among the study's key findings: the amount consumers save significantly increases when saving becomes easier and there are more incentives to save. The Financial Health Network used data and insights from Digit (acquired by Oportun) to demonstrate the ways fintech innovations can help people towards their savings goals. Read more
Global Embedded Banking Revenue Expected to Reach US$160B by 2025 (Fintech Singapore)
Despite it being a relatively recent concept, embedded finance has grown rapidly in recent years. The trend is expected to rise further moving forward, with digital consulting company Publicis Sapient forecasting an annual growth rate of 41% in global embedded banking revenues from 2021 to 2025. The report provides an overview of the sector, look at emerging trends, and share recommendations for incumbents looking to tap into the booming sector. Read more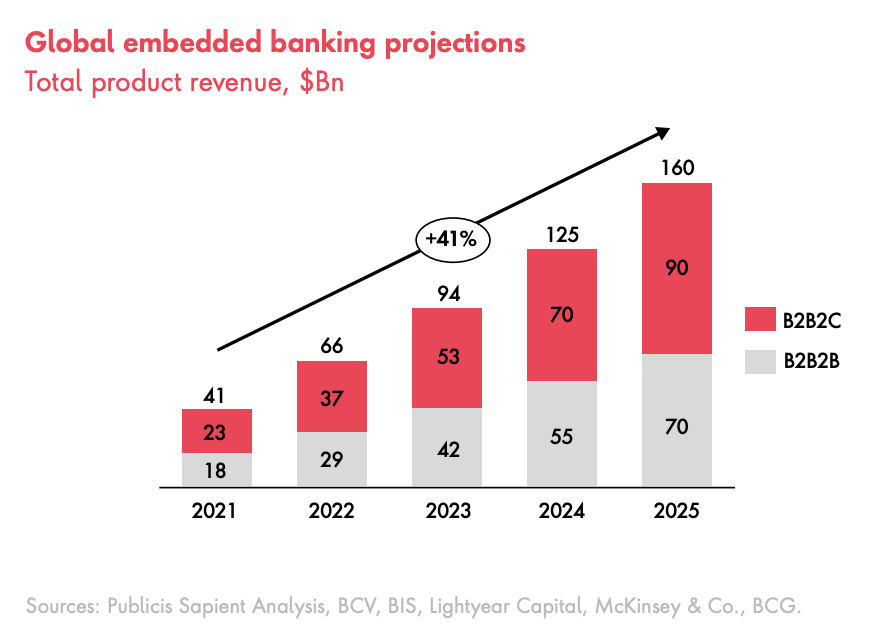 Blockchain & Crypto is the most active FinTech sector globally in H1 2022 (FinTech Global)
Out of the 3,447 deals that occurred in the first half of 2022, the Blockchain & Crypto sector outshined other sectors accounting for one in five deals in H1 2022 with 704 deals in total. Global adoption of Blockchain & Crypto in Q2 2020 stood at 2.5% and this has grown rapidly to 24% in Q2 2021.This high growth is unlikely to continue at such rapid rates as countries, but as long as new technologies and innovations emerge, adoption and growth will continue. Read more 
UK's Fintech Sector Investments Grow 24% YoY in H1 2022 (Finance Magnates)
In a recent report published by Innovate Finance, the company noted that the United Kingdom fintech sector witnessed 24% growth in investments during the first half of 2022 as the number touched $9.1 billion. The UK came in second followed by India, Germany and France. Compared to the first quarter of 2022, the overall fintech investments decreased in Q2. Read more
Agility, resilience and impact: How fintech charted a positive course through the global pandemic (World Economic Forum)
The Cambridge Centre for Alternative Finance at the University of Cambridge Judge Business School, the World Bank Group and the World Economic Forum have jointly published the Global COVID-19 Fintech Market Impact & Industry Resilience Study. After two years of lockdowns, vaccination programmes and varying levels of governmental intervention, what impact has this had on the fintech industry? And why is this important? Read more
—
Do you have any news to share: please put feed@hollandfintech.com on your press list.
Curious to read and find out more from fintech? Then subscribe & read our full newsletters here. In order to see our other weekly highlights, check out the following links: analysis & opinion.