For this week's research article, we dive into new insights on fintech overview, ESG, security and crypto. Enjoy researching!
Embedded finance set for explosive growth (Finextra)
Embedded finance is set to redefine how consumers and businesses build and manage relationships with financial services, according to research which predicts that its transaction value will double in the US to $7 trillion by 2026. The research, from Bain & Company and Bain Capital, forecasts huge revenue opportunities – up to $51 billion in 2026 – for software platforms and the enabling infrastructure providers that power these embedded offerings. Payments and lending will continue to be the two biggest segments of embedded finance. Currently, consumer payments account for more than 60% of all embedded finance transactions and this is expected to reach $3.5 trillion by 2026. Embedded finance-driven business lending, meanwhile, is projected to grow five-fold over the next five years, from $200 million in 2021 to $1.3 billion by 2026, thanks to the rise of a range of new specialist providers. Read more
The state of the world's economies and markets in 2022 – in charts (World's Economic Forum)
A strong chart that distills a compelling visualization of our world goes a long way toward helping illustrate what's happening in the world's economies and markets. That's why our Chart of the Week blog series features a new way to look beyond the numbers. Today's edition compiles top 10 by readership so far in 2022. From cargo prices and food costs to unrest, uncertainty, war, and inflation, these most-read blog posts reflect the eventful and often tumultuous year it's already been. Read more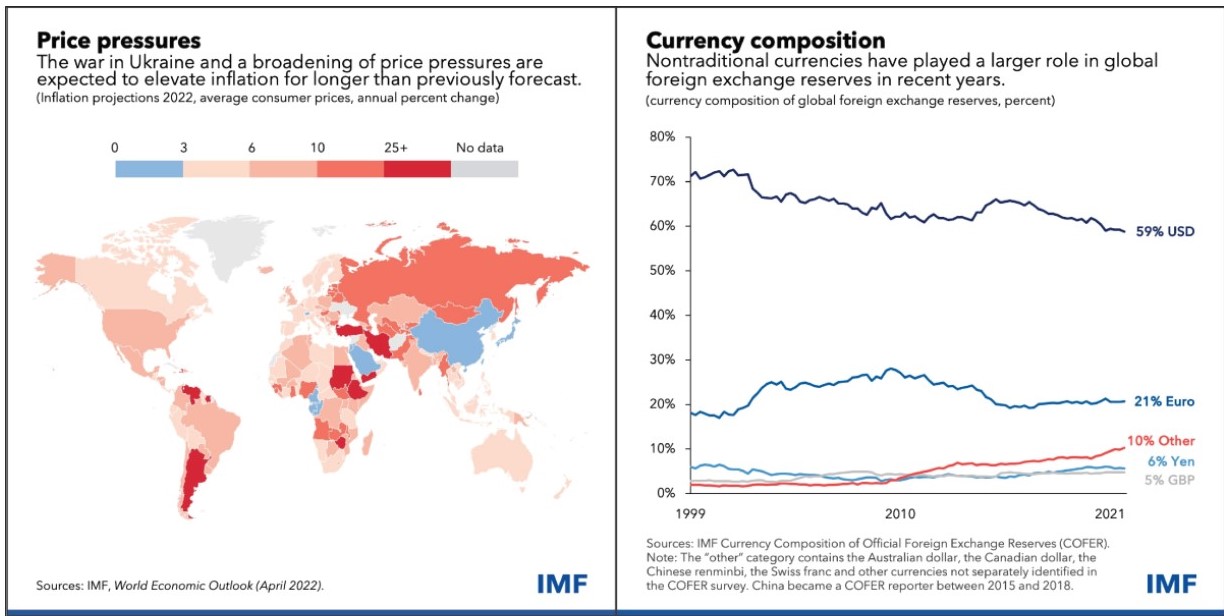 UK fintech investment takes a dive (Finextra)
UK fintech investment fell to $9.6 billion in the first half of 2022, down from $27.8 billion in the same period the previous year, as the global economic slowdown took its toll on the sector, according to a report from KPMG. Geopolitical uncertainty, turbulent public markets, ongoing supply chain disruption, high levels of inflation and increasing interest rates all contributed to the more subdued levels of investment, says KPMG. The UK is not alone in seeing a slowdown in fintech investment, with the Americas and Emea regions both seeing total investment and deal volume slide. Read more
New FinTech unicorn announcements hit new low in August (Fintech Global)
New FinTech unicorns may become as rare as an actual unicorn soon as August saw the birth of only two new FinTech unicorns. Overall, valuations for some of the largest FinTech companies have dropped considerably since July, such as Klarna which dropped 85% after its latest funding round in July, and this drop in valuations may have caused investors to re-evaluate their deal sizes going forward.Read more
Greenwashing is a systemic problem at UK banks (Fintech Global)
Greenwashing has become a 'systemic problem' among UK banks despite universal claims that sustainability is at the heart of their business, a new survey has found. The research conducted by Censuswide surveying 150 UK banking executives found that although 100% of UK banking executives say that sustainability is integral to their business strategy, only just over half of UK banks (59%) measure their environmental impact as part of sustainability targets. The study also demonstrates that banks are offsetting non-sustainable practices with carbon credits. Almost half (49%) of UK banks are investing in carbon credit schemes as the priority initiative, an increase from the 2021 Sustainable Banking Report. The results come as another survey conducted by consultancy Kearney shows that that 40% of UK consumers would pay a 5-10% premium for a banking product if it was ESG. In fact, one in ten consumers would actually switch their banking provider if it didn't provide a suitable sustainable banking product for them. Read more
—
Do you have any news to share: please put feed@hollandfintech.com on your press list.
Curious to read and find out more from fintech? Then subscribe & read our full newsletters here. In order to see our other weekly highlights, check out the following links: analysis & opinion