For this week's research article, we dive into new insights on fintech overview, digital payments, and banking. Enjoy researching!
Euro Has Scope to Top $1.10 by End Next Year, Deutsche Bank Says (Bloomberg)
The euro has scope to bounce back above $1.10 by the end of next year, taking it to levels last seen in the early months of the Russia-Ukraine war, before energy and economic concerns helped drag the common currency below parity with the greenback for the first time in decades. Deutsche Bank AG's Alan Ruskin and George Saravelos reckon that the euro could rise to that level, even without a major change in the geopolitical environment, if — as the bank suspects — the US monetary authority errs on the side of easing monetary policy in the second half of next year and the European Central Bank is still increasing borrowing costs. It's currently trading around $1.0380, more than 8% above its nadir from late September. Read more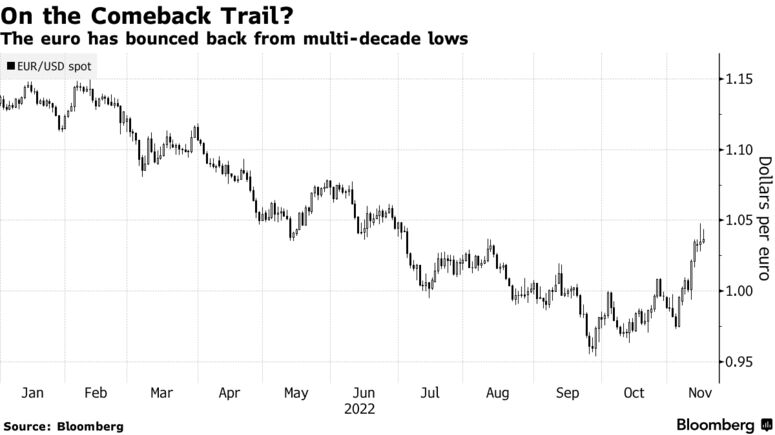 New Treasury Report Shows Fintech Industry Requires Additional Oversight to Close Gaps, Prevent Abuses and Protect Consumers (The U.S. Department of Treasury) 
The U.S. Department of the Treasury, in consultation with the White House Competition Council, has released a report entitled "Assessing Impacts of New Entrant Non-bank Firms on Competition in Consumer Finance Markets." The report finds that, while concentration among federally insured banks is growing, new entrant non-bank firms, in particular "fintech" firms, are adding significantly to the number of firms and business models competing in core consumer finance markets and appear to be contributing to competitive pressure. While these fintech firms are enabling new capabilities, they are also creating new risks to consumer protection and market integrity, such as risks related to data privacy and regulatory arbitrage. To protect consumers in these rapidly changing markets and enable sustainable competition, among other recommendations, the report calls for enhanced oversight of the consumer financial activities of non-bank firms. The report is a product of President Biden's July 2021 Executive Order, "Promoting Competition in the American Economy," and is the final in a series of reports assessing competition in various aspects of the economy, including the alcohol industry and the labor market.  Read more
BlackRock's Fintech Bets Span Lending, Wealthtech, Crypto and More ( Fintechnews Switzerland)
BlackRock has been actively investing in the fintech industry over the past decade, participating in large rounds of financing across a broad range of segments, from payments and lending, to wealthtech and cryptocurrency, a new analysis by fintech-focused research firm WhiteSight shows. The report, which delves into the investment firm's fintech moves, shows that BlackRock has been a prolific fintech investors, dipping its toes into a variety of sectors. Data from Dealroom corroborate this, indicating that fintech is the second biggest industry BlackRock has invested in, with 46 investments. These investments primarily consist of growth and later stage rounds, and target mainly companies in the US, the UK and India. Read more
Direct Debit Usage on the Rise as Less People Remain Cash Dependent, says allpay (The Fintech Times)
During a time of uncertainty post-pandemic and with rising prices during a cost of living crisis, payment channel provider allpay Limited sought to understand how people are managing their money and paying their bills. Via a survey in September 2022, allpay questioned 1,001 from all areas in the UK. The payment provider conducted further research earlier in 2022, which it used to compare the latest results with. The survey was conducted by TLF Research and found reduced consumer confidence in paying household bills, among other trends. The results show a slight decrease in the number of social renters that were confident in paying their household bills. However, a vast majority (74.9 per cent) remain confident despite the existing cost of living crisis. Read more
–
Do you have any news to share: please put feed@hollandfintech.com on your press list.
Curious to read and find out more from fintech? Then subscribe & read our full newsletters here. In order to see our other weekly highlights, check out the following links: analysis & opinion