For this week's research article, we dive into new insights on crypto overview, digital payments, and banking. Enjoy researching!
Regulators are urging fintechs to boost financial inclusion – CCAF (University of Cambridge)
A recent joint study from the Cambridge Centre for Alternative Finance (CCAF) at the University of Cambridge and World Bank found that the financial regulators are prioritising fintech business models to contribute to financial inclusion and boost local economies, particularly in Emerging Markets and Developing Economies (EMDEs). The 3rd Global Fintech Regulator Survey gathered data from 128 global financial authorities in 106 jurisdictions, 70% of which were supervising fintechs in EMDEs. Read more
Crypto trading and Bitcoin prices: evidence from a new database of retail adoption (BIS) 
Prices for cryptocurrencies have undergone multiple boom-bust cycles, together with ongoing entry by retail investors. To investigate the drivers of crypto adoption, research assembles a novel database (made available with this paper) on retail use of crypto exchange apps at the daily frequency for 95 countries over 2015–22. Research shows that a rising Bitcoin price is followed by the entry of new users. About 40% of these new users are men under 35, commonly identified as the most "risk-seeking" segment of the population. To establish a causal effect of prices on adoption, paper exploit two exogenous shocks: the crackdown of Chinese authorities on crypto mining in mid-2021 and the social unrest in Kazakhstan in early 2022. During both episodes price changes have a significant effect on the entry of new users. Results from a PVAR model corroborate these findings. Overall, back of the envelope calculations suggest that around three-quarters of users have lost money on their Bitcoin investments. Read more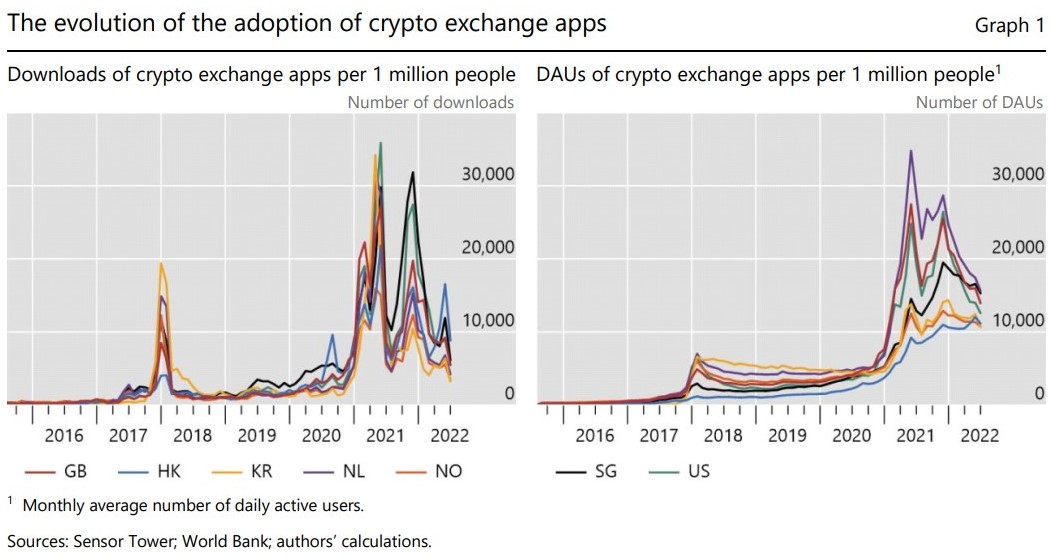 Crypto Payments and Web 3.0 for Banks, Merchants, and PSPs Report (The Paypers) 
How to tap into Crypto Payments and Web 3.0 For Banks, Merchants, and PSPs is an essential guide to accepting crypto payments and the cash management around it. The report provides a go-to payment resource of crypto terms and concepts for those interested to understand the basics of crypto payments and their long-term impact. Also, it shares practical examples of cryptocurrency-enabled ecommerce and banking services and presents the latest developments in the regulatory landscape. All these are supported by the findings of an industry survey we conducted with INNOPAY to gauge financial industry participants' interest in the crypto infrastructure, tokens, and services. Read more
The Future of Digital Banking in North America 2023 (Finextra) 
2022 in North America saw a continuation of economic recovery from the Covid-19 pandemic, fuelled by the rapid rollout of vaccinations particularly across the US and Canada. Although the US was the fastest of the G7 economies to recover from the crisis, an enduring impact of the Russia-Ukraine conflict resulted in high inflation and the subsequent cost-of-living crisis is set to continue into 2023. This Finextra report, which features expert views from ebankIT, EPAM Systems, Infosys Finacle, and Trustly, will explore topics that impact the digital banking sector and those that will be covered at Money20/20 USA 2022 in Las Vegas. Additionally, key insights from Wells Fargo, Plaid, Green Dot, Silicon Valley Bank, FXC Intelligence, Synapse, Navy Federal Credit Union, Branch, Citi, and the New York State Department of Financial Services will cover how organisations across North America are preparing for imminent change across the digital banking landscape. Read more
–
Do you have any news to share: please put feed@hollandfintech.com on your press list.
Curious to read and find out more from fintech? Then subscribe & read our full newsletters here. In order to see our other weekly highlights, check out the following links: analysis & opinion