A little bit of last year and some of new year, but here we go – selected research news that hopefully will help for the better! Enjoy researching!
Dutch Fintech Map 2022 (Holland Fintech)
Since 2014, Holland Fintech has been mapping the fintech landscape, in the Netherlands and abroad. The growth has been explosive. In 2014, the fintech map contained 134 companies that were active in the Netherlands. Today, there are 1763 companies on the map. This year's report really shows how far we've come as a country when it comes to fintech. Download for free the full report here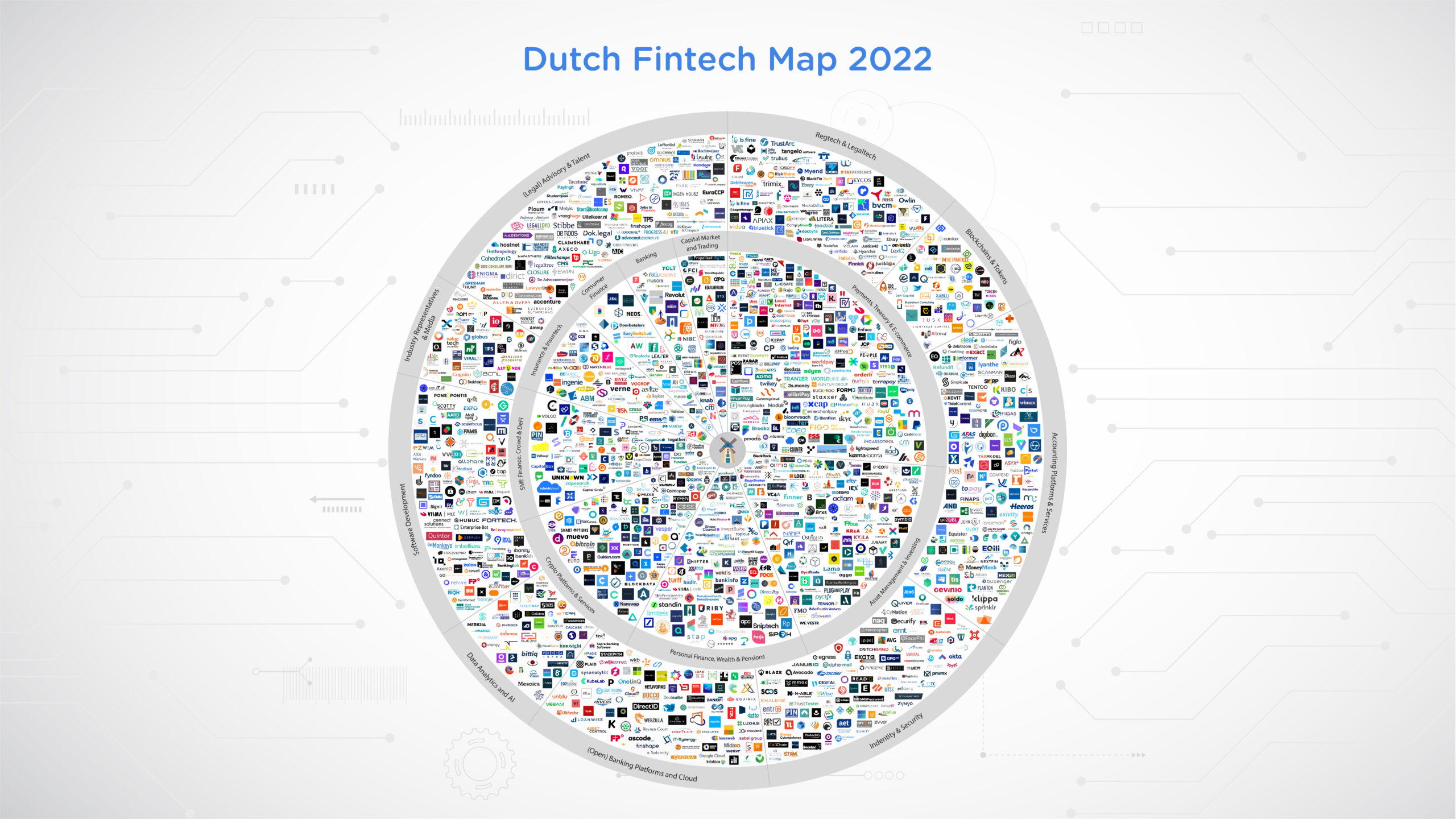 Global fintech funding saw dip in 2022, says Innovate Finance report (Fintech Futures)
A new report from UK fintech body Innovate Finance reveals that global fintech funding reached $92 billion in 2022, a decrease of 30% compared to the $130 billion seen in 2021. The year 2022 saw 5,263 deals compared to 6,146 deals in 2021. The US saw the highest number of fintech funding in 2022 with more than $39 billion being invested, followed by the UK with $12.5 billion and India securing third place with $5.5 billion. The UK fintech sector saw an 8% drop from 2021, with the $12.5 billion spread across 546 deals in 2022, as opposed to $13.5 billion across 583 deals in 2021. "This is notably a much smaller decrease than the global average, with many other countries, including the US, suffering a double digit decrease in investment," Innovate Finance says. An exception to the global slowdown was Singapore, which, according to Innovate Finance, saw a 41% increase in investment from 2021, jumping from the 7th to the 4th position. Read more
UK fintech funding slumps by eight percent (Finextra)
UK Fintech funding slumped by eight per cent last year but remained ahead of rival hubs in Europe and Asia amid a sharp global slowdown, according to new data from industry body Innovate Finance. Rising interest rates, surging inflation and the shockwaves caused by the war in Ukraine brought an end to a decade-long global venture capital frenzy last year. According to the data, the UK's fintech sector attracted some $12.5bn worth of capital, down from a bumper year in 2021 which saw $13.5bn pumped into the country's fintech firms. London firms attracted the lion's share of the investment with $10.2bn invested in 2022, down only five per cent from 2021 amid a sharp global slump. Contractions in UK funding were markedly smaller than the global average as total global investment fell by nearly a third to $92bn, with the total number of investment deals around the world tumbling to 5,263 from 6,146. Read more
Mambu Partner Network Releases Highly-Anticipated Predictions for 2023 (The Fintech Times)
Mambu's global network of partners share their insights and predictions on the forces likely to shape the industry this year.
Software-as-a-service (SaaS) cloud banking platform Mambu publishes its latest report for 2023, accommodating a litany of predictions put forward by its partner network. In light of the economic downturn, the report more specifically hones in on the seven most influential trends anticipated to take hold of the industry this year. Partners including AWS, Backbase, Deloitte and Google Cloud have contributed towards these predictions. They examine the changes the industry must expect and explore how financial players should respond, to ensure they don't get left behind. According to its introduction, the report highlights 'the growth of embedded finance, new forms of digital payments, and the move for competitors to become collaborators'. Its insights also address the so-called 'platformisation' of banking, sustainability and ethical finance alongside the growing role of big tech. Read more
IDC report: New data sources and innovative AI redefining the business of lending (Fintech Futures)
The business of lending money is changing – quickly. Modern technology, backed by expanding data and the soaring adoption of advanced analytics like artificial intelligence and machine learning (AI/ML), is changing the way the industry determines who receives credit. According to IDC, tech spending on AI systems is expected to increase to $27.7 billion in 2025 (from $11.7 billion in 2021). Check out IDC's recent Technology Spotlight, focused on the way technology advancements and new data sources, including alternative data, are pushing the boundaries of borrowing. Read more
–
Do you have any news to share: please put feed@hollandfintech.com on your press list.
Curious to read and find out more from fintech? Then subscribe & read our full newsletters here. In order to see our other weekly highlights, check out the following links: analysis & opinion