The fintech industry is rapidly evolving and disrupting traditional financial systems. In this article, we bring you the latest research insights to help you stay ahead of the curve and understand the future of financial technology. Enjoy researching!
German FinTech deal activity saw a correction in 2022, dropping 24% from previous year (Global Fintech) 
German FinTech deal activity and investment saw a drop in 2022 from 2021 levels although both remain above 2020 signalling the investment landscape in the country went through correction rather than a downturn. German FinTech investment in 2022 saw a significant 47% drop to $3.4bn from 2021 levels. FinTech investment in 2022 was still 70% above 2020 levels. German FinTech deal activity saw a less dramatic 24% drop in 2022 reaching 222 deals in total. This drop was slightly more than a comparable country such as France which saw a 17% drop in 2022. Germany was the second most active FinTech country in 2022 behind the UK and ahead of France which was the third most active FinTech country. Read more
Guide: Simplified AI – level up your risk decisioning (Provenir)
Anybody who has ever played a video game knows that to reach your end goal, whether it's rescuing the princess, defeating the boss, or well, just casually dominating the competition, you need to power up your character's abilities every chance you get. Much like, to succeed in today's digital first financial services world you need to level-up your risk decisioning capabilities whenever possible. So, in the world of financial services, what's the ultimate decisioning power-up available right now? 86% of leaders in financial services plan to increase investment in AI over the next year.2 In the following section we'll look at the potential AI benefits that are driving companies to continue to pursue AI projects, even when existing ones haven't produced
the expected results. Read more
USA leading the way in FinTech patent quality according to new index (Nottingham Business School (NBS))
New research has revealed that the USA is leading the FinTech innovation field when it comes to the quality and quantity of patent applications. The findings come as a new index has been created to help companies measure the quality of FinTech patents when making decisions on investments in acquisitions, collaborative partnerships, and licensing agreements which involve intellectual property (IP). Research led by the new Centre for Finance, Technology and Society at Nottingham Business School (NBS), part of Nottingham Trent University, used key indicators to assess more than 16,000 patents in the FinTech field registered over 20 years. Through an extensive review of patent quality studies, researchers collected and analysed all possible indicators that have been used to assess the quality of patents in several fields, including but not limited to FinTech. Read more
Challenger and Specialist Banks Overtook Major Bank Lending in 2022; Reveals British Business Bank (Fintech Times) 
Challenger and specialist banks' lending total exceeded that of the UK's major banks in 2022, giving them a 55 per cent share of the market. Challenger and specialist bank lending reaching £35.5billion, and more, is revealed in the most recent British Business Bank report. The Small Business Finance Markets 2022/23 report finds that gross bank lending increased by 12.8 per cent in 2022. However, net lending actually fell by £8.5billion – in large part reflecting repayment of covid loans. The report details how the smaller business asset finance market reached a record level in 2022. The market saw an increase in new business of 11 per cent across the year, reaching £22.1billion. The data also highlights a drop in the demand for external finance. Q3 2022 saw 33 per cent of smaller businesses using external finance – compared to 44 per cent the year prior. Gross lending grew despite fewer smaller businesses using finance, as they sought larger loans to support their business due to inflationary pressures. In addition, survey findings show that success rates for those seeking loans fell sharply from 80 per cent to 64 per cent year-on-year. Read more
Analyzing a16z's fintech investment strategy: Where did the VC place its biggest bets in 2022? (CB Insights)
The fintech industry took a hard hit in 2022 as investors scaled back their investments amid market turmoil. However, some top investors like Andreessen Horowitz (a16z) remained active in the space across various deal stages, valuations, geographies, and sub-industries. Fintech is central to a16z's investment strategy. In recent years, the firm has not only shored up its presence in more familiar sectors like banking, but also reached deeper into newer territory like blockchain. Of the 206 deals a16z participated in last year, almost a quarter went to fintech companies — more than any other industry. Sixty percent of these fintech investments closed in H1'22, and the remaining 40% closed in H2'22. Read more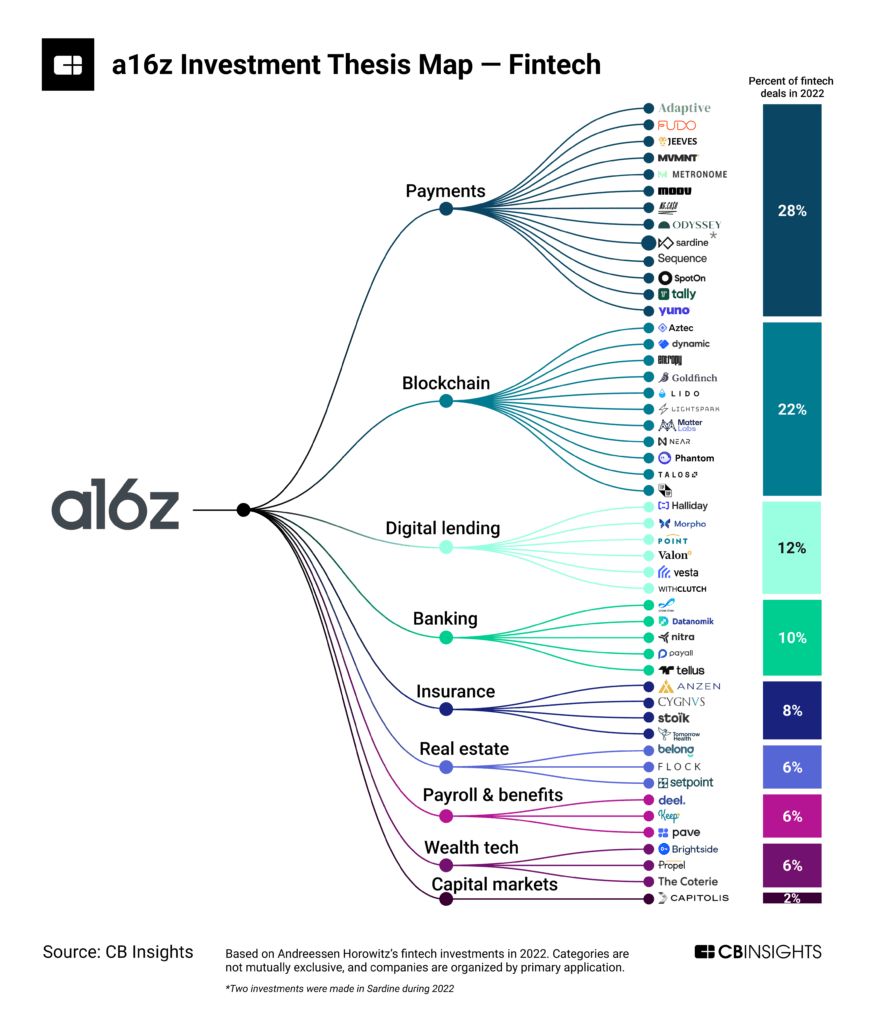 –
Do you have any news to share: please put feed@hollandfintech.com on your press list.
Curious to read and find out more from fintech? Then subscribe & read our full newsletters here. In order to see our other weekly highlights, check out the following links: analysis & opinion