The fintech industry is rapidly evolving and disrupting traditional financial systems. In this article, we bring you the latest research insights to help you stay ahead of the curve and understand the future of financial technology. Enjoy researching!
The Fintech Sentiment: How is fintech embracing gender equity on IWD 2023? (Finextra) 
2022 research from recruitment firm Robert Walters found that less that a quarter of the global fintech talent is female. The research states that the percentage of fintech roles held by women falls behind those held by women in banking and technology. Anna Brailsford, CEO of Code First Girls stated that in order to ensure the UK tech industry is as strong as possible, "we need to draw on the widest possible range of voices and insights. But the industry is facing a major skills gap, and as things stand, there will be only one qualified woman for every 115 roles by 2025." Many women face significant barriers to entering the industry, starting at school and continuing throughout their lives. In order to support and encourage women to enter the tech industry Brailsford commented that companies should not only promote free training and other initiatives, "they should also ensure advertisements highlight the benefits of a technology career, including rapid career progression, flexibility, interesting work, and listed salaries. Support should also be put in place focused specifically on key transitional moments of a woman's career, such as returning to work after maternity leave, or dealing with menopause. Read more
DACH: Fintech Trends to Look out for in 2023 (Fintechnews Switzerland)
Germany, Austria and Switzerland, also referred to as the DACH region, have been proponents of fintech in Europe from the beginning, an early support that has enabled the region to establish one of the world's most vibrant and dynamic fintech ecosystems. In 2021, fintech research and analytics firm Findexable named Switzerland the fifth biggest fintech hub in the world, and Germany, the 9th largest. The 2021 Global Fintech Ranking, which considered a location's density of fintech companies and accelerators, payments ecosystems and the ease of doing business, also placed Berlin, Zurich and Hamburg among the world's top 30 most prominent fintech cities in the world, ahead of locations including Seoul, Paris, Dubai and Shenzhen. Read more
Climate change: Emerging from the crypto winter (Fintech Magazine)
As governments speed towards CBDC pilot programmes, cryptocurrencies are facing tough recovery and trust issues. But is a thaw on the way? It's been a disastrous few months for the cryptocurrency market. The long winter of discontent has been extended by the global economic recession, tanking currencies, and scandals – think FTX. High-energy-sapping currencies such as Bitcoin have also suffered from criticism, while progressive Ethereum has set the bar high by moving from proof-of-work to proof-of-stake, thus reducing its carbon footprint to almost nothing from its previous usage – which equalled the energy consumption of Finland. Regulation is also looming large, as governments and financial conduct authorities set out new parameters for the decentralised finance space – and this is being shaped by the need for greater security as cyberattacks and fraud incidences continue to rise in the digital currency space. Read more
The Fintech Landscape in Lithuania 2022-2023 (Invest Lithuania)
This Report presents the latest data, success stories, and market expectations for what is coming next in the Fintech landscape in Lithuania. The Report is based on extensive research conducted by Invest Lithuania to highlight the Fintech sector's main trends and celebrate its most significant milestones. A total of 263 Fintechs were identified as operating and having a legal entity in Lithuania at the end of 2022. Desk research was performed to collect data on these companies, such as location, business
activities, and number of employees. These companies were then invited to take part in the survey that forms the basis of this Report. The survey questions focused on gaining insights into the companies' operations in Lithuania, talent dynamics, as well as revenue and funding. Read more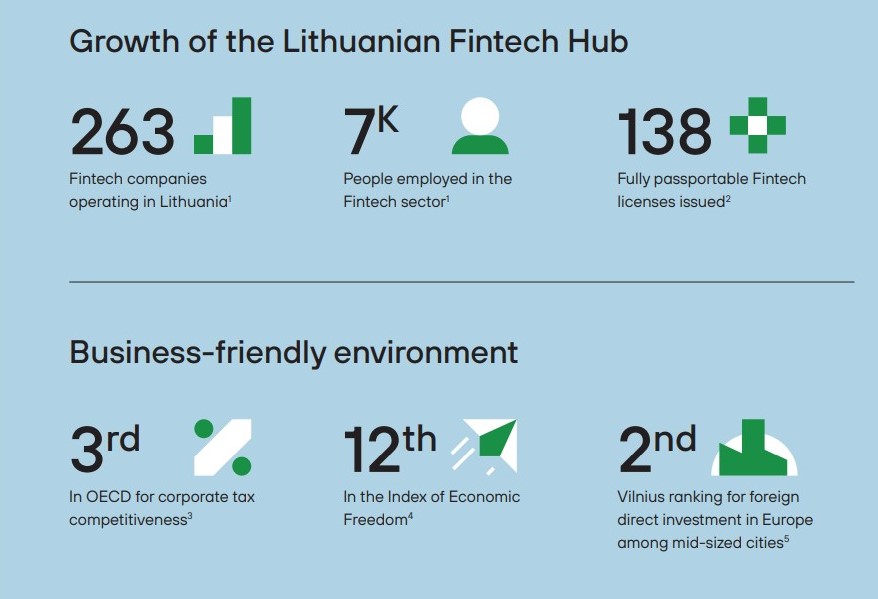 😀
–
Do you have any news to share: please put feed@hollandfintech.com on your press list.
Curious to read and find out more from fintech? Then subscribe & read our full newsletters here. In order to see our other weekly highlights, check out the following links: analysis & opinion