The fintech industry is rapidly evolving and disrupting traditional financial systems. In this article, we bring you the latest research insights to help you stay ahead of the curve and understand the future of financial technology. Enjoy researching!
State of the Startup Market Report Q1 2023 (Leapfunder)
At the end of each quarter, Leapfunder prepares a State of the Startup Market Report. In the report for Q1 2023, they are talking about the upcoming startup hubs in Germany and the Netherlands and the hot startup industries. Flip through the spotlighted startups and the fresh arrivals from our Startup Directory. Read more
How tit-for-tat inflation can make everyone poorer (European Central Bank) 
Inflation in the euro area has been high recently, mainly because of a surge in energy prices. Since the euro area imports more than half of the energy it uses and energy has become much more expensive, households and firms have lost real income. This has been made worse by supply chain problems which have also driven up import prices. In such a situation, firms have an incentive to try to minimise their share of the burden by raising their prices in order to protect their profit margins. Producers in some sectors might even try to increase their margins over and above what would be justified by higher input costs to also fully recoup previous real income losses from the various shocks of the past three years. Another motivation could be the attempt to build buffers in an environment of high uncertainty. Likewise, workers want to minimise their share of the burden by adjusting their wage claims to recoup the real wage losses resulting from higher prices. While price adjustments of firms can happen relatively quickly, wage setting is usually staggered in euro area countries and often requires a long negotiation process. Read more
Artificial intelligence has advanced despite having few resources dedicated to its development – now investments have increased substantially (Our World In Data)
Artificial intelligence (AI) technology has steadily become more powerful over the course of the last decades and in recent years it has entered our world in many different domains. In a companion article – the brief history of artificial intelligence – I document this development. This was achieved despite having relatively few resources. Until recently, investments in terms of capital and scientific efforts were small. In this article I highlight that this has very much changed in recent years. Corporate investment has increased and the scientific field has grown in size. Given how rapidly AI developed in the past, despite the limited resources, this should make us expect AI technology to continue to become more powerful in the coming decades. Until recently, private sector investment was relatively low. But, especially from 2018 onwards, it has increased rapidly. Investments in 2021 were about 30-times larger than just eight years earlier. Read more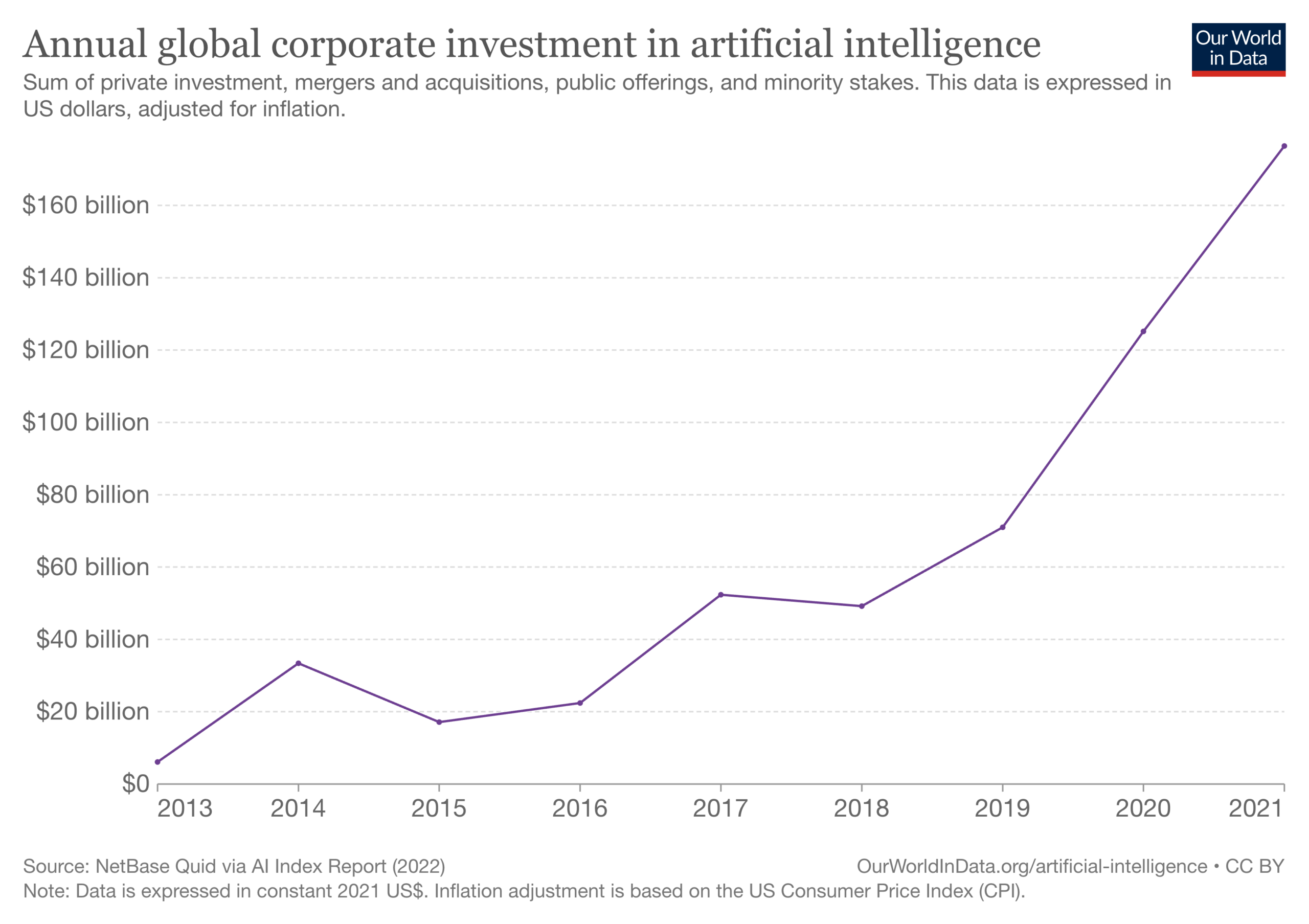 Where People Borrow Money From, by Country Income Level (Visual Capitals)
When making the decision to borrow money, do you turn to friends and family for financial help, or do you go to a financial institution like a bank or credit card company? On a country-to-country basis, this choice often depends on a mix of various factors, including the availability of financial services, financial literacy, and the cultural approach to the very concept of lending itself. In these graphics, Richie Lionell sheds some light on where people borrow money from, using the 2021 Global Findex Database published by the World Bank. To compare borrowing practices across both location and income level, the dataset features survey results from respondents aged 15+ and groups countries by region except for high-income countries, which are grouped together. Read more
A defining moment: How Europe's CEOs can build resilience to grow in today's economic maelstrom (McKinsey Global Institute) 
A confluence of crises and disruptions has darkened European skies. The energy crisis is already dire and could get worse. The war in Ukraine continues an unabated humanitarian tragedy. The cost of life's essentials has gone through the roof—prices in some countries have risen eightfold. Business signs are weakening. In July and August, purchasing managers' indexes indicated contraction for the first time since early 2021. China, a key supplier and customer, is wrestling with its own economic problems. The effects of climate change are pronounced across the continent, with drought and extreme heat curtailing hydropower and even putting industrial production at risk. The energy crisis threatens to derail the net-zero transition. Semiconductor shortages, technological shortfalls, and labor shortages remain. The latest McKinsey scenarios, undertaken in partnership with Oxford Economics, suggest that European GDP will most likely contract overall in 2023. Read more
How Much Can Digital Card Issuance Grow in the Near Future? Juniper Research Reveals Predictions (The Fintech Times)
1.3 billion payment cards will be issued via digital platforms every year by 2027 – a sharp incline from the current annual rate of 500 million in 2023; according to the latest study by Juniper Research. Juniper's latest research highlights a growing trend that has existed for some time now. Intense competition between issuers from digital-only banks and fintechs offering digital card services has enhanced the trend that seems inevitable. Digital card issuing platforms are replacing physical payment cards. Digital card issuing platforms are enabling card issuers to create cards using an Application Programming Interface (API)-driven approach. This sees cards instantly delivered – directly to digital wallets. Issuers also give users the option for a physical card. The new issuing method looks to boost flexibility, transparency and speed. As traditional card issuers look to keep pace with a growing number of competitors in the payments space, the obvious solution appears to be to lean into the digital space that is proving extremely popular amongst consumers. Read more
–
Do you have any news to share: please put feed@hollandfintech.com on your press list.
Curious to read and find out more from fintech? Then subscribe & read our full newsletters here. In order to see our other weekly highlights, check out the following links: analysis & opinion