The fintech industry is rapidly evolving and disrupting traditional financial systems. In this article, we bring you the latest research insights to help you stay ahead of the curve and understand the future of financial technology. Enjoy researching!
Fintech on the Rise in Kazakhstan Driven by Digital Payments and Super-Apps Adoption (Fintechnews Switzerland) 
In Kazakhstan, the fintech industry is growing at a fast pace, driven by rapid adoption of digital payments, ecosystem services and super-apps, among other digital financial services, a new report by Fintech Consult, MOST Ventures and RISE says. Moving forward, supportive initiatives from the government and infrastructure enhancement efforts are expected to further drive innovation and adoption in the sector. According to the report, digital transactions are growing rapidly. Since 2017, the volume of cashless transactions have doubled each year, soaring from a mere US$5 billion in 2017 to US$158 billion in 2022, data from the National Bank of Kazakhstan (NBK) show. Read more
Volume of cashless transactions, 2017-2022, US$ billions, Source: Fintech in Kazakhstan, Fintech Consult, MOST Ventures and RISE, April 2023
What leading cybersecurity firms made the 4th annual CyberTech100? (Global Fintech)
The fourth annual CyberTech100 has revealed the most innovative cybersecurity businesses worldwide that are boosting cyber defences in the financial world. The financial services market is changing, and with this is the need for businesses in the space to be well protected against harmful threat actors. Recent research has found that the CyberTech sector is expected to be an area of considerable future growth, with a CAGR of 13.8% predicted for the industry between 2023 and 2030. This would see overall revenues soar from $172.3bn to $424.9bn. With this considered, this year's list includes one of the widest and most diverse plethora of talent yet. A longlist of over 1,000 companies was produced by FinTech Global, which a panel of analysts and industry experts used to vote on the finalists. Read more
Neobanks, mobile money… Africa's future fintech leaders (The Africa Report)
Among africa's 20 future tech champions, fintech start-ups are in the majority with six representatives. They offer neobanks, business management solutions for small merchants, multi-channel money transfer platforms, and tools to simplify debt collection. As the selection shows, fintech start-ups remain the most popular among investors in Africa. As the leading agent of financial inclusion on the continent, they are more successful than others in generating revenue quickly. Here are the business models of the continent's most promising start-ups, according to our survey. Read more 
Fintech Projected to Become a $1.5 Trillion Industry by 2030 (BCG)
Financial technology revenues are projected to grow sixfold from $245 billion to $1.5 trillion by 2030, according to a new report released today by Boston Consulting Group (BCG) and QED Investors. The fintech sector, which currently holds a 2% share of the $12.5 trillion in global financial services revenue, is estimated to grow up to 7%, of which banking fintechs are expected to constitute almost 25% of all banking valuations worldwide by 2030. The report, Global Fintech 2023: Reimagining the Future of Finance, provides a comprehensive overview of fintech's future landscape globally and explores the latest trends and opportunities in the global fintech market. It also examines the regulatory environment for fintech companies and the impact of emerging technologies. In 2022, fintechs on average lost more than half of their market value, but according to the research, this plunge was merely a short-term correction in an otherwise long-term positive trajectory. Read more
Data portability in open banking (OECD)
Open banking initiatives employ consent-based data portability tools to improve user access to financial information and services. Such initiatives seek to empower users to unlock the potential of their data, while also preserving privacy and security. On 16 and 17 March 2022, the OECD, together with the Future of Privacy Forum and the Israel Tech Policy Institute, held a virtual workshop on 'Data Portability in Open Banking: Privacy and Other Cross-Cutting Issues'. This workshop brought together private and public experts from a wide variety of countries, and provided an opportunity to explore open banking and the opportunities and challenges it can bring. The uptake of open banking in the United Kingdom has been considerable. At the end of 2021, there were more than 300 third-party service providers. In addition, from November 2019 to January 2022, the number of unique users grew from one million to five million. Read more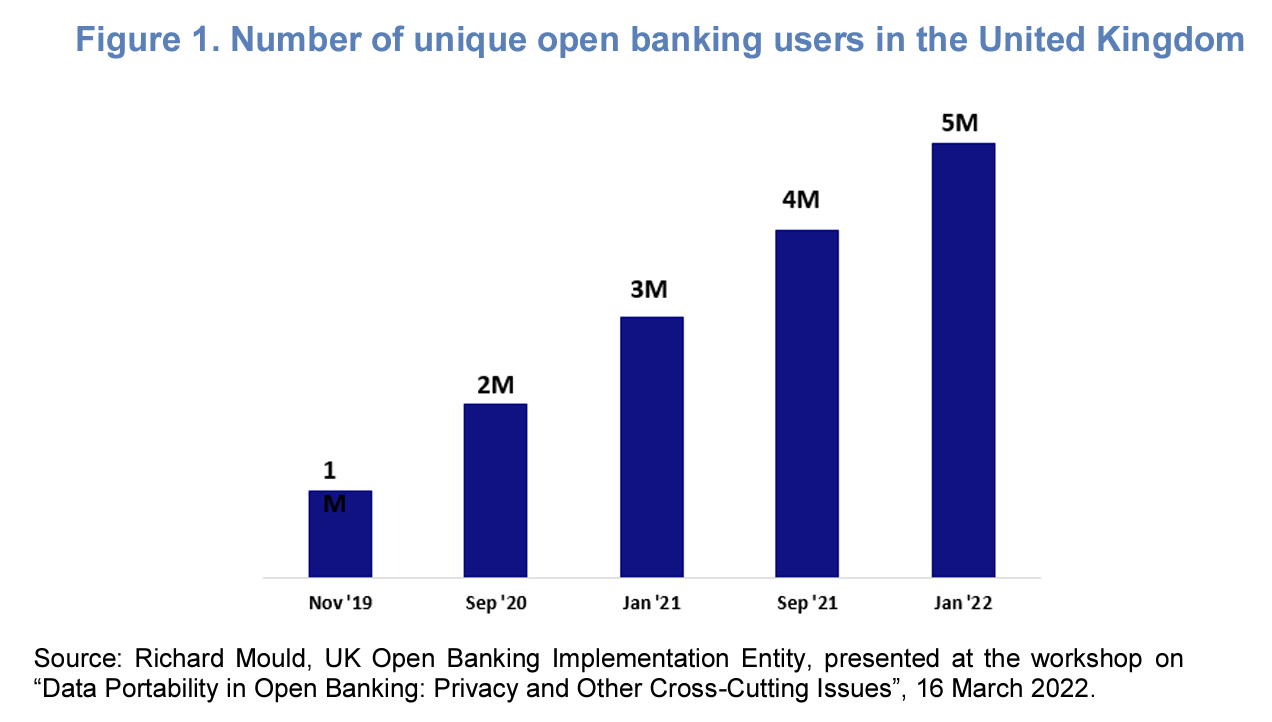 Inclusive Green Finance: A Policy and Advocacy Approach (UNSGSA)
This new report examines how access and usage of financial services can help build resilience in the face of climate shocks, while also providing opportunities to participate in green economic sectors, including agriculture, renewable energy, transport, and waste management. Titled, Inclusive Green Finance: A Policy and Advocacy Approach, it aims to highlight the interdependent and amplifying role of financial inclusion in global sustainability efforts and strengthen climate considerations in financial inclusion plans and strategies. It also presents examples and opportunities for advocacy on inclusive green finance (IGF). The report was launched by the Inclusive Green Finance Working Group (IGFWG), convened by H.M. Queen Máxima of the Netherlands, the United Nations Secretary-General's Special Advocate for Inclusive Finance for Development (UNSGSA). Read more
–
Do you have any news to share: please put feed@hollandfintech.com on your press list.
Curious to read and find out more from fintech? Then subscribe & read our full newsletters here. In order to see our other weekly highlights, check out the following links: analysis & opinion