Despite its small population, Australia boasts more than 600 fintech companies. Its dynamism is partly due to its strong economy, and partly to the high level of support that government and industry offer to start-ups. We review some of the start-ups we think you should keep an eye on in the next few years.
In the past few years, Australia has witnessed remarkable growth in the fintech scene. Today, more than 600 fintech companies offer products and services across the fintech spectrum, from regtech to data sharing, payments to artificial intelligence.
Their achievements are recognised in The Finnes, an awards program supported by the NSW Government, now in its second year. This year, awards were granted across 23 categories, with Afterpay taking home the grand prize of Fintech Organisation of the Year.
There are many more companies that didn't make the finals. But fintech changes fast, and next year we are likely to see some new faces in the awards. Here are some of the winners and the up-and-comers.
Payments with credit
Afterpay
What is it?
Afterpay is a service offered in many Australian retail stores. It allows customers to pay for their purchases in four equal, interest-free installments. This is essentially a way to give people loans without them having to apply for one. Although it was only founded in 2017, Afterpay already has around 1.8 million customers and 14,000 retail merchants using its service.
How does it work?
Customers download the app and create an account. By tapping the barcode tab customers can see how much they can spend immediately using Afterpay. When they get to the register, the retailer scans the barcode. The customer then pays the first installment. Afterpay settles with the retailer, then the customer pays Afterpay back.

Brighte
What is it?
Brighte is a digital credit platform that provides homeowners with an affordable way to pay for sustainable energy products, including solar, roofing, home batteries, air conditioning and more. It was founded 2015 by CEO Katherine McConnell, who won Outstanding FinTech Leader of the Year at the 2018 Finnies. Since it was launched, Brighte has approved over $50 million of applications from more than 6,000 Australian homeowners. In May, Brighte secured AUD 18.5 million in Series B funding.
How does it work?
Using the Brighte website or app, customers choose a category of product and fill in their contact details. They receive a message saying they will be contacted by vendors. Then, customers apply for credit of up to $15,000, which they use to pay for their purchases. Brighte doesn't charge any interest: instead, customers pay a range of fees: an AUD 75.00 BrightePay application fee, an AUD 2.99 fortnightly payment processing fee, an AUD 3.50 monthly account keeping fee, and an AUD 4.99 late payment fee.

Digital Identity
Verifier
What is it?
Verifier is a B2B solution providing a real time, online alternative to manual review of payslips. It was founded in 2014 by CEO Lisa Schultz, who is also the Founding Director of the The RegTech Association in Australia. The aim is to help consumers get loan approval more quickly and prevent them from dropping out of the application process. Verifier also proudly addresses the challenge of responsible lending. The service is in limited release with a select number of vendors in Australia, and will be available to a wider number of consumers in 2019.
How does it work?
Consumers use Verifier during the course of a loan application. When filling out their forms, they are offered Verifier as an option for the person to speed up the income verification process. Verifier confirms gross pay via either payroll data or pension contributions from employers (uniquely in Australia these are tied to gross pay). Verifier makes access requests on behalf of people, using their Privacy Act/GDPR right of access to data held about them. Verifier offers a frictionless, sub 2 second solution using its proprietary API connections to participating data sources. For consumers who prefer paper proof, Verifier offers a document module that enables straight through processing in the majority of cases. Learn more about how the service works in this video.

iSignthis
What is it?
iSignthis offer B2B services in identity verification, payment authentication and payment processing to meet AML/CFT requirements. The Company's mission has been to bring together payment and identity services into a seamless product and enable businesses to rapidly onboard their customers in a global, seamless and secure environment. iSignthis is headquartered in Melbourne, Australia, with an Operations Centre in Cyprus and regional offices in London, Amsterdam and Barcelona. Founded in 2013, the company is publicly listed in the Australian Securities and Frankfurt Stock Exchange (ASX : ISX , FRA : TA8). Their subsidiary iSXPay, is an EEA licensed e-money institution authorised and supervised by the Central Bank of Cyprus.
How does it work?
iSignthis offers two main products to businesses: Paydentity and iSXPay. Their flagship product Paydentity™ is a patented process that enables online businesses to identify their users in real time. What's unique about this product is that it combines the verification of the end-user's identity with the authentication of their payment transaction to satisfy AML/CFT regulatory requirements. This is particularly useful for high-risk/regulated entities where Enhanced Due Diligence KYC is a legal requirement as well as for online businesses who want to manage fraud and chargebacks. Their iSXPay® product is a complete payment solution which enables merchants to accept and process payments from all major debit and credit cards from customers all over the world, in their customers' preferred currency.

Blockchain
Civic Ledger
What is it?
Founded in September 2016, Civic Ledger use blockchain and smart contracts to help make government work more efficient. This young business won Emerging FinTech Organisation of the Year at the 2018 Finnies.
How does it work?
Civic Ledger develop blockchain solutions for a wide range of government use cases. For example, they did a national feasibility study to improve transparency of water trading in Australian water markets. Civic Ledger delivered a blockchain platform based on Ethereum that uses a tokenised physical asset which was mega-litres of water. Smart contracts enable the trade of water allocations.

AgriDigital
What is it?
AgriDigital connect farmers, traders and storage operators on a single, blockchain-enabled cloud-based supply chain platform. The company was founded in September 2015 by a team of Australian farmers and agribusiness professionals. The platform was released in Australia in March 2017. In 2018 AgriDigital won the Excellence in Blockchain / Distributed Ledger award at the 2018 Finnies, an award for the Most Innovative International Supply Chain Startup (Series A and beyond) at the AgFunder Global Innovation Awards, and won the GTR Ventures Trade Tech Competition in Singapore. They are growing fast: the platform is planned for release in the US/Canada market in early 2019. You can follow them on Twitter and their blog.
How does it work?
Farmers, traders and storage operators all connect via a cloud-based, blockchain-enabled platform. Users can seamlessly manage contracts, deliveries, inventory, invoices and payments within this one platform. Through the application layer, AgriDigital captures and validates information about the physical commodity and streamline interactions between supply chain participants. AgriDigital is also planning to add a financing module to the platform. This module will provide users with a live window into their inventory and contract positions. The Finance Module will provide management of cash flow and users will be able to request facility drawdowns and repayments all within the AgriDigital platform and on a just-in-time basis.

Data for businesses
Flamingo AI
What is it?
Flamingo AI were runner-up for FinTech Organisation of the Year at The Finnies in 2018. Based in Sydney and New York, they are a machine learning company that offer AI-powered virtual customer assistants for the finance and insurance industries. Flamingo AI offer a virtual customer assistant, virtual agent assistant, and virtual employee assistant. They claim that their assistants double online sales conversion rates.
How does it work?
The assistants, Rosie and Maggie, are used to handle quotations and applications, set up accounts and onboard clients, take payments, lodge claims, and answer customer service enquiries. Rosie and Maggie learn from each customer interaction. They can also be pre-trained with a business's web logs, chat logs, interaction data, FAQs and other data. Once the assistants learn, they can then have automated conversations with customers.
Data Republic
What is it?
Data Republic is a platform for data sharing between organisations. They specialise in financial services, insurance and government. Their challenge was to set up a data exchange between multiple parties that overcomes technical and legal barriers, while ensuring customer data is secure. Data Republic were founded in 2014 by Danny Gilligan and Paul McCarney. Data Republic secured $10.5 million in its first funding round in mid-2016, largely from Qantas Loyalty, NAB Ventures and Westpac's Reinventure Fund. In 2017, they received a contract from the NSW Government Senate to launch a data sharing platform. In February 2018 they received further funding from ANZ Bank.
How does it work?
Data Republic's main product is the Senate Platform, which is designed as a control centre for Chief Data Officers, it allows users to manage data access, governance, shared analytics and licensing from one central platform. It allows them to govern data access, protect customer privacy and enforce licensing terms across their internal and external data sharing projects. The platform offers tools for organisations to govern and control how they share data with all parties, including internal teams, suppliers, partners, and collaborators.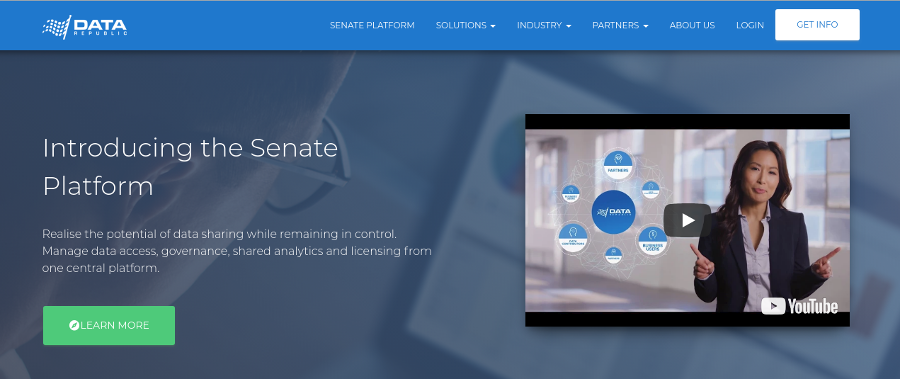 By Erin B. Taylor, Research Consultant