The UK is finally due to leave the European Union on 31 January 2020 with a withdrawal deal. Assuming the European Parliament approves this deal, it will mark the next important step in the Brexit process. For the rest of 2020, the UK's trading relationship with the EU will stay the same while both sides try to negotiate a free trade deal. A number of significant aspects still need to be ironed out including security, borders, law enforcement, data sharing and more. If things don't work out, the UK could end up without an agreement, cumbersome tariffs and time-consuming checks on all UK goods traveling to the EU.
Many UK businesses have already taken the necessary precautions and researched their options of where to set up business on the European continent. Businesses of all shapes and sizes from the UK are looking for a base from which they can easily reach the rest of the continent. Holland Fintech believes it can play a role in helping businesses from the UK expand in Europe; especially with regards to firms working in the booming fintech, financial services and technology sectors. Many of our members are working in these sectors and we've got the knowledge and access to help your UK business grow on the continent.
With a rapidly expanding international network of more than 600 member companies large and small, Holland Fintech already has a strong presence in The Netherlands and throughout the continent. Our ecosystem is uniting the future of capital markets, banking, cybersecurity, pensions, and many other sectors. But rather than hypothesize further on what could (or could not) happen regarding Brexit, we'd like to underline why we believe Holland Fintech is your best UK to EU expansion partner.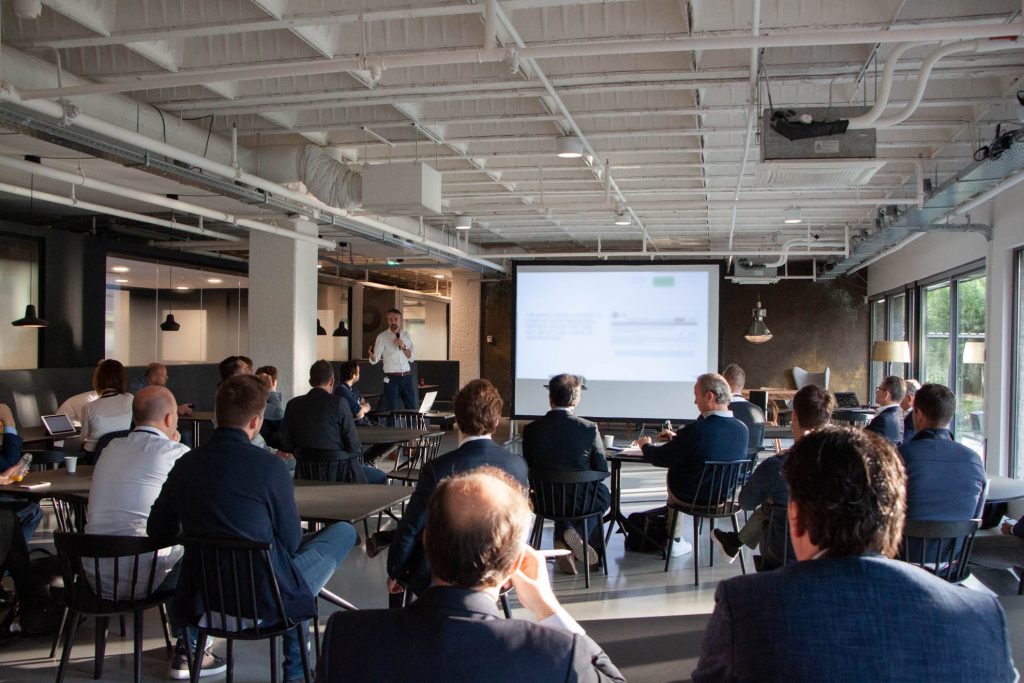 1. Cosmopolitan, familiar and fair
Unlike most other European countries, almost everyone in The Netherlands speaks English. In fact, many locals speak German, French, and Spanish too. It's openness as a nation allows the Dutch to attract some of the best talents from around the world. Take for example the many events Holland Fintech organizes. Whether it's one of our larger members (Refinitiv, BNP Paribas, ING Bank, McKinsey, Euronext or Finastra) hosting a "MeetUp" or one of our thriving scaleup members (Tink, Dyme, Bunq, Treezor or Funding Circle) hosting a "technology roundtable", you will hear English. Almost perfect English. And a welcoming network that is here to make your move from the UK to The Netherlands (or elsewhere in Europe) as seamless as possible. in short, Holland Fintech and The Netherlands are your tickets to pan-European expansion.
2. Open borders for open business
With an open workforce that supports innovation, Amsterdam and other large Dutch cities celebrate diversity. Amsterdam currently recognizes residents from 180 different nationalities and counting. The Dutch are extremely welcoming and want your business. The history of The Netherlands is rooted in commerce, finance, and trade. It is worth remembering that the Amsterdam Stock Exchange is considered the oldest "modern" securities market in the world. Established in 1602 by the Dutch East India Company, it was renowned for its dealings in its printed stocks and bonds. In other words, finance has long been a part of the Dutch DNA.
The Netherlands has long embraced a diverse, dynamic and internationalized economy. Consequently, the government created a Startup Visa for non-European citizens who would like to start a business here. Combined with a fast track immigration process for highly-skilled workers and the StarupDelta initiative, the Dutch see their country as the best place for starting, growing and internationalizing business and being the gateway to the rest of Europe. And yes, there are tax schemes for companies too. Together with numerous other national and international initiatives, Holland Fintech also has the Insights and knowledge to help your UK business thrive post-Brexit. Both here but more importantly on the rest of the continent. Let us know how we can help.
3. Connectivity you can count on
The Dutch have the connectivity you can count on. Schiphol Airport is a major airline hub and a quick 45-minute flight from the UK. Despite the occasional complaints from locals, the Dutch Rail system can get you swiftly to any of the major Dutch cities (Amsterdam, Rotterdam, Utrecht and The Hague) that make up the metropolitan area known as the Randstad. It's also a perfect hub to other European cities and a world-class port in Rotterdam is present to disperse all your goods throughout the continent.
Aside from an excellent transportation network comprised of trains, boats, trams, subways, and highways, The Netherlands boasts some of the highest broadband speeds in Europe. These traffic speeds make the Amsterdam Internet Exchange the second-largest Internet exchange in the world when measured by the number of connected members and by Internet traffic.
Holland Fintech is all about connecting too. Since 2014 we have provided access to knowledge, a network, investments, and talent. We connect people and organizations in the technology and financial sectors, enabling both consumers and businesses to profit from innovation and development. Our network of 600+ member companies and 22K individuals will help you successfully gain a foothold in The Netherlands or elsewhere in Europe. Why start from scratch when you can make use of our established network?
4. Embracing technology and financial services
The Netherlands embraces technology. This often means that innovation within financial services works well and the ecosystems are set up to make them work well. Dutch banks are considered pioneers with regards to introducing online and mobile banking to their customers. The Dutch financial sector provides more than 200,000 jobs with more than 20,000 working in the thriving fintech sector. An increasing number of these organizations and individuals are finding their way to Holland Fintech and becoming a member. Why don't you too? We provide our members access to that will enable you and your staff to network and establish meaningful business connections. And they will lead to important connections in the rest of Europe too.
In 2020 and onward, Holland Fintech will move substantially to increase its international expansion activities through memberships, partnerships, events and more. While our core focus will continue to be on fintechs, technology firms and those working in the broad world of financial services, we strongly believe that the UK – with Brexit on the horizon – is ripe for our current and future ecosystem. At present, this is how we are internationally represented:
As you can clearly see, we already have a large representation from the United Kingdom, but we believe we are only scratching the surface. Some of the trusted British brands already members of our network include Form3, Comply Advantage, Onfido, and Funding Options.
Holland Fintech as your UK to EU expansion partner
Holland Fintech strives to unite organizations and people in collaboration, transformation, and ultimately positive impact. More than 600 members use our knowledge network and program towards a more connected, efficient, self-sustaining financial technology ecosystem – leveraging on emerging technologies, shifting societal expectations and capitalizing on refreshed political interest in the future of our financial systems. Why don't you? We invite you to check out Staying Ahead: Our Vision and Program for 2020 and don't hesitate to get in touch with Holland Fintech if your company seeks help setting up in The Netherlands or Europe. Let Holland Fintech be your UK to EU expansion partner. We are ready to help.