For this week's research article, we have gathered the latest data and statistics from fintech. We take a closer look at diverse domains and topics, including banking, investment, fintech startups, blockchain, fiscal earnings and more. Dive into the piece and happy reading!
Big banks narrow customer satisfaction gap with smaller counterparts (Insider Intelligence)
J.D. Power's 2021 US. Retail Banking Satisfaction Study shows that the biggest US banks have reduced the gap between themselves and smaller competitors when it comes to customer satisfaction. Furthermore, customers gave banks high marks for how banks performed during the pandemic, with 63% stating in the survey that their own banks are completely supportive. This satisfaction propelled an 86% boost in respondents' likelihood to continue using their banks. Read more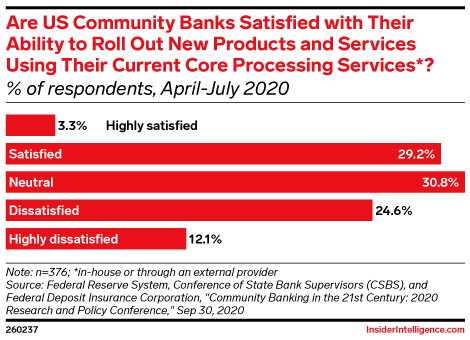 UK FinTech Investment Rebounds To Record Breaking Highs (Innovate Finance)
The findings show a breakthrough record in the UK Fintech. Investment in the first quarter of 2021 is 153% higher (2.5x) than the final quarter of 2020. The first three months of 2021 have also seen six mega-deals so far (ie. exceeding $100m in value), nearly matching a total of seven in 2020. Nine of the top ten deals this quarter were led by international investors (predominantly from the United States). Read more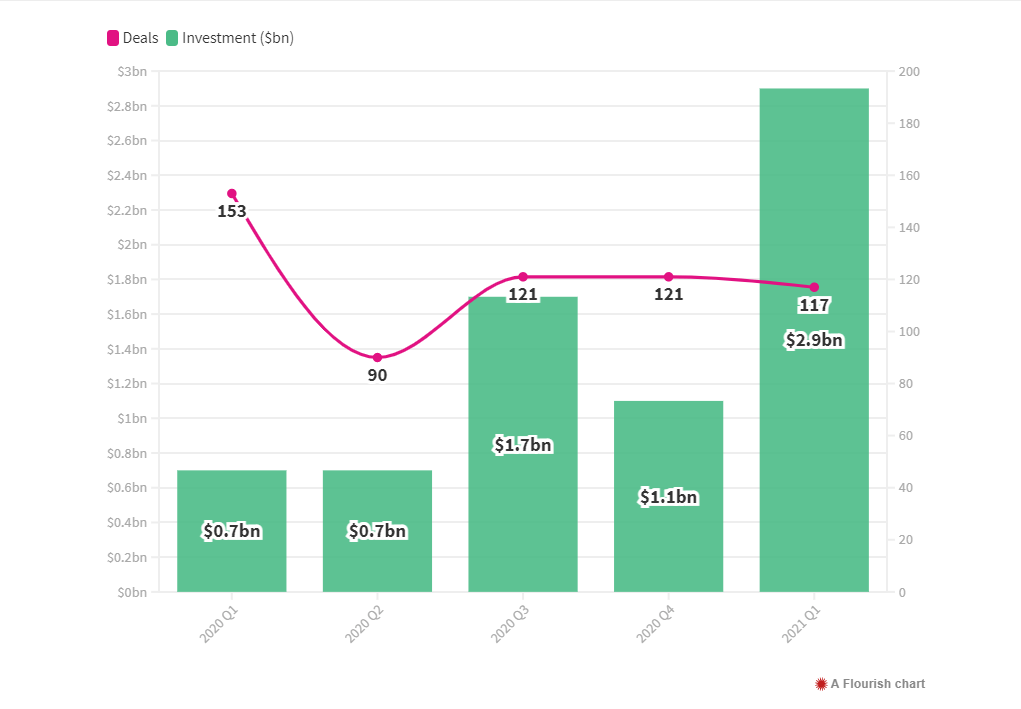 Visa's fiscal Q2 earnings reveal impressive volume recovery (Insider Intelligence)
This report reveals that Visa's total payments volume grew 11% year-over-year (YoY) on a constant currency basis in its fiscal Q2 (ended March 31, 2021). Visa's debit volume drove most of the growth in the period. Debit jumped 24% YoY while credit growth remained flat. In the same period last year, Visa experienced 9% and 1% YoY increases in debit and credit volume, respectively. Recent spending reflected overall pandemic-driven payment trends, with consumers favoring debit spending over interest-accruing credit spending. Read more
Startup Heatmap Europe 2021 (Startupsandplaces)
This research investigated what cities are most attractive to start a company in for European founders. The survey runs continuously since 2016 allowing a comparison over time. While the top 10 had been very stable over the years with only 2 changes in 2019, the year of COVID-19 and Brexit brought sizable changes among the startup city brands: 15 positions are changed in the Top 20. This opens up several questions about the robustness of European ecosystems. Read more
Blockchain hackers netted over $100 million in Q1 2021 (AtlasVPN)
This report found that cybercriminals stole around $108.3 million from various blockchain projects in the first quarter of 2021 –  a 46% rise from the same period last year. Ethereum DApps, blockchain wallets, and cryptocurrency exchanges were the criminals' target of choice. The data also considers blockchain scams, which make up a little over one-fifth of all blockchain hack events in 2021 Q1. Read more
State Of Fintech Q1'21 Report: Investment & Sector Trends To Watch (CBInsights)
This report takes a look at global fintech investment trends in key financial pillars, partnership activity and top deals. Results show that Q1'21 was the largest funding quarter on record for fintech funding. Across 614 deals, VC-backed fintech companies raised $22.8B. This represents 15% and 98% year-over-year (YoY) growth, respectively. Furthermore, every continent except for Africa saw QoQ growth in deal activity. Read more
Finnfund first development financier to report carbon net-negative investment portfolio (Mondovisione.com)
Finnish development financier and impact investor Finnfund released data showing that its total investment portfolio has a net negative carbon balance. The figures for 2019 indicate that Finn Fund's investments removed 134,679 tCO2e more than they emitted. In 2019, Finnfund's investment portfolio was EUR 617 million. At the end of 2019, Finnfund's investments in forestry were worth 147 million euros, which represented 19% of the total portfolio and is higher than any other development finance institution. Read more
———
Do you have any news to share: please put feed@beta.hollandfintech.com on your press list. 
Curious to read and find out more from fintech? Then subscribe & read our full newsletters here: https://hollandfintech.com/resources/newsletters/.