Crunch the latest numbers, trends and developments from fintech! For this week, we are exploring topics such as: crypto, DataOps, Cloud systems, IT, SPAC, RegTech, digital transformation, fintech adoption rates per different regions and many more insights. Enjoy the reading.
The Investor's Perspective on the Bitcoin Taproot Upgrade (Coindesk)
Earlier in June, Bitcoin miners signaled support for Taproot, a bundle of three upgrades to Bitcoin aimed at improving network security, privacy and scalability. This CoinDesk Research report looks into the merits of the upgrade from the investor's perspective, outlines some potential drawbacks and issues a reminder that Bitcoin is an investment in technology. Read more
DataOps: Moving Financial Services Organizations Into The New Economy (FStech)
To meet today's challenges, financial services organizations must bring data resources together to create personalized customer experiences, optimize existing processes through automation, increase cybersecurity and achieve better risk management. The insights of this Forbes Insights Report, "DataOps: Moving Financial Services Organizations Into The New Economy," shows more about implementing a data operations (DataOps) approach and the key advantages it will deliver. Read more
Driving successful Cloud Transformation (Finextra)
Cloud is seen as a key enabler to their digital future, however cloud adoption isn't just about IT infrastructure. This research paper from Finextra, in association with Thoughtworks, is based on interviews with senior leaders on their plans and challenges around digital programmes and cloud modernisation. Read more
SPAC Mania Screeches To A Halt In Q2'21 (CB Insights)
In the early months of 2021, SPACs seemed to still be riding the wave from last summer. The first quarter of the year saw a record 298 SPACs formed, raising $83B — up from 135 deals and $36B the quarter prior. But the SEC's April statement — which stipulated new accounting rules for SPACs — roiled the blank-check boom as companies scrambled to double check their financial statements for errors. New SPAC filings plummeted to just 61 in Q2'21. Read more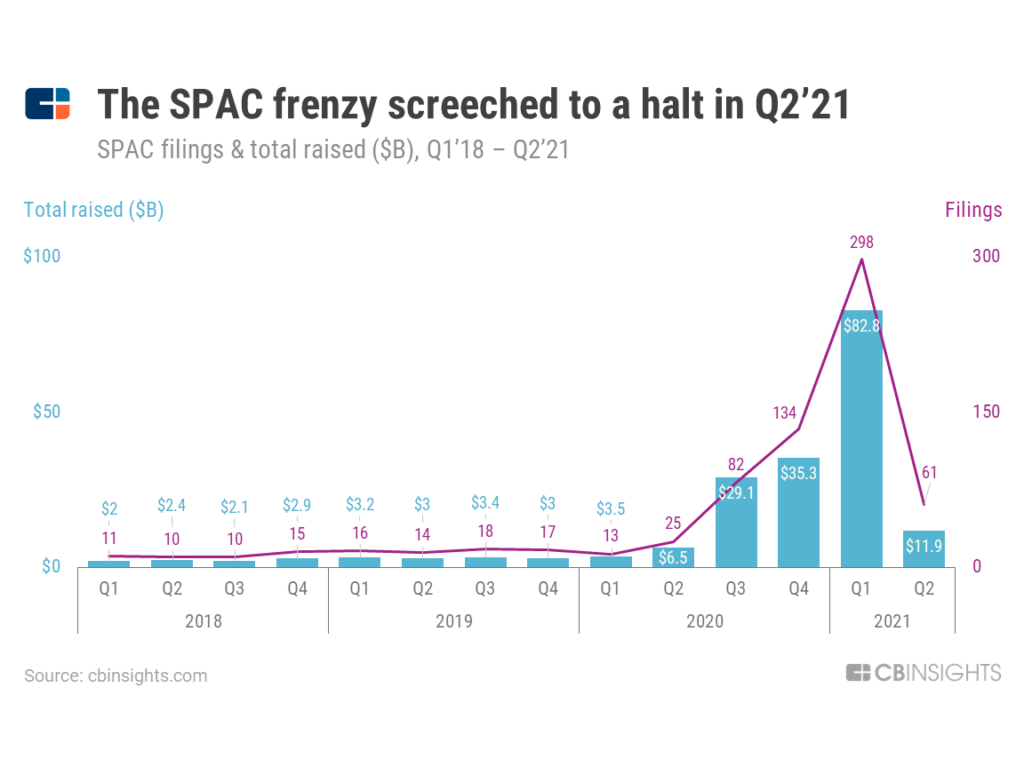 Global RegTech funding already set a new annual record just six months into 2021 (Fintech Global)
Global RegTech investment between 2017 and 2020 increased exponentially as investors increasingly backed companies looking to solve and bring efficiency to outdated compliance processes. Additionally, new regulations such as MiFID II and GDPR, introduced in 2018, opened up new markets for technology solutions helping financial institutions comply with the complex rules. Read more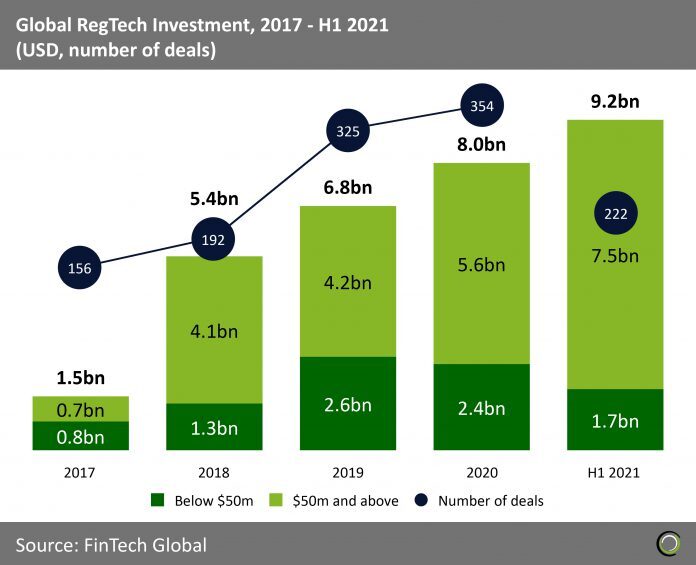 Fintech and the digital transformation of financial services: implications for market structure and public policy (BIS)
This analysis gives rise to important policy issues regarding competition, regulatory perimeters, and ensuring a level playing field. Concentration risks may increase in the provision of financial services to end-users, and in the provision of infrastructure to financial institutions. Market structures that concentrate data and supercharge network effects could reduce intermediation costs and broaden inclusion. Read more
Epidemic Exposure, Fintech Adoption, and the Digital Divide (European Bank for Reconstruction and Development)
This paper researches whether epidemic exposure leads to a shift in financial technology usage within and across countries and if so who participates in this shift. The results are based on a dataset combining Gallup World Polls and Global Findex surveys for some 250,000 individuals in 140 countries, merging them with information on the incidence of epidemics and local 3G internet infrastructure. Read more
—
Do you have any news to share: please put feed@beta.hollandfintech.com on your press list. 
Curious to read and find out more from fintech? Then subscribe & read our full newsletters here: https://hollandfintech.com/featured/newsletters/. In order to see our other weekly highlights, check out the following links: analysis & opinion.