Dive into the latest insights, trends, crunch the numbers and explore infographics from fintech. Focus for this week: financial institutions, digital wallets, digital trust and banking. 
GAIN DIGITAL TRUST (Gain Forum)
More than 150 author of this report, analyze how Financial Institutions are taking a leadership role in the Digital Economy by establishing a Global Assured Identity Network. The lack of verified Digital Identity presents an urgent problem and a meaningful opportunity for society. There are substantive risks to unfettered anonymity, ranging from the spread of misinformation to the enablement of criminal markets. Read more.
CR2 and Omdia Whitepaper Reveals How Mobile Wallets Have Targeted the Underserved Banking Population (Fintech Times)
Polly Jean Harrison, author at the Fintech Times, explores the fact that digital Wallets have become an entry point for consumers to engage with financial services and they create new opportunities to target the underserved banking population. A new Whitepaper, authored by Omdia and commissioned by CR2, discusses the rise of digital wallets and how mobile wallets have successfully targeted the underserved banking population and offers recommendations on how incumbent banks can embrace digital wallets to engage with new and existing customers. Read more.
FintechNI Finds the Northern Ireland Fintech Sector Could Attract £25m in Foreign Direct Investment (Fintech Times)
Francis Bignell, author at the Fintech Times analyzes a new report published by FinTechNI, the representative body of the globally renowned Fintech sector in the region, that has stated that Northern Ireland could set to benefit from over £25million in new Foreign Direct Investment; the setup of over 20 new companies; and the creation of thousands of jobs in just three years. Read more.
Vulnerabilities in Operational Tech Devices Up 46% in H1'21 (Fintech Times)
Francis Bignell, author at the Fintech Times, explores a Mid-Year Vulnerability and Threat Trends Report, which offers new threat intelligence research on the frequency and scope of global malicious activity. The Skybox Research Lab analysts found that new vulnerabilities in operational technology (OT) devices were up 46% in the first half of 2021, putting vital critical infrastructure at risk. Read more.
Addressing tech skills shortages in financial services (Finextra)
Writers at Finextra, highlight the fact that as digitization increases within banking, financial services and insurance, tech leaders are faced with the task of aligning skills to strategy. Ensuring the learning and development function is positioned in line with business strategy is therefore of paramount importance. Regardless of how much emphasis is placed on acquiring technology solutions and understanding how best to utilise them, if employee training is not aligned with the organisation's needs, progress will not be made. Read more.
UK Mobile Banking Emerging Features Benchmark 2021 (Emarketer)
Tyler Brown, Lea Nonninger, and Michael Tattersall, analysts at Emarketer, explore the third annual study, weighted based on responses to a consumer survey, is an exclusive benchmark that ranks the 10 largest UK banks and building societies by assets according to their innovative mobile banking capabilities. It includes research on the availability of 41 mobile features, selected based on their propensity to set financial institutions apart, as well as data on consumer demand for each of these features. Read more.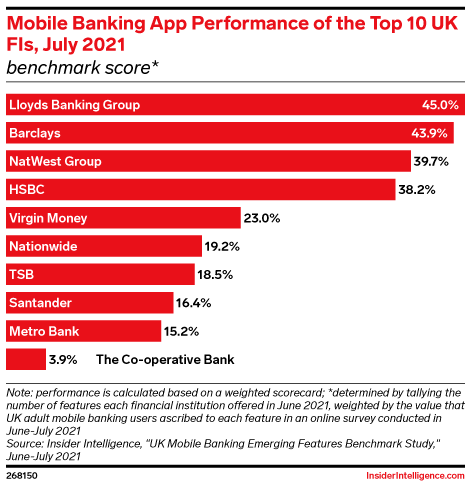 —
Do you have any news to share: please put feed@beta.hollandfintech.com on your press list. 
Curious to read and find out more from fintech? Then subscribe & read our full newsletters here: https://hollandfintech.com/featured/newsletters/. In order to see our other weekly highlights, check out the following links: analysis & opinion.