The DIA After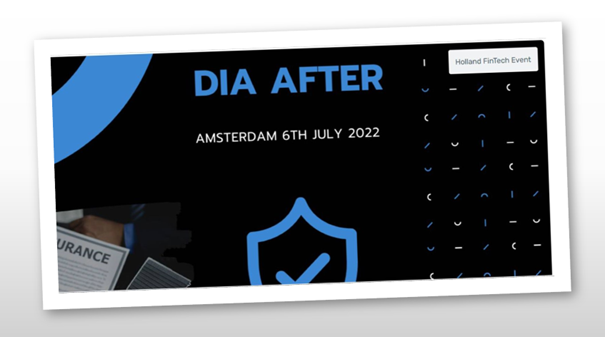 On Wednesday July 6, at Holland FinTech we hosted a special event: The DIA After. An online wrap up & discussion about the key DIA insights hosted by Holland Fintech's Don Ginsel, Onno Bloemers and Jochem Davids and with a panel existing of:
Annina Angstmann, Head P&C Solutions NCEE – SwissRe
Christiaan Erasmus, CEO – SLVRCLD
Florian Graillot, Partner – Astorya.vc
Dennis van Avendonk, Insurance Lead – Projective Group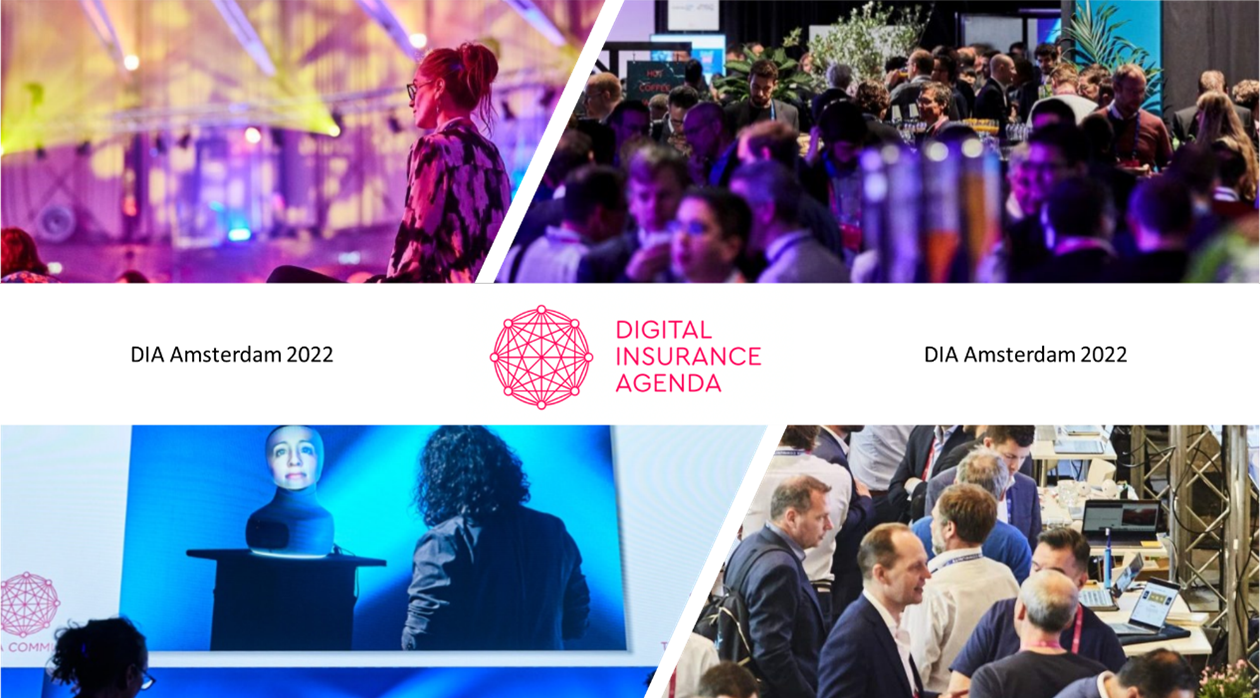 DIA Amsterdam 2022 was a sunny and vibrant conference. After COVID lockdowns, in person networking was back like never before. Our panel members did agree that DIA was less crowded than before. Which may well be the result of deliberate choice for a more spacious location – we all understand that! In addition, Annina mentioned that most insurance companies now have travel restrictions in place due to both COVID and in order to reduce their CO2 footprints.
Overall, DIA AMS 2022 demonstrated how the InsurTech and insurance ecosystem has matured during the COVID period. A lot of the buzz-words and ideas from a few years ago have now turned into real use cases and PoCs going live.
We discussed our impressions linked to 5 key topics we took away from this DIA:
Turning ecosystems into new revenue streams and business models
How to get the most out of embedded insurance
InsurTechs & incumbents are joining forces
Even with Insurtech stocks in a downdraft, the sector is booming with a huge earning potential
The insurance sector is taking responsibility to build a more sustainable future. But the challenges are huge.
Obviously, there are more takeaways, but this is ambitious enough for one hour!
1 Turning ecosystems into new revenue streams and business models
Insurers are increasingly acting as platforms and ecosystems. With traditional sector boundaries quickly becoming irrelevant. Technology allows insurance to become part of our daily lives. No longer just a policy and an experience whenever there is a claim, but much more an integral part of our finances, mobility, travel, safety, home living, health and wellbeing. A great example was presented at the opening: Allianz is building Allyz, a super-app covering an increasing array of functions.
Florian Graillot: 'It is simply impossible to believe that insurance is the one sector that is not going to become digital'
The fuel for this is the increasing amount of actionable data and AI /ML insights to position yourself at the right time an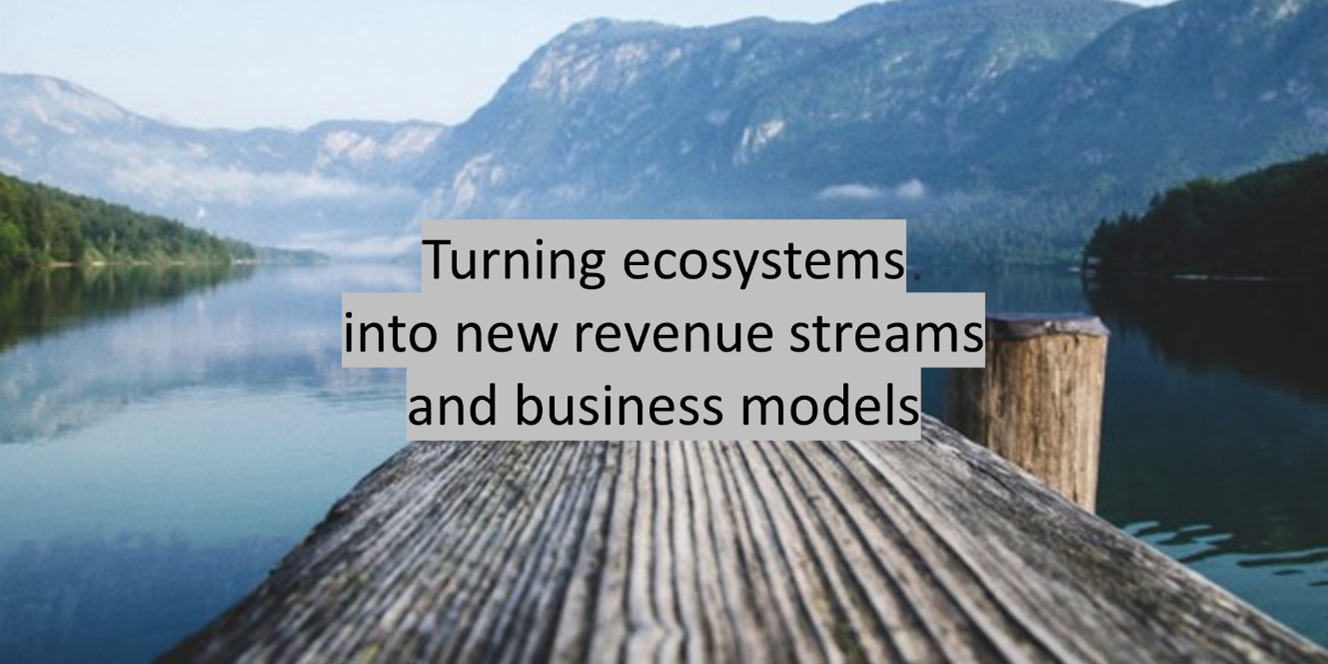 d the right place. With real-time data, usage or behavioral insurance solutions, improved customer journeys around claims and simple, parametric solutions with fully automated payouts. This also makes it more than ever urgent to escape from the limitations of existing legacy systems. DIA showed a large pool of technological solutions providing integration layers and cloud native core insurance platforms. Legacy replacement is up and coming and quickly becoming a necessity if you want to embrace faster and easier connectivity.
2 How to get the most out of embedded insurance?
Embedded insurance means that the insurance product is not sold to the customer ad hoc, but is instead provided as a native feature, as part of a platform, marketplace or ecosystem. Digital technology means lower transaction costs, easy transaction (at most a simple click) and allows to sell simple, digital insurance products as part of other transactions.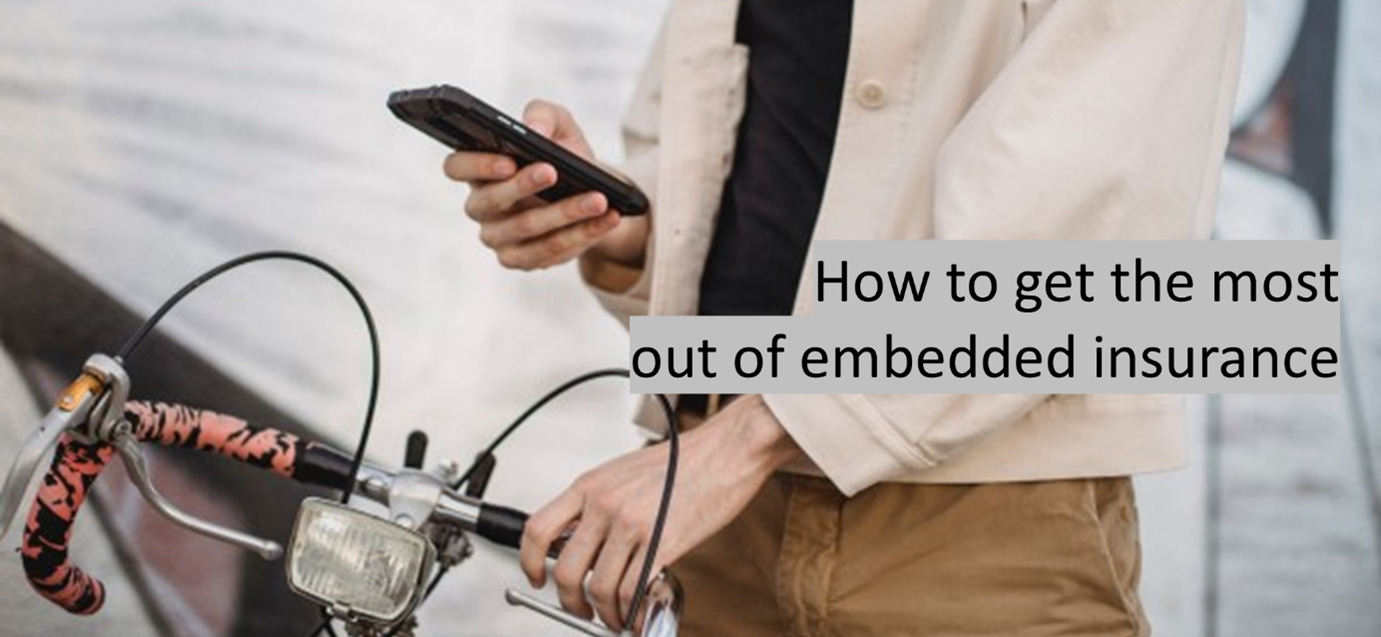 We saw lots of specialized players (Bsurance, Companjon, L'Amie, Element, Humn.AI, Octamile) and broader core system providers offering this in their platforms (Endava, IBA, Mendix, FintechOS, …).
The outlook for this market is booming. There may have been parties opportunistically recognizing the opportunity to create a new revenue stream and it's true that the word 'embedded' has evolved into one of InsurTech's buzz-words. But as Annina observed, embedded has now a deeper meaning, as insurance is becoming an integral element in our digital platform economy. We're moving to the right in the illustration below: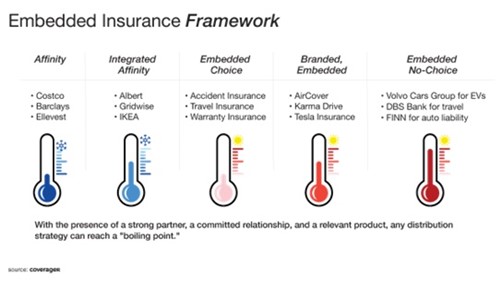 Source: Coverager, LinkedIn
As Dennis mentions: the key here is the shift to solving customer problems instead of just selling products and services, thinking outside-in instead of inside-out. Is there a future left for traditional personal lines P&C insurance – or will all insurance become embedded in other products and services?
3 Insurtechs & incumbents are joining forces
Only 5-6 years ago we saw an influx of Challengers: Lemonade, Trov, BoughtbyMany, etc. Some of them are quite successful, but many of these InsurTech challengers have failed in their original purpose: to really disrupt insurance. At least for now!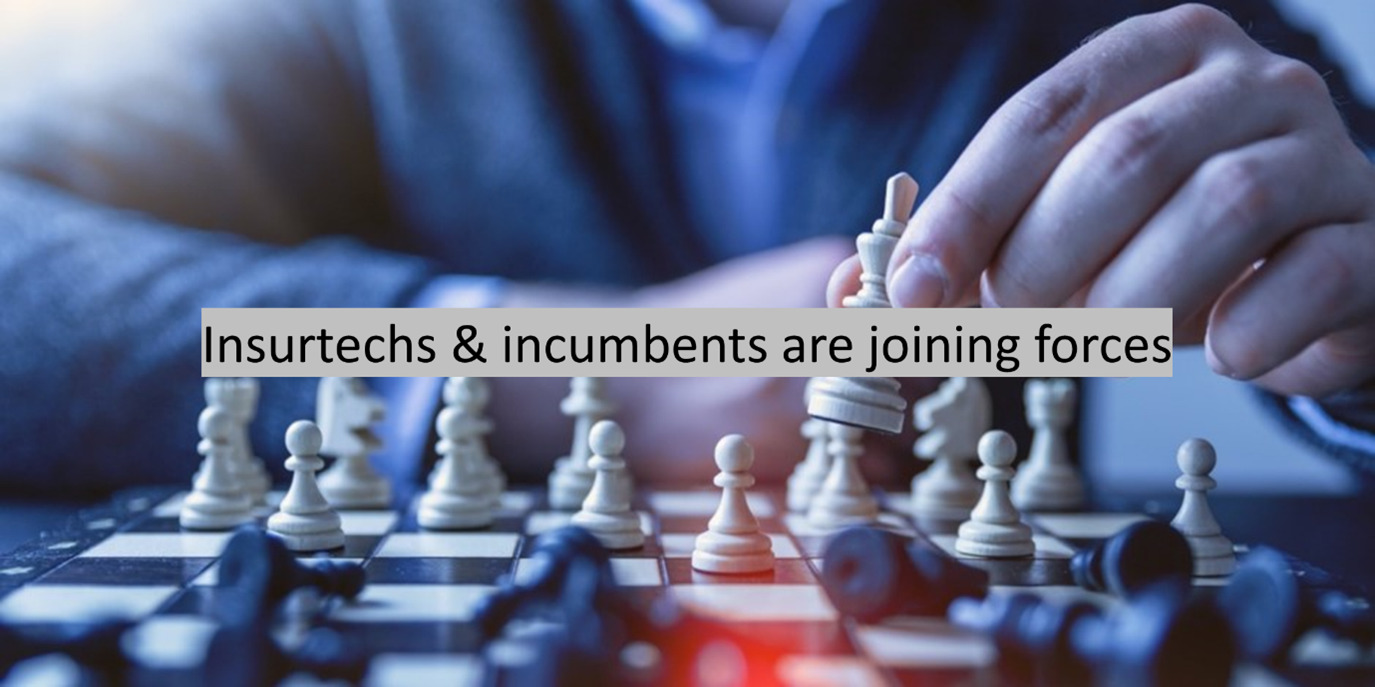 At DIA AMS we saw a different trend – Insurtechs and incumbents partnering up. There were interesting partnerships at DIA, e.g. Autoliv & Sentiance,  Ergo & Tech11. The battle between in Insurtechs & incumbents may not be over as there are still some strong, new players on the distribution side, but overall we saw a lot of collaboration. And in the end, there will be different roles in these eco-systems in terms of distribution (e.g. embedded, digital) and services (for claims, prevention, etc). Insurtechs are maturing and incumbents are becoming increasingly digital. Christiaan confirms that nowadays the doors of tier-1 players are easier opening than a couple of years ago.
4 Even with Insurtech stocks in a downdraft, the sector is booming with a huge earning potential
We have seen the valuations of the listed InsurTech startups falling over the past year. Huge drops. Listed Insurtech valuations have fallen so much that collectively they now have a lower market cap than the funding they raised. What is going on?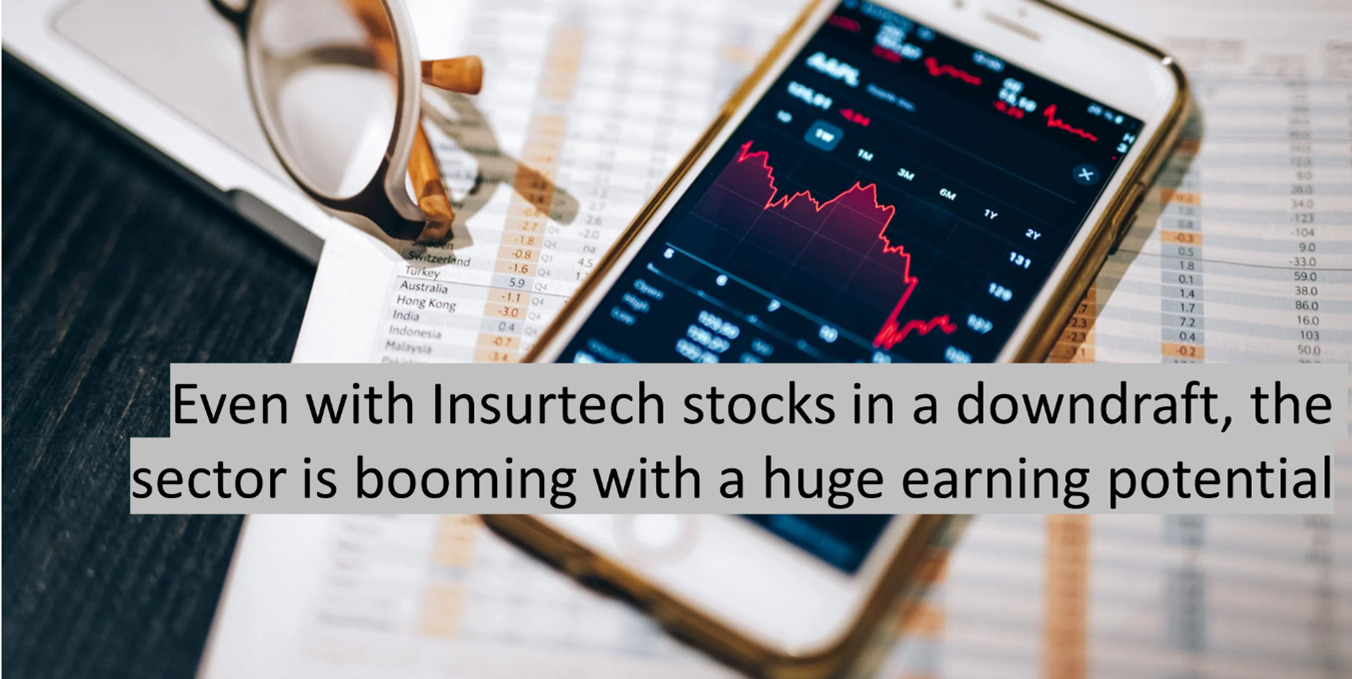 A healthy correction does not say much about the future earning potential. And yes, there has been a period of hype and inflated expectations. But it's important to understand that Insurtech startups are still heavily underinvested compared to their fintech peers. Secondly, the activity in early-stage companies are still on a high level. Florian is very clear: as long as a startup provides value to its customers, there is capital available to raise. One mistake not to make is to think that this correction means that you don't need to take InsurTech seriously.
5 The insurance sector is taking responsibility to build a more sustainable future. But the challenges are huge.
With its advanced risk management thinking, the sector is ambitious to take its responsibility and play its part. But how consistent is this? Climate change dominates global risks both in the short and long term. ESG, in particular climate risk and the net-zero transition, are top of the agenda for insurers and Insurtechs. Insurers are driving the transition to net-zero through industry wide initiatives and commitments. But it is mostly on the asset management side.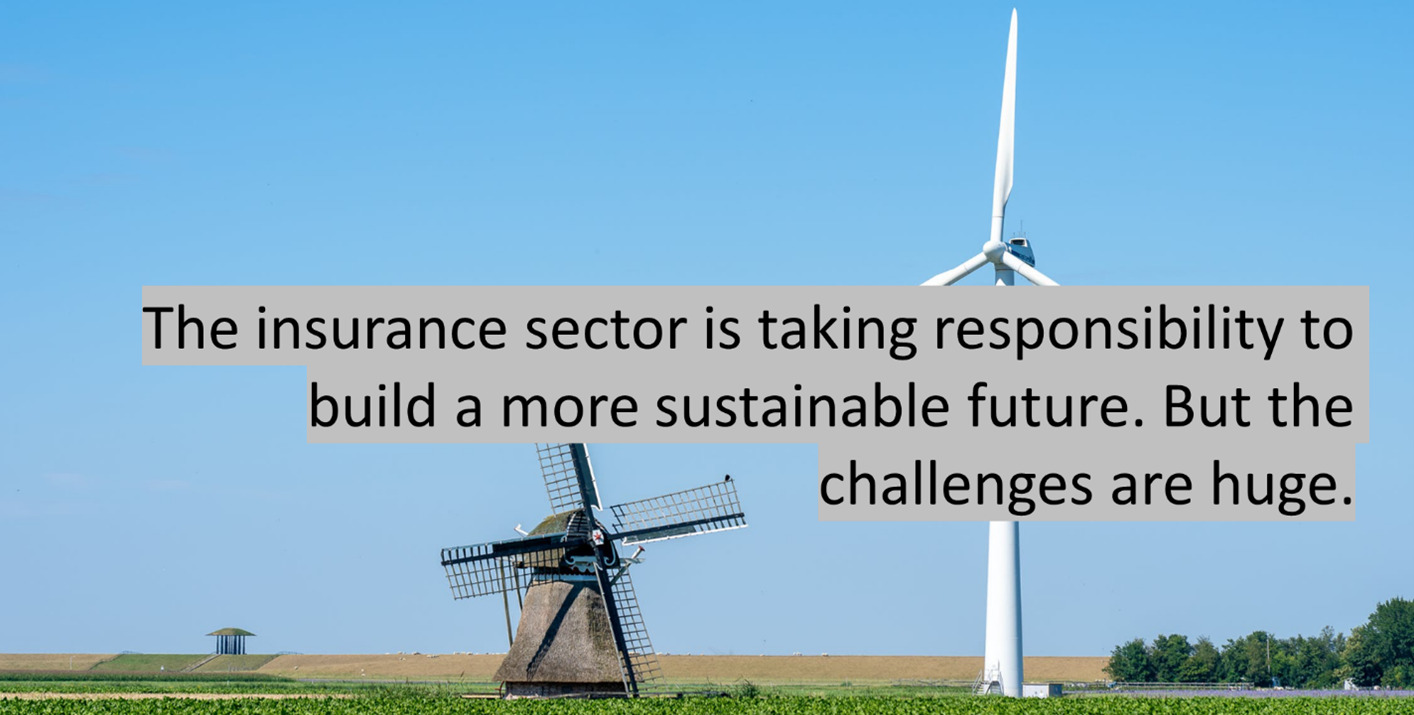 At DIA, we only saw a small number of players explicitly positioning themselves, like the Claims Carbon Institute. That's a start, but there is a long way to go. It takes a lot more than imposing CO2 restrictions on your workforce to build a sustainable future. It's an important step to carbon-neutralise your own organization, but we all know that the real change comes from the next step: carbon-neutralising your business.
And it's important to recognize that sustainable goes beyond 'green', goes beyond just the 'E' from ESG but also focuses on Social and Governmental aspects. Insurers have an important role to play here: taking the risk management perspective, creating impact with their investments and preparing for the impact of climate change (looking at reassurance, underwriting, risk mitigation and prevention).
 In closing
Looking back, we all felt DIA has been a great success: meeting old friends, making new friends and receiving a massive dose of inspiration. This 'afterparty' had a mixed audience of DIA participants and those who couldn't make it. We are extremely grateful for having such an outstanding panel of DIA AMS 2022-veterans with insights from many perspectives: reinsurance, consultancy, InsurTech and investor.
Do follow Holland Fintech, subscribe to our newsletter and keep updated on our activities.