Holland Fintech is launching a new monthly series of informational articles about the ever-changing world of fintech, delving deeper into a new topic each month! This month, read about how Data, Artificial Intelligence, and Software Development are influencing the future of finance!
The future of finance has arrived, and it is powered by data, artificial intelligence, and software development! These cutting-edge technologies are transforming the delivery of financial services, making them faster, smarter, and more accessible. Let's take a look at how these three tools are driving innovation in the fintech industry and shaping the future of finance, from AI-powered chatbots to predictive analytics and blockchain technology.
Data is all around us, and there is a lot of it! In fact, data is at the heart of many fintech solutions. Financial institutions collect massive amounts of data from their customers, which they use to create personalized financial products and services. This data is processed by machine learning, which creates algorithms that can help predict customer behavior, detect fraud, and more. Who knew numbers could be so powerful?
Artificial intelligence, on the other hand, is utilizing all of the data we provide to financial institutions and revolutionizing the delivery of financial services. But what better way to find out how AI is changing FinTech than to ask AI? Here's what ChatGPT, the most widely used AI tool, has to say: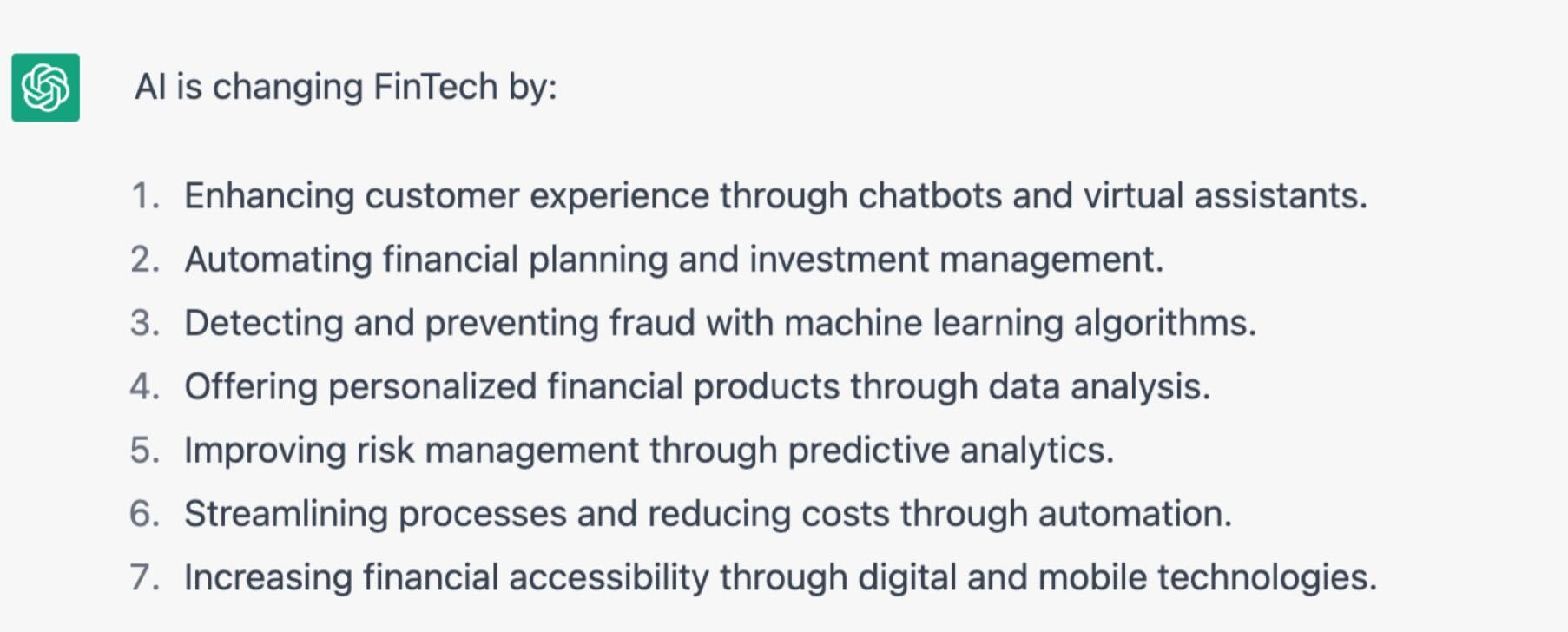 Indeed, artificial intelligence (AI) is having a significant impact on the fintech industry by allowing financial institutions to provide better and more efficient services while also reducing costs and increasing profitability. Chatbots and virtual assistants powered by AI are being used to provide 24/7 customer service, while predictive analytics help financial institutions better understand their customers and make more informed decisions. Artificial intelligence innovation is advancing so quickly that perhaps it is only a matter of time before we will base our personal investment decisions on AI recommendations!
Finally, software development is driving the fintech revolution. Software developers are creating digital solutions that are altering people's access to and use of financial services. Software development, from mobile banking apps to blockchain technology, enables financial institutions to provide better and more efficient services. Maxcode, a Holland Fintech member and speaker at the February HF Meetup, is a leading software development company that specializes in creating innovative financial solutions using cutting-edge technologies such as AI and blockchain. Join us for the Meetup to hear their perspectives on how AI, Data, and Software Development are driving Fintech innovation!