The fintech industry is rapidly evolving and disrupting traditional financial systems. In this article, we bring you the latest research insights to help you stay ahead of the curve and understand the future of financial technology. Enjoy researching!
Annual payment value of CBDCs to skyrocket 260,000% in 7 years (Fintech Global)
The total value of payments through Central Bank Digital Currencies (CBDCs) is expected to reach $213bn annually by 2030, according to a report from Juniper Research. This value is a major jump from the total value of payments in 2023, which is predicted to hit just $100m. This is a growth rate of 260,000%. Juniper Research claims the growth will be driven by governments leveraging CBDCs to bolster financial inclusion and increase control over how digital payments are made. The firm claims CBDCs will improve access to digital payments, particularly in emerging economies, where mobile penetration is higher than banking penetration. Another finding from the new report claimed that by 2039, 92% of the total value transacted via CBDCs will be paid domestically. This is a drop from almost 100% during current pilot stages as of 2023. Read more
The 2023 MAD (Machine Learning, Artificial Intelligence & Data) Landscape (First Mark)
The rise of data, ML and AI is one of the most fundamental trends in our generation. Its importance goes well beyond the purely technical, with a deep impact on society, politics, geopolitics and ethics. Yet it is a complicated, technical, and rapidly evolving world that is often confusing even for practitioners in the space. There's a jungle of acronyms, technologies, products and companies out there that are hard to keep track of. After much research and effort, the 2023 version of the MAD landscape.  Read more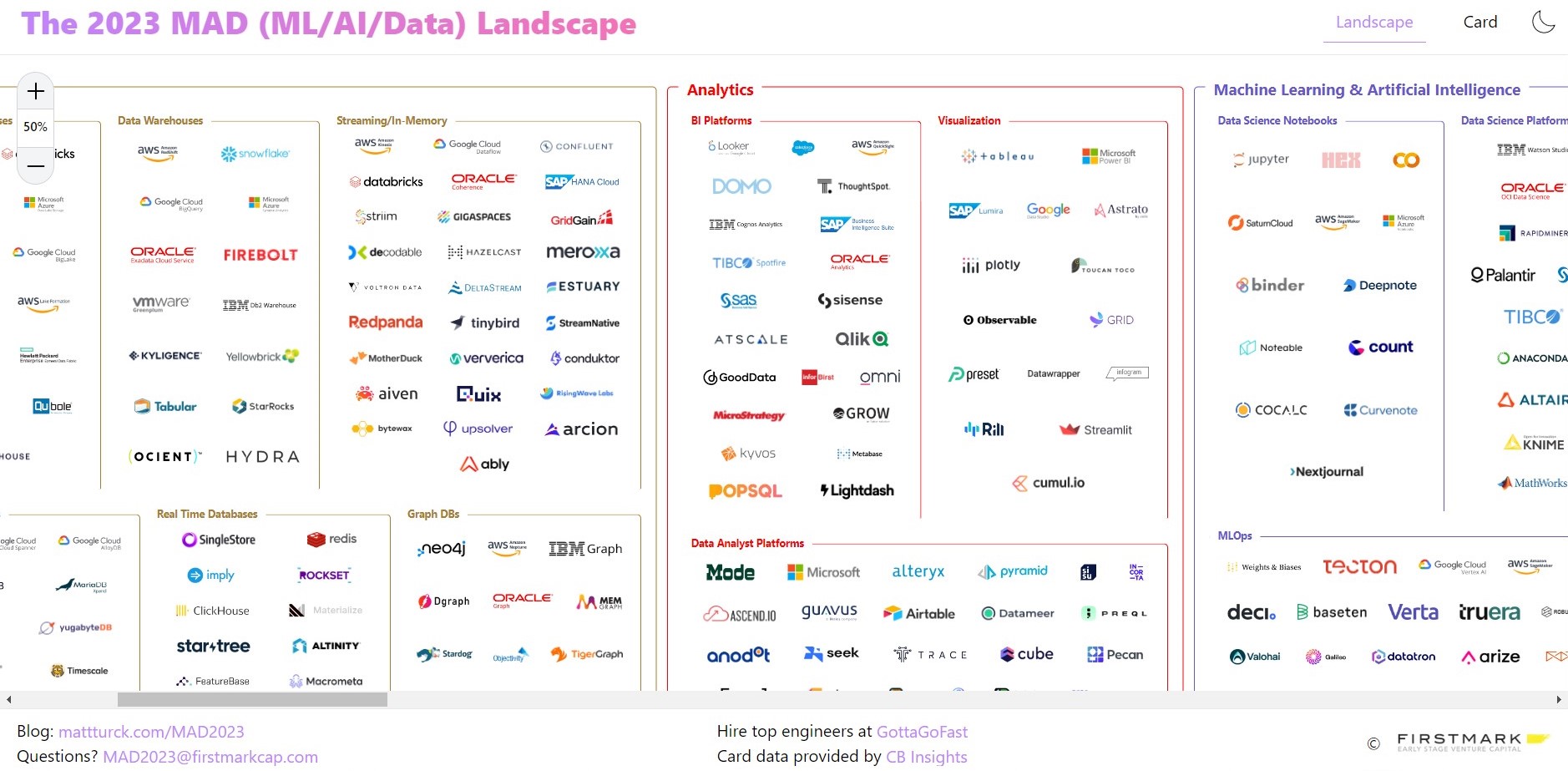 Fintech Firms Halt Hiring Amid Economic Crisis (The Fintech Times)
Tough times ahead for fintechs as half of all firms plan to stop hiring staff this year amid the challenging economic climate; new report findings indicate. Due to an increasingly turbulent economic environment and funding crisis, half of all fintech firms have had to pause their hiring of new staff in 2023. During the first half of 2022, over 4,000 fintech employees lost their roles across 45 companies, from mortgage lenders to firms processing digital payments, further highlighting the impact challenging financial times are having on a sector. With banks falling like dominoes and a global recession looming, the development of financial software and the evolution of fintech innovations, combined with stalled hiring activity, will have a larger impact on consumers than ever in 2023. This forecast forms the main takeaway from the 'Exploring Fintech in 2023' report commissioned by the technology company Erlang Solutions. Read more
Italian FinTech investment continues to grow in 2022, increasing 41% (Fintech Global)
Italian FinTech investment has seen its fifth consecutive year of funding raised by Italian companies rising with 2022, setting a new record at $805m. FinTech funding in the country has increased at a CAGR of 122% from 2018 – 2022. FinTech deal activity in Italy saw a 14% drop in 2022 from the previous year although this is in line with global trends and similar countries such as France which saw a 14% drop in 2022. Satispay, a bank account enabled mobile payment platform, was the largest Italian FinTech deal in 2022, raising $310m in their latest Series D funding round led by Addition. The latest funding makes Satispay Italy's second unicorn as their valuation exceeds €1bn valuation. Read more
CBDC payments to more than double in 7 years (The Paypers)
A study from Juniper Research found that the value of payments via CBDCs (Central Bank Digital Currencies) will reach USD 213 billion annually by 2030, up from just USD 100 million in 2023. This radical growth of over 260,000% reflects the early stage of the sector; currently limited to pilot projects. Cross-border payments currently have high costs and slow transaction speeds. However, this area is not currently the focus of CBDC development. As CBDC adoption will be country-specific, it will be incumbent on cross-border payment networks to link schemes together, allowing the wider payments industry to benefit from CBDCs, the report says. Adoption will be driven by governments using CBDCs to boost financial inclusion and increase control over how digital payments are made. CBDCs will improve access to digital payments, particularly in emerging economies, where mobile penetration is higher than banking penetration. Read more
–
Do you have any news to share: please put feed@hollandfintech.com on your press list.
Curious to read and find out more from fintech? Then subscribe & read our full newsletters here. In order to see our other weekly highlights, check out the following links: analysis & opinion