The European Fintech Navigator (EFN) is the only comprehensive fintech publication of its kind, providing an overview of the European fintech landscape. With an expected total of 800 companies, 17 different countries, the top investors and supervisors, the EFN crosses verticals to paint a holistic and up to date picture of the players and ecosystems within the financial value chain. This previous book (now turned into a digital platform), includes the large incumbent financial institutions as well as the ever-evolving startup community.
As the COVID-19 pandemic leads us to redefine normal, it's key that you remain a lead player in the industry. To become a part of the European FinTech Navigator is to give your company the unparalleled opportunity to position itself as a key player in Europe. We at FinTech Aera  have taken up the call for visibility and unity among the various markets to make it through these troubling times together. Because of that, we offer a discount to all companies who are members of participating hubs and associations like Holland FinTech. The navigator not only highlights market leaders and creates the road map for various industry sub-sectors, it also includes op eds by various thought leaders in finance, as well as data driven research, uncovering the realities, opportunities, and threats in the main European fintech hubs. The European Navigator is your one stop shop to all things FinTech in Europe, the present and the future.
Four options are available for you to feature your advertisements in the platform. Please note that for all four we have a limited amount of spots available and requests will be processed on a first come, first serve basis.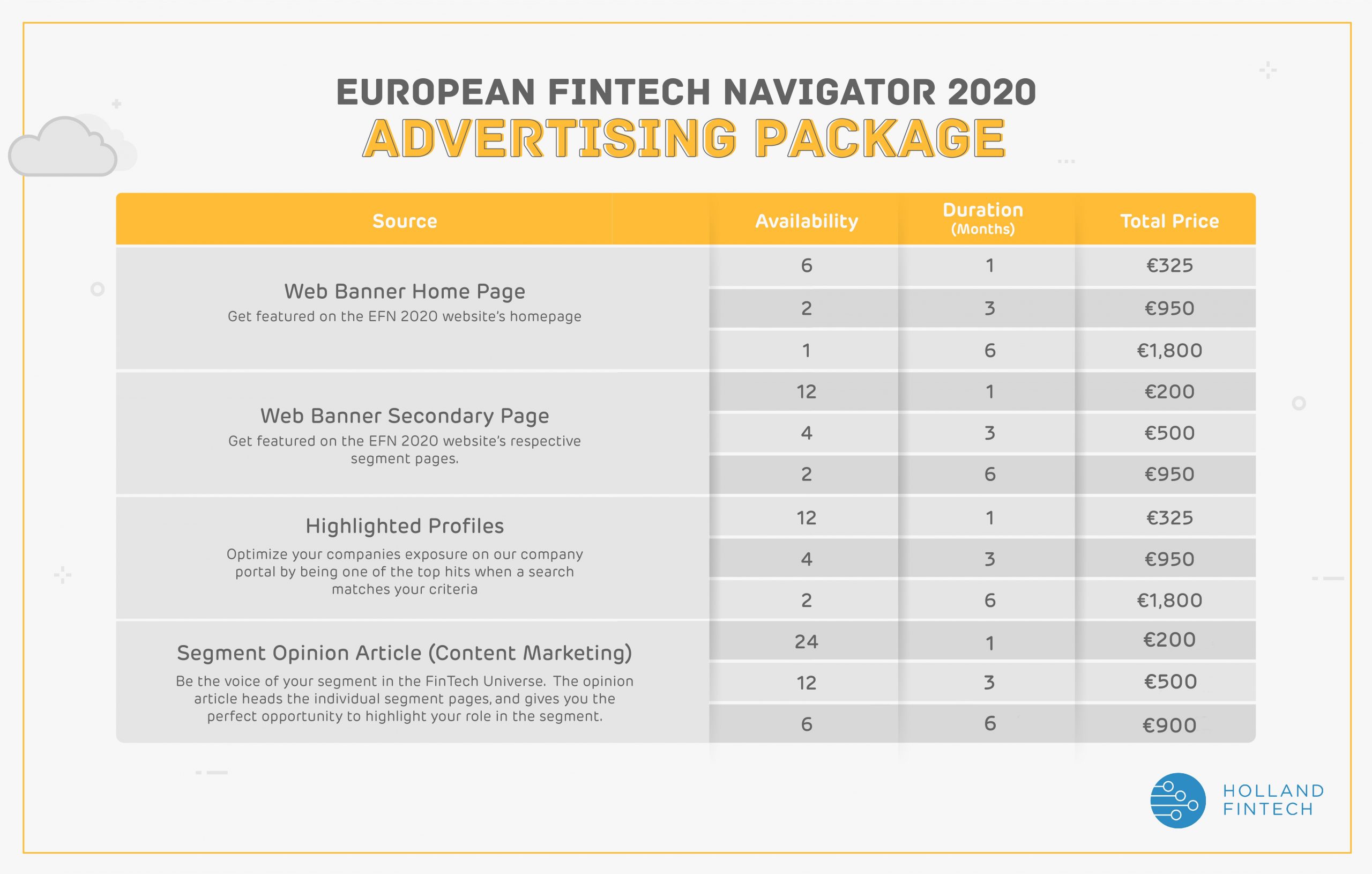 Should you be interested or have any questions, please get in touch with your respective Account Manager (or at members@beta.hollandfintech.com).