For this week's research article, we explore the topics of Cloud migration, UK regulations on digital assets, dive into the US venture capital fundings overview, look at Q4 2020 for RegTech and explore the top European InsurTech deals in 2020, dive into cybersecurity topics, find out whether Is UX relevant for fintech and banking, rank digital insurance companies, see how at CX and insurance companies go hand-in-hand, and understand the role of fintech for commercial banking. Happy reading!
On Cloud migration…
Embracing the New Paradigm of Cloud Migration to Future-Proof Payments Technologies (Finextra, Global Payments & AWS)
With consumers' expectations evolving, payment processors and issuing banks are in need of new technology advancements in order to meet the demands. Banks must recognise that collaboration between payment players and cloud service providers will help drive frictionless, more secure digital experiences for consumers. This study provides the example of Global Payments and AWS collaboration, which led to more secure, reliable and innovative solutions for the payments industry at scale and can serve as a case study for the fintech ecosystem. Read more
UK regulations of digital assets…
UK regulatory approach to cryptoassets and stablecoins: Consultation and call for evidence (HM Treasury)
With the UK being recognised as a world-leader in financial technology, expectations rise in terms of creating a regulatory environment in which firms can innovate, while crucially maintaining the highest regulatory standards so that people can use new technologies reliably and safely. The main highlights of the paper focus on presenting a framework which supports the safe use of stablecoins, as the government will continue to actively monitor new and emerging risks due to the constant development of this market. Read more
Q4 2020: US venture capital fundings overview…
Venture Capital Funding Headline Report Q4 2020 (PwC & CB Insights)
This Q4 2020 MoneyTree Headline report presents a high-level view of some of the latest trends in US venture capital funding. As main highlights, 2020 investments hit a new annual record during the pandemic, with US-based, VC-backed companies raising nearly $130B in 2020, up 14% year-over-year (YoY) from 2019, despite the impacts of Covid-19 around the world. However, annual deal activity is down YoY, falling to 6,022 deals, a 9% decline from 6,599 in 2019. Read more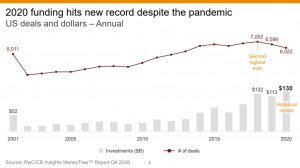 Q4 2020 RegTech…
How the fourth quarter saved the RegTech industry from suffering its first drop in years (FinTech Global)
In 2020, RegTech companies set new records in both funding and the number of investment deals. RegTech companies raised $8.3bn across 348 deals in 2020, beating the previous high of $7.2bn set in 2019. As a result, 2020 set new annual funding and deal activity records beating 2019's numbers by 13.9% and 7.4%, respectively. For 2021, investors are being more optimistic, due to the increased trends of digitalization, in services such as operations, and also due to the more positive economic outlook after the Covid-19 vaccine announcement. Read more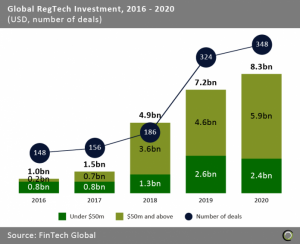 On InsurTech…
European Insurtech Deals 2020 (astorya.io)
In the below overview, astorya.io presents a comprehensive mapping of the most prominent European InsurTech Deals from 2020, classified on the basis of funding received (see more below).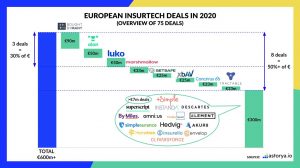 Is UX relevant for fintech and banking?
Top 25 Case Studies of Digital Customer Experience in Banking and Fintech (UX Planet)
The analysis presents the most prominent UX case studies on how to properly reach a high-end customer experience for banking and fintech. This collection offers a wonderful opportunity to get instant inspiration from 25 insightful cases that demonstrate how to design modern digital financial solutions using the power of CX/UX methodology. Read more
Ranking Digital Insurance Companies…
January 2021's Top 30 Digital International Insurance Companies (Digitalscouting.de)
This overview presents the top 30 digital international insurance companies, classified on their reaching power score. As such, the top three contestants are State Farm (US), Esurance (US), Progressive (US) – see below overview for the complete mapping.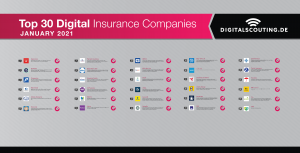 CX and insurance companies…
Creating an Omnichannel Digital Experience for Insurance Companies (Fintech Finance)
This report explores the importance of digitalization and customer experience for insurance companies to innovate and remain relevant. 90% of people surveyed answered that they will continue to use digital technology to make daily life easier once the COVID-19 pandemic has resolved. Thus, insurance companies need to attract, engage and also retain clients by using new methods and technological advancements. As part of the solutions, insurance companies should focus on providing an efficient mobile app, include conversational AI, have contactless payments, and a smooth digital onboarding process. Read more
What's the role of fintech for commercial banking?
Can fintech improve the efficiency of commercial banks? —An analysis based on big data (ResearchGate.net)
In this study, Yang Wang, Sui Xiuping and Qi Zhang analyze the impact of fintech services on the banking industry. As main findings, the paper suggests that for commercial banks, development of fintech leads to increased profitability, financial innovation, and improved control of risk. Fintech can further improve traditional banking business models, reduce costs, enhance customer experience, and offer a better controlled environment for clients and stakeholders. The outcomes are strongly dependent on the levels of respective bank's use of technological innovation. Read more
On security trends in 2021…
2021 Industry Trends Report (STANLEY Security)
In this report, insights were gathered from over 2400 decision-makers on a global scale in order to find out the latest trends, challenges and opportunities companies are facing in this new year. The paper highlights transformations in the security industry, advice and recommendations that companies can follow to remain relevant and resilient. Read more
Looking back in 2020: What have we learnt in terms of cybersecurity?
Orca Security 2020 State of Public Cloud Security Report (Orca Security)
This paper dives into the topic of public cloud security, exploring systems such as Amazon Web Services (AWS), Microsoft Azure, and Google Cloud Platform (GCP). The main findings allow companies to benchmark their public cloud security posture against peers, discover weak links and exploitation paths attackers are looking for, identify the most common authentication issues hiding inside public cloud estates, and get recommendations to avoid a major breach. Read more
2020 Payment Security Report (Verizon)
This report presents strategies on how companies can constantly develop and improve their data security environment. The findings focus on the CISO and using these tools to take a long-term, sustainable approach to data security. Furthermore, it includes a comprehensive guide in the Payment Security Report (PSR) for both new and experienced cybersecurity strategists. Read more
——
Do you have any news to share: please put feed@https://hollandfintech.com/ on your press list.
Curious to read and find out more from fintech? Then subscribe & read our full newsletters here: https://hollandfintech.com/featured/newsletters/. In order to see our other weekly highlights, check out the following links: analysis & opinion, funding, news.