What are the latest tech findings worth being discovered this week? Read the research piece below to get a check on the latest edition of the Fintech Ireland Map, find out how data sharing will change in the future, explore policy options for big techs in finance, and get an update on the corporate venture capital (CVC) activity. Enjoy the reading materials!
Fintech Ireland Indigenous Map v4 & Fintech Ireland International Map v1 release ahead of St Patrick's Day (Fintech Ireland)
The piece shows the 2021 edition of the famous Fintech Ireland Map for indigenous fintech and the premier international fintech companies that have established in Ireland. Read more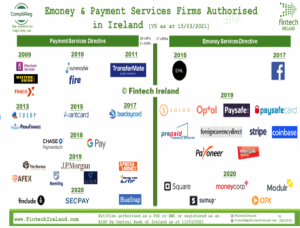 Data sharing models in the insurance industry (Willis Towers Watson)
The findings show how data sharing is changing across the insurance value chain, by presenting four data sharing models and market scenarios, and the imperative strategic choices facing the insurance industry. The panel of industry experts expected significant change in data sharing in re(insurance) in 3-5 years as a result of the innovator's dilemma and disruptive effects of data platforms and ecosystems. Read more
The Dutch made more than a quarter more online purchases in 2020 (Thuiswinkel)
This report shows an exponential increase in the Dutch online purchase in 2020. The total number of online purchases increased by 27% to 335 million. This growth was mainly driven by the Corona crisis and the accompanying government measures. Consequently, consumers spent more time at home and were able to make fewer trips, resulting in more remote e-commerce activities. Read more
Female finance in figures (EWPN)
EWPN reports on the financial services and products that have been specifically developed for women. Researchers examined the characteristics of 102 organizations offering financial services to women, comparing them with external statistics and reports. Results presented initial insights on how these organizations identify and address the market, what characterizes the services they offer, and how women are represented in the organizations. Read more
Big techs in finance: regulatory approaches and policy options (BIS)
This paper provides an overview of the current regulatory landscape for big techs operating in finance and discusses avenues for improvement. It proposes policy options such as adjusting the existing policy approach by recalibrating the mix of entity-based and activity-based rules, strengthening cross-sectoral and cross-border cooperative arrangements between national authorities and foreign regulators and developing a bespoke regime for big techs. Read more
Corporate Onboarding: Will it become a competitive differentiator for banks in a real time world? (Finextra)
This paper explores how banks can deal with changing Know Your Customer (KYC) regulations and the incoming Anti-Money Laundering (AML), what technology can be utilized to assist banks achieve seamless corporate onboarding. Furthermore, the results highlight what stands to be lost, and more significantly, to be gained, with a seamless real-time onboarding experience. Read more
The 2020 Global CVC Report (CB Insights)
This report looks at aggregate corporate venture capital (CVC) activity in 2020, as well as CVC deals across regions and industry verticals. It shows that Global CVC-backed funding reaches a high record while Global CVC-backed deals fall for the first time in more than 5 years. Categories such as AI and fintech saw a decline in deals but sectors like cybersecurity and digital healthcare scored a new high record. Read more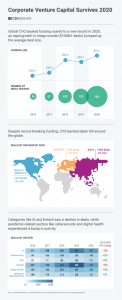 —Do you have any news to share: please put feed@https://hollandfintech.com/ on your press list.
Curious to read and find out more from fintech? Then subscribe & read our full newsletters here: https://hollandfintech.com/featured/newsletters/. In order to see our other weekly highlights, check out the following links: news, analysis & opinion, funding.