What are the latest tech findings worth being discovered this week? Read the research piece below to find out about topics such as: funding trends and corporate activity, cryptocurrencies, AI, cash, fintech, payment methods and retail. Discover the most relevant statistics and happy reading!
AI In Numbers Q2'21: Funding Trends, Exits, And Corporate Activity (CB Insights)
CB Insights' "AI In Numbers" report features data-driven findings from emerging tech insights platform. Investment trends, corporate activity, top deals, and more are being analyzed. AI funding set a new record in Q2'21. More than 550 AI startups globally raised a combined total that surpassed $20B, despite a drop in deal volume. This surge in funding was driven by an all-time high of 50 mega-rounds ($100M+ deals) to AI startups. Read more.
Alessa whitepaper outlines key crypto know-how for financial institutions (FinTech Global)
Alessa by Tier1 Financial Solutions has published a whitepaper detailing how financial institutions (FIs) can deal with the cryptocurrency market and manage its associated risks. The whitepaper looked at the range of different types of cryptocurrencies in the market, as well as some of the major cryptocurrency businesses or virtual asset service providers (VASPs) that the FIs should know about. It also looked deeper into what market regulators are currently doing and what FIs should do in order to take a risk-based approach to cryptocurrency. Read more.
Inside AI. Over half of the companies using AI in India are using it at a scale of organizations (INSIDE)
Writers of Inside AI explore India's role as a vital AI partner with the U.S., which benefits from a large talent pool and fast-growing AI innovation scene, according to a new Center for Security and Emerging Technology report. The D.C.-based think tank cited "strong arguments" supporting an India-USA partnership in its study, "Mapping India's AI Potential." Read more.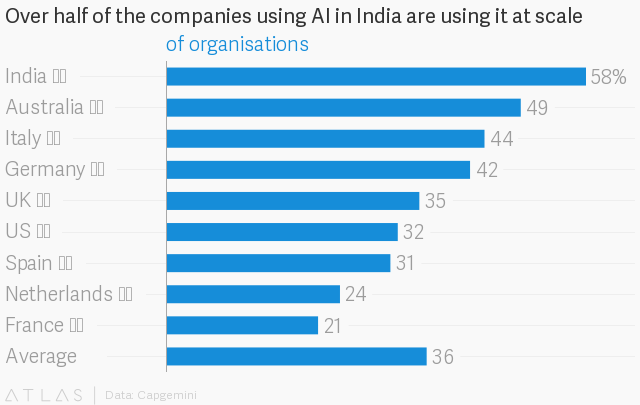 Most people have 'reasonable access to cash,' finds FCA (FStech)
Alexandra Leonards, writer at FStech, lists results of a new research from the Financial Conduct Authority (FCA) and the Payment Systems Regulator (PSR), which states that most people have reasonable access to cash through a combination of bank services or post office branches and ATMs. The authorities estimate that 95.4% of the UK population are within 2 km of a free cash access point and 99.7% are within 5 km. The FCA admits there are still some pockets of society that do not have sufficient access. Read more.
FinTechs use market alliances to offer leading savings products, research finds (FinTech Global)
Research by Investec has found that fintech use partnerships with larger financial services companies to offer market-leading savings products to their clients. Investec collected the information by reviewing the accounts of 57 companies in the fintech sector. Results have shown that fintech can offer some of the 'most attractive savings account interest rates in the marketplace'. The research found that the average interest rate on instant access savings accounts from fintech was 0.28% AER, which was found to be in the top 20% of all easy access savings accounts in the market. Read more
Can This Network Theory Predict if Bitcoin Is Undervalued? (Coindesk)
Analysts have looked at the predictive power of Metcalfe's Law – that states the value of a network grows along with the number of possible connections, to determine the value of the Bitcoin network. In a new report from Goldman Sachs, analysts in the bank's global investment research division suggested that bitcoin's price may be undervalued relative to the size of the network. Bitcoin has grown, but the price apparently hasn't kept pace. Read more. 
The Payment Methods Report 2021 (The Paypers)
This report presents a comprehensive overview of the payment methods for2021, as well as best practices for checkout optimization and customer conversion by addressing digital transformation, security, and localization. Merchants from various verticals – retail, gaming, streaming media have been interviewed – on the changes they noticed in terms of the way in which their end-consumers pay, what measures they have taken so far to meet consumers' demand, and how they see the future of payments driven by Gen Z and Millennials. Read more.
Cryptocurrencies In Retail: Consumer Adoption Report 2021 (CryptoRefills)
This report presents the outcomes of the first and largest research regarding the consumer use of Bitcoin and other cryptocurrencies for retail shopping and associated payments. "Cryptocurrencies in Retail: Consumer Adoption Report 2021" is the first and largest research into the consumer use of Bitcoin and other cryptocurrencies for shopping and payment purposes. The report shows that crypto-consumers are scattered all around the world. They have varying demographic features and are from different socioeconomic backgrounds, yet they are mostly younger people. Read more.
—
Do you have any news to share: please put feed@beta.hollandfintech.com on your press list. 
Curious to read and find out more from fintech? Then subscribe & read our full newsletters here: https://hollandfintech.com/featured/newsletters/. In order to see our other weekly highlights, check out the following links: analysis & opinion.