For this week's research piece, we take a dive into the latest fintech news on recruiting, fraud, digital banking, insurance, economic sectors and contactless payments. Enjoy the selection!
2021 Recruiting Report: The Future of Remote Work Post-COVID-19 (Recruitment.com) 
Lauren Ramakrishna, a recruiting expert at Recruitment.com, highlights the ongoing trend that today's all-star candidates are focusing on remote roles that offer flexibility. Recruiters need new strategies to win them over—or risk being left behind. After the COVID-19 shift to remote work, however, the majority of workers who can do their jobs from home want to continue doing so after the pandemic. Read more. 
Banks 'failing' to provide fraud support (FS Tech)
Alexandra Leonards, a writer at FS Tech, investigates the fact that some UK banks are failing to offer satisfactory support for fraud victims.The consumer organisation found that some customers struggled to contact their bank after they had been a victim of a scam. Read more.
Mambu Finds 80% Gen Z Muslims Want Access to Their Digital Banks at All Times (The Fintech Times) 
Francis Bignell, writer at The Fintech Times, explores results of the research done by cloud banking platform Mambu, that  more than half of young Islamic finance customers would adopt Islamic banking if it were more accessible. This reflects a wider demand for ethical banking services in the wake of Covid-19, as consumers seek to make more sustainable and socially conscious choices post-pandemic. Read more.
US banks and insurance companies slow down ad spending to compete with fintechs (eMarketer) 
Sara Lebow, a writer at eMarketer, analyses the financial services industry's digital ad spending. While financial service's digital ad spending has historically outpaced the digital ad market, a slowdown is still expected in 2021 and beyond as incumbents in both banking and insurance focus their budgets on technological innovations to compete with emerging fintech companies. Read more.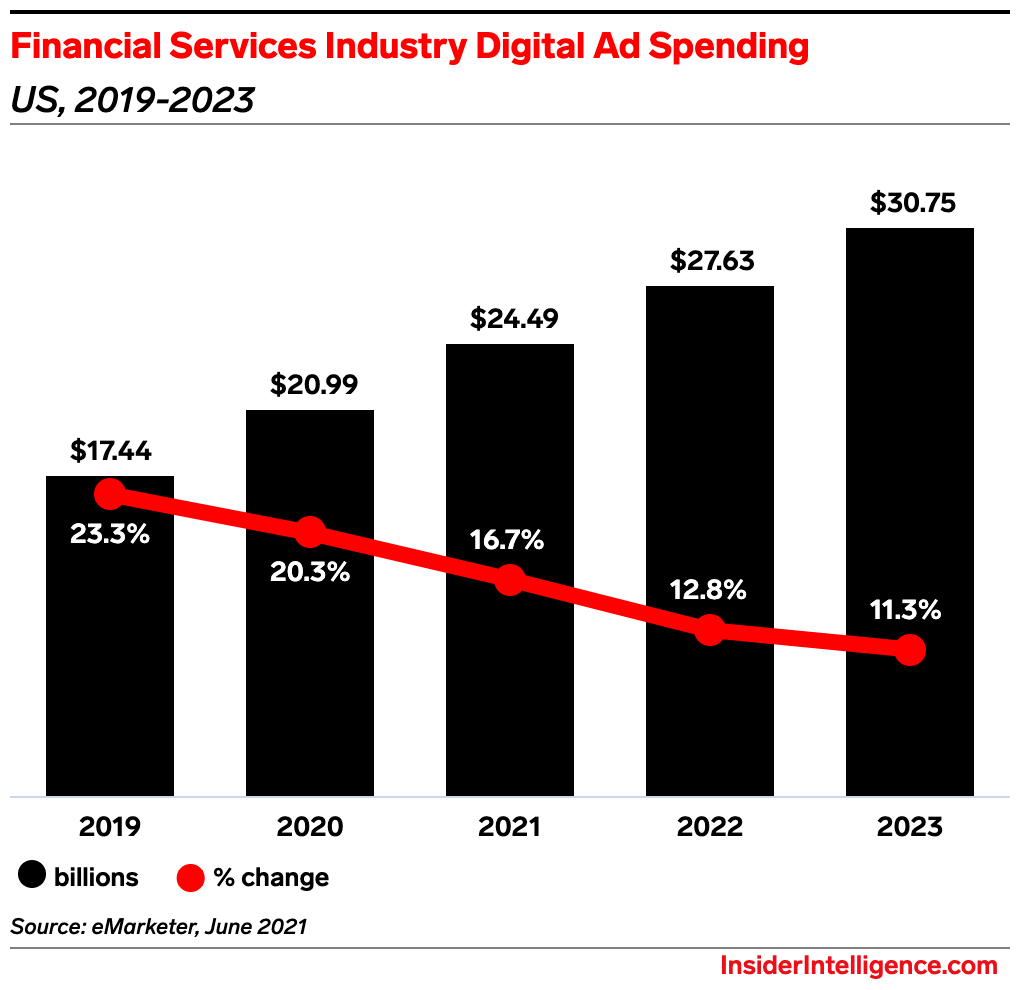 Contactless Heading Towards $2.5 Trillion Transaction Valuation in 2021; Juniper Research Finds (The Fintech Times) 
Tyler Smith, writer at The Fintech Times, investigates a new report from Juniper Research which found that global contactless card transaction values will reach $2.5 trillion in 2021, increasing from the $1.7 trillion previously recorded in 2020. The pandemic has significantly accelerated the existing contactless card usage trend, with cards retaining the majority share of overall contactless transaction values at 79% in 2021. Read more. 
Chip shortage threatens vital economic sectors: Payment systems and electronic identities (Payments Cards and Mobile)
Alex Rolfe, writer at Payments Cards and Mobile, highlights the fact that the global chip shortage is causing bottlenecks in numerous industries. There is now a warning of failures in economically critical areas such as connectivity, payment systems and electronic identities – and there are far-reaching consequences the shortage could trigger. Read more. 
Half of global population to use digital banking by 2026 (Payments Cards and Mobile)
Alex Rolfe, writer at Payments Cards and Mobile, analyses results of a new study which has found that 53% of the world's population will access digital banking services in 2026; reaching over 4.2 billion digital banking users, from 2.5 billion in 2021. The research identified increased digital transformation efforts as enabling banks to function effectively during the pandemic; justifying the benefits of digital banking and fostering further user growth. Read more. 
—
Do you have any news to share: please put feed@beta.hollandfintech.com on your press list. 
Curious to read and find out more from fintech? Then subscribe & read our full newsletters here: https://hollandfintech.com/featured/newsletters/. In order to see our other weekly highlights, check out the following links: analysis & opinion.