In terms of fintech research, the highlighted topics for this week are: cash payments, digital wallets, banking, cybersecurity, investments and fintech. Enjoy the selected material!
Only 1 in 5 Gen Zers Say They Will Pay With Cash in the Future Finds Logica Research (The Fintech Times)
Francis Bignell, author at The Fintech Times, highlights results of a Logica Research that has released new behavioral data and insights into how older Gen Zers (16-24 years old) are paying for purchases and managing their financial lives. The findings are from the most recent Logica Future of Money Study, which includes qualitative insights found in collaboration with KNow Research, and can help brands plan ahead to meet the financial needs of this diverse and financially resourceful group. Read more. 
Telco Firms Introduce Digital Wallets To Gain Banking Licences in MENA: Whitepaper (The Fintech Times)
Writers at The Fintech Times elaborate on the fact that regulatory initiatives are increasing competition for financial services in the Middle East and Africa with fintech and telco firms launching digital wallets as a first step to gaining banking licenses. Read more. 
Top Banks Investing in Crypto & Blockchain Companies (Blockdata)
Sam Wouters, senior researcher at BLOCKDATA, highlights major banks that are investing in crypto and blockchain-related companies in 2021.Out of the top 100 banks by assets under management, 55 have invested in cryptocurrency and/or blockchain-related companies. Either directly, or through subsidiaries. Read more.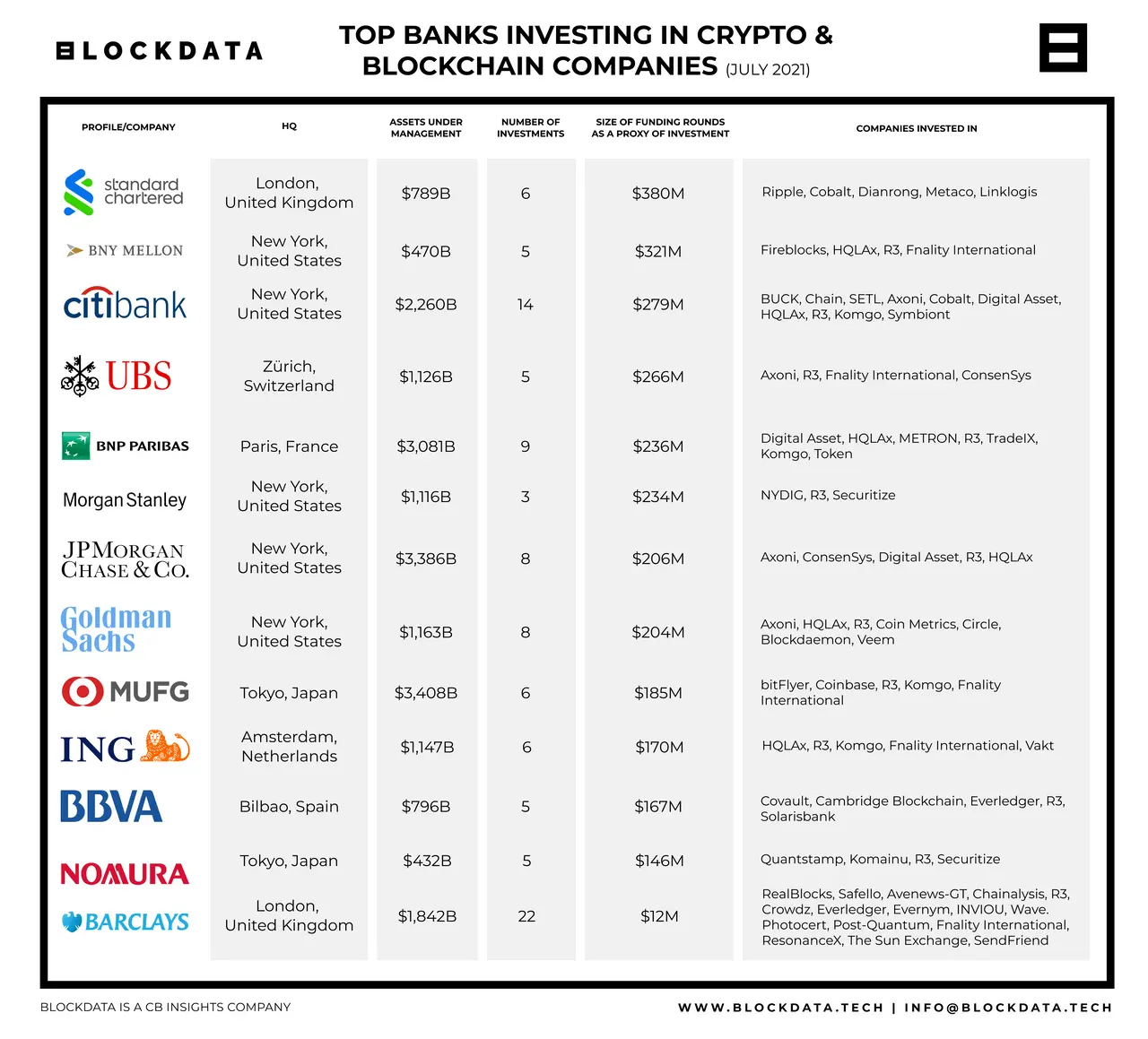 Listed fintechs' earnings highlight impressive growth, but it's been a bumpy year for insurtechs (Emarketer)
Victor Chatenay, a Research Associate for Insider Intelligence, explains that a record number of fintech companies have gone public, which means they now have to publish their quarterly earnings. Their reports offer us a temperature check on the industry. A number of listed fintechs are on track to beat their 2020 revenues, and some have already done so. But the net loss for many has widened. Read more.
US making cybersecurity progress but work still needed, congressional report details (The Fintech Global)
Authors at The Fintech Global, analyze a report by the US Cyberspace Solarium Commission that has found the US has made significant progress in shoring its cyber defenses but that its work is not over yet. According to Cyberscoop, almost 75% of the 82 recommendations that were made in the Cyberspace Solarium Commission's March 2020 report – which set out to examine ways the US could strengthen its digital resilience – have been implemented or are on track to be implemented, the report detailed. Read more.
Voltage Glitching Attack on AMD Chips Poses Risk to Cloud Environments (SecurityWeek)
Eduard Kovacs, contributing editor at SecurityWeek, describes a voltage glitching attack that shows AMD's Secure Encrypted Virtualization (SEV) technology may not provide proper protection for confidential data in cloud environments. The research was conducted by a team from the Technical University of Berlin (TU Berlin). Read more. 
India attracts $2 billion in fintech investment in H1 of 2021: Report (The Business Line)
Writers at The Business Line, analyze a bi-annual report on fintech investment trends "KPMG's Pulse of Fintech", according to which India almost matched its total fintech investment in 2020, with $2 billion in investment in the first half of 2021. India had attracted $2.7 billion in fintech investment in 2020. Read more. 
—
Do you have any news to share: please put feed@beta.hollandfintech.com on your press list. 
Curious to read and find out more from fintech? Then subscribe & read our full newsletters here: https://hollandfintech.com/featured/newsletters/. In order to see our other weekly highlights, check out the following links: analysis & opinion.