For this week, we're exploring the full potential of data analytics for banking, look at four key characteristics for having a successful fintech business, explore the US mobile wallet ecosystem, IT and security, the rise of Bitcoin, and the latest on why consumer fintechs might have issues with their business models. Enjoy the materials!
On the potential of data analytics for financial services…
Facing new competitors, banks need to make better use of data (Finextra)
Stuart Houston, Director, Financial Services at Google Cloud Asia Pacific & Japan, highlights new challenges that banks are starting to face, mainly coming from the constantly shifting consumer preferences. Traditional banks found themselves in a need to leverage technology to not only deliver products, but to ensure they are providing customer experiences that keep people coming back and avoid losing out to new digital-native entrants. One such solution can be provided by better use of data analytics. Read more
Fintech 101…
Fintech, explained (MIT Sloan School of Management)
In this analysis, Tracy Mayor, Senior News Editor & Writer at MIT Sloan School of Management, explores the four key characteristics which make fintechs successful, namely: entrepreneurship, technology, domain knowledge, policy and regulation. "Fintech is a word that's been used in the last 20 years by venture capitalists and startup entrepreneurs, but it goes back thousands of years," said Gensler, the former chair of the U.S. Commodity Futures Trading Commission. Read more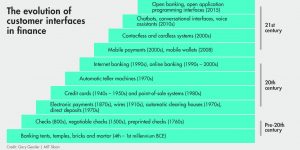 On Mobile Wallets…
Why are Apple Pay, Starbucks' app, and Samsung Pay so much more successful than other mobile wallet providers? (Business Insider)
Jaimie Toplin, writer at Business Insider, explores the US mobile wallet ecosystem, which has seen a rapid expansion, with most customers having a payment option provided by their smartphone vendor, like Apple, Android, or Samsung Pay. However, although there are many options available, adoption rates are still modest. With that proliferation of options, one would expect to see a surge in adoption and usage is consistently lagging below expectations. The main reasons are due to low customer satisfaction with current payment methods, limited repeat purchasing, and consumer confusion stemming from fragmentation. Read more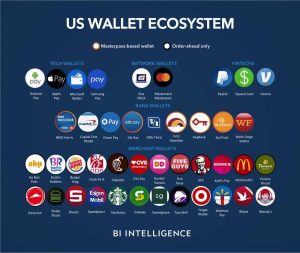 IT…
Modernising IT and security in financial services with visibility (Bobsguide.com)
Martyn Crew, director at Gigamon, dives into key trends that have contributed to the disruption of traditional IT within financial services, making the current landscape unrecognisable to that of ten or twenty years ago. Business and IT teams are better aligning around the need to drive agility and innovation, and there is a shift to the cloud, and a focus on enhancing infrastructure visibility. Read more
What's the status with Bitcoin?
Even If Bitcoin Falls Again, Company Adoption Of Crypto Is Not Going Away (Forbes)
Kenneth Rapoza, Senior Contributor at Forbes, explains why the crypto market has seen a spike compared to the same period last year. The main reason Bitcoin is rising is due to institutional investors, interested in Bitcoin as a store of value. Macrolens' Brian McCarthy wrote this to his clients last week: "Here is the only logical use-case for Bitcoin I can come up with: there is some significant societal value in having a decentralized, digital store of value. That store of value can be anything so long as everyone agrees that it is that decentralized, digital store of value that the world so badly craves. First-mover advantage dictates that Bitcoin has been thusly anointed." Read more
B2B financial software…
B2B financial software marketplaces: the bridge to market transformation (FinTech Futures)
Akber Jaffer, Chief Commercial Officer at Finastra, looks at B2B financial software marketplaces which connect players across the breadth of an industry and facilitate the digital exchange of data or financial assets. By embedding third-party services that enrich the ecosystem, the marketplace can now tackle sector-wide problems, such as accessing a single source of real-time data or providing end-to-end transparency. However, creating marketplaces is a challenging task, depending on the volume level in reaching out the critical mass at which the "network effect" is in place. Read more
Are consumer fintechs a dying breed?
Consumer fintechs will fail unless they rethink their business, says top bank exec (Sifted.eu)
Isabel Woodford, fintech journalist at Sifted.eu, pinpoints the issues with consumer fintech businesses, together with Claire Calmejane, Chief Innovation Officer at Societe Generale. Due to the fact that consumer fintechs are lacking a corporate offering, and focus exclusively on retail users, these types of fintechs will struggle to function long-term. "A lot of [consumer] fintechs were saying 'we're going to take over.' But very quickly…they were confronted with reality, and they understand that it's not so easy," Calmejane stated. Read more
—
Do you have any news to share: please put feed@https://hollandfintech.com/ on your press list.
Curious to read and find out more from fintech? Then subscribe & read our full newsletters here: https://hollandfintech.com/featured/newsletters/. In order to see our other weekly highlights, check out the following links: research, funding, news.