Dive into the latest tech trends worth to be discovered, get a check on the latest hit suffered by the Singapore fintech market, find out how digitalization can help family businesses thrive, explore new tools provided by Big Data for banks, and get an update on the current work market. Enjoy the selection!
On new tech trends…
Game-Changing Tech 2021 (CB Insights)
This report highlights top 10 technological trends expected to dominate the year of 2021. With new innovations and technologies reshaping industries, solutions to some of the most urgent societal issues are constantly rising. However, the future depends on the method taken to explore the full potential of emerging technologies. The findings discover highlights such as using zero-emission green hydrogen to drive sustainability or supercharging student learning using AI. Read more
Singapore fintech market suffers a hit…
FinTech funding in Singapore hit lowest level in four years in 2020 as large deals dried up (FinTech Global)
This overview pinpoints the lack of deals over $50m resulted in a 58.6% decline in funding last year in Singapore. The drop of investments comes from the start of the year where the Covid-19 pandemic and the economic uncertainty that followed affected Singapore and made the country go into lockdown to prevent the spread of the virus. FinTech companies raised over $884m last year, a decline of 58.6% year-on-year compared to 2019. Read more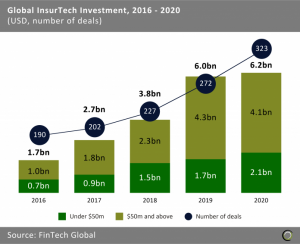 How can family businesses thrive with the help of digitalization?
From trust to impact: Why family businesses need to act now to ensure their legacy tomorrow (PwC)
In today's business environment, in which the pace of change is accelerating, profit will need to be aligned with purpose. And as more pressure is put on companies to demonstrate their environmental, social and corporate governance (ESG) credentials, the PwC survey indicates that family businesses are not assuming the leadership role they could. In addition, with digitalization playing an important role, businesses with established digital capabilities fared better than those that had to scramble to keep up. Read more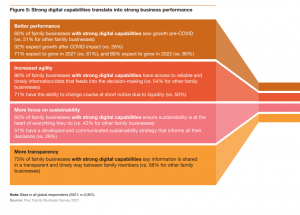 Unlocking the potential of Big Data for banks…
Use of big data sources and applications at central banks (BIS)
Big data sources are developing fast, and applications for making use of this new information are flourishing in parallel. This primarily reflects the impact of digitisation, with the development of the "internet of things" as well as a greater ability to digitally process "traditional" information. This report highlights the main uses of Big Data for Central Banks, such as supporting IT infrastructure, helping with bank policies, and human capital. However, a key issue still remains: predictions based on Big Data are not only accurate, but also "interpretable" and representative. Read more
Labor market in a post-pandemic world…
The future of work after COVID-19 (McKinsey Global Institute)
This report on the future of work after COVID-19 and examines aspects of the post pandemic economy. The lasting impact of the pandemic on labor demand is assessed, together with the mix of occupations, and the workforce skills required in eight countries with diverse economic and labor market models: China, France, Germany, India, Japan, Spain, the United Kingdom, and the United States. Together, these eight countries account for almost half the global population and 62% of GDP. A key insight presented in the report is that jobs in work arenas with higher levels of physical proximity are likely to see greater transformation after the pandemic, triggering knock-on effects in other work arenas as business models shift in response. Read more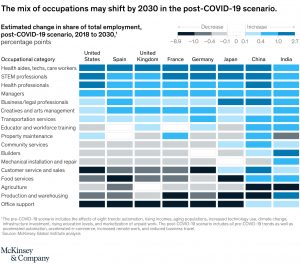 On Regulations…
Fintech Industry Advisory panel: Accountability Report (CSBS)
This paper dives into the regulatory proposals for February 2021 by the Fintech Industry Advisory Panel, a group of fintech companies we convened as part of the initiative, focused on creating common definitions and practices in the field, increasing transparency and expanding the use of common technology among all state regulators. Read more
Towards a unified future…
Will governments return to the past or nurture a digital future? (EY)
In this analysis, a more in-depth analysis is given on the work still yet to be done by governments to ensure a proper recuperation of the global economy in a post-Covid world. Concerted action is needed from the center of government, individual agencies and local authorities, and the wider societal ecosystem. The findings of the report offer critical considerations and key actions that could help governments reframe their digital future.such as creating a comprehensive ecosystem, including start-ups, SMEs, entrepreneurs, academia, civil society and citizens themselves, which can serve as a source of innovative digital solutions to public policy challenges. Read more
—
Do you have any news to share: please put feed@https://hollandfintech.com/ on your press list.
Curious to read and find out more from fintech? Then subscribe & read our full newsletters here: https://hollandfintech.com/featured/newsletters/. In order to see our other weekly highlights, check out the following links: analysis & opinion, funding, news.