For this week's research article, we dive into new insights on human errors, insurtech, business activity, payments,  funding and SMEs. Happy reading!
The 2021 Inclusive Fintech 50 (Inclusive Fintech 50)
The Inclusive Fintech 50 initiative leverages a competitive process led by an independent judging panel of experts to identify 50 early-stage fintechs driving financial inclusion and resilience. They are looking for early-stage fintechs in advanced or emerging markets that offer a solution among credit, insurance, payments & remittances, savings & personal financial management, or infrastructure addressing special challenges of underserved customer segments. Read more.
Saudi Arabia sees $347m fintech investments as sector continues to boom (Arabian Business)
This Fintech Saudi Annual Report says the number of fintech companies has grown by more than a third over the past year. The number of fintech companies operating in Saudi Arabia has grown by more than a third over the past year with investments exceeding SR1.3 billion ($347 million). Over the last 12 months, the fintech industry in Saudi Arabia has continued to grow at a rapid pace, according to the Fintech Saudi Annual Report 2020/2021. Read more.
KPMG: Fintech sector growth is being driven by M&A (Startup Daily)
The KPMG Fintech Landscape 2021, an annual survey of independent fintechs that are either active and/or headquartered in Australia, reveals there are currently 718 active fintechs, up from 701 in the previous landscape report released in December last year. Consolidation in the financial services sector, as corporates swallow up fintechs, has been a key driver of growth in the fintech sector over the past 12 months according to analysis by KPMG. Read more.
KPMG Australian Fintech Landscape 2021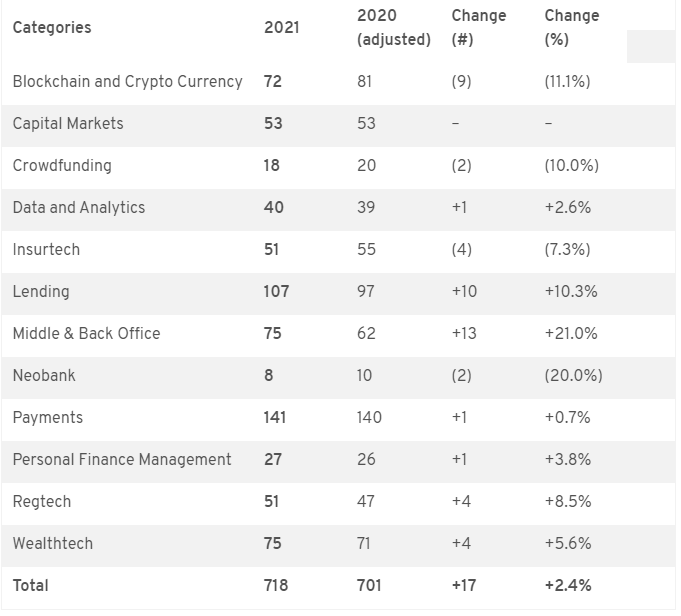 FinTech Global Regulatory Round-up – w/e 22 October 2021 (Legoloxy)
In this regular update, FinTech-related regulatory developments for the week ending 22 October are rounded-up. FATF updates – consultation, survey results and plenary outcomes, FSB: Report on cyber incident reporting, FCA podcast: Interview with the FCA's ESG Director Sacha Sadan, SI: The Payment and Electronic Money Institution Insolvency (England and Wales) Rules 2021 and other. Read more.
Fintech Investments Have Hit $91.5 Billion In 2021, Nearly Doubling Last Year's Total (Forbes)
According to CB Insights' State of Venture Report, forty-two fintech companies became unicorns in the third quarter alone, making up a third of total unicorn births. The fintech sector is booming, with a record $91.5 billion in global funding so far this year—that's almost twice as much as what the sector collected in the entirety of 2020. The past quarter saw the birth of 42 fintech unicorns (startups valued at over $1 billion), bringing the year's total to 200, according to CB Insights' State of Venture Q3'21 Report. Read more.
—
Do you have any news to share: please put feed@beta.hollandfintech.com on your press list.
Curious to read and find out more from fintech? Then subscribe & read our full newsletters here: https://hollandfintech.com/featured/newsletters/ . In order to see our other weekly highlights, check out the following links: analysis & opinion.